News
Latest news and developments on site
The pictures below show some of the activities and developments that have taken place since the beginning of 2015:
March 2020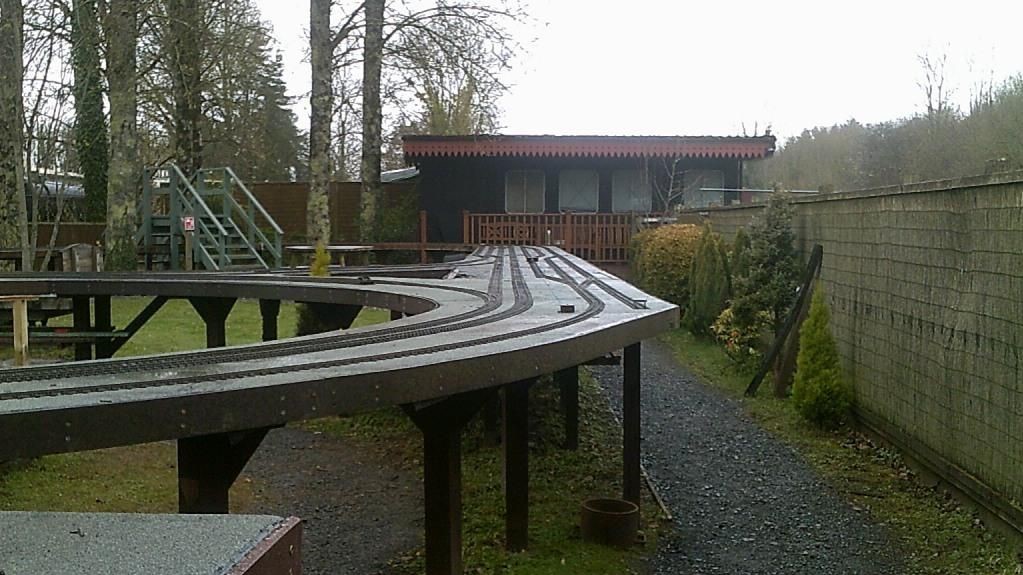 The Gauge One mainline now has two tracks again......
March 2020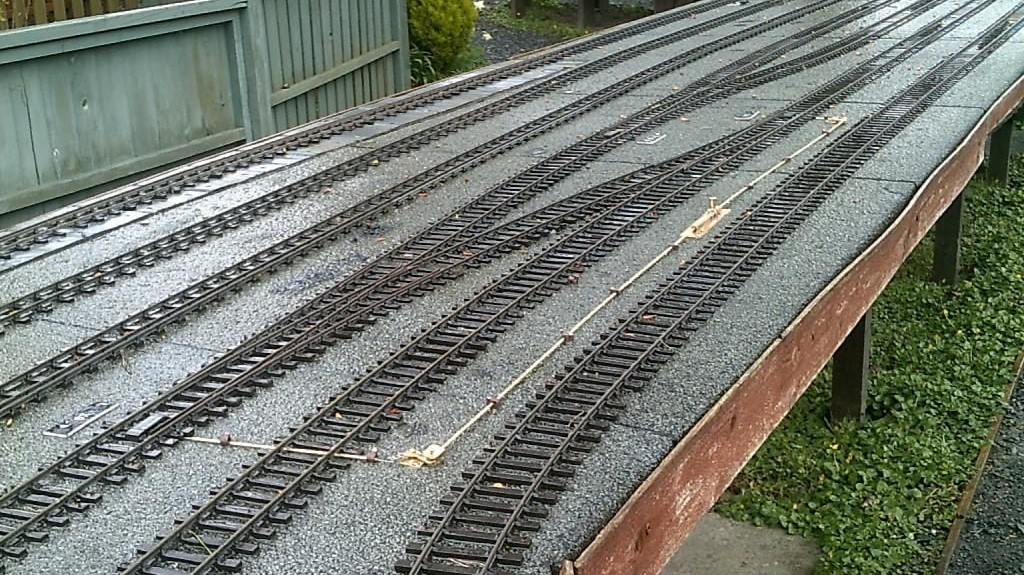 ....and a new crossover linkage for forgetful Gauge One drivers
March 2020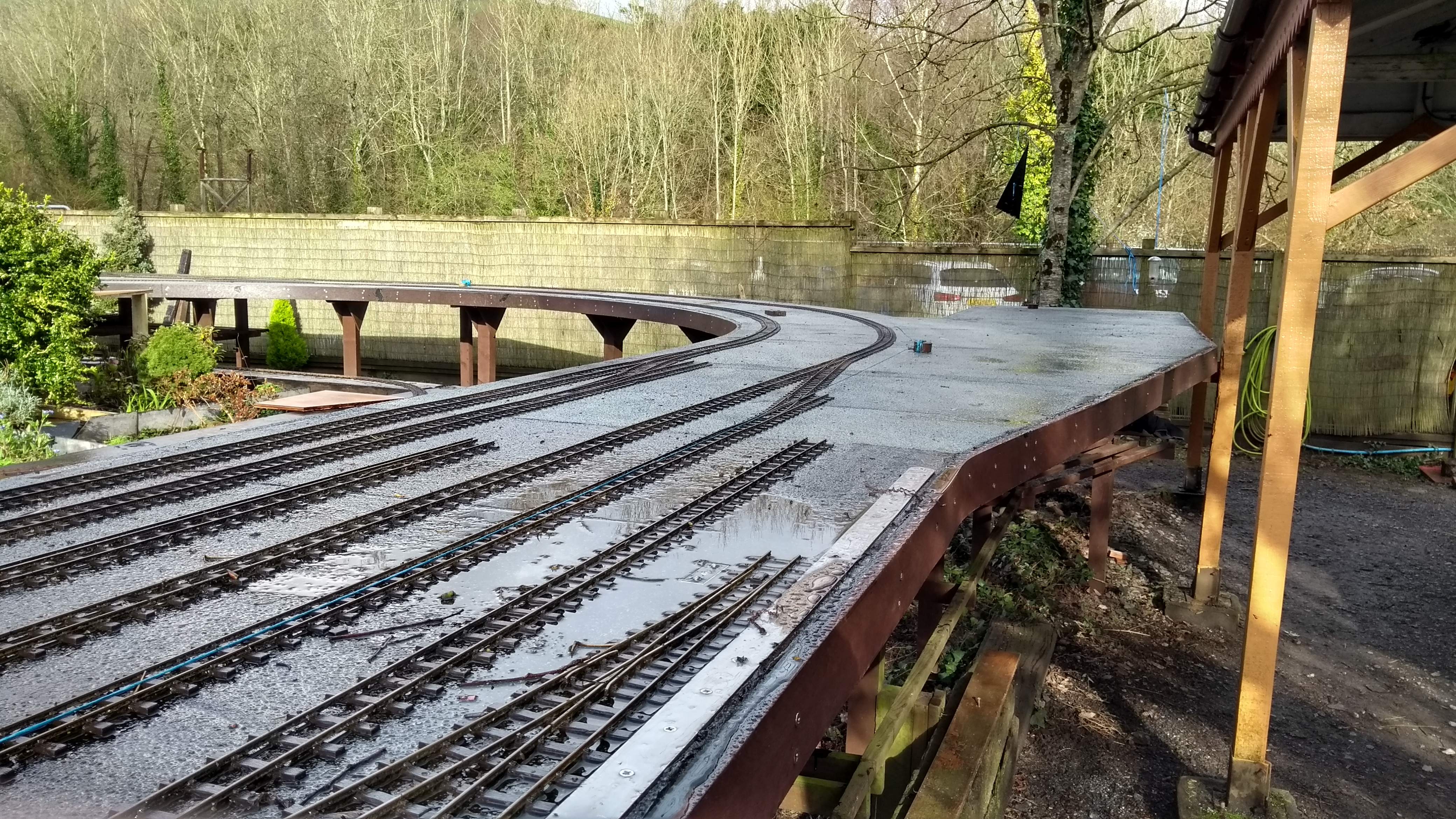 After a huge amount of work the Narrow Gauge steam up area boards now look much better...even in the rain.
March 2020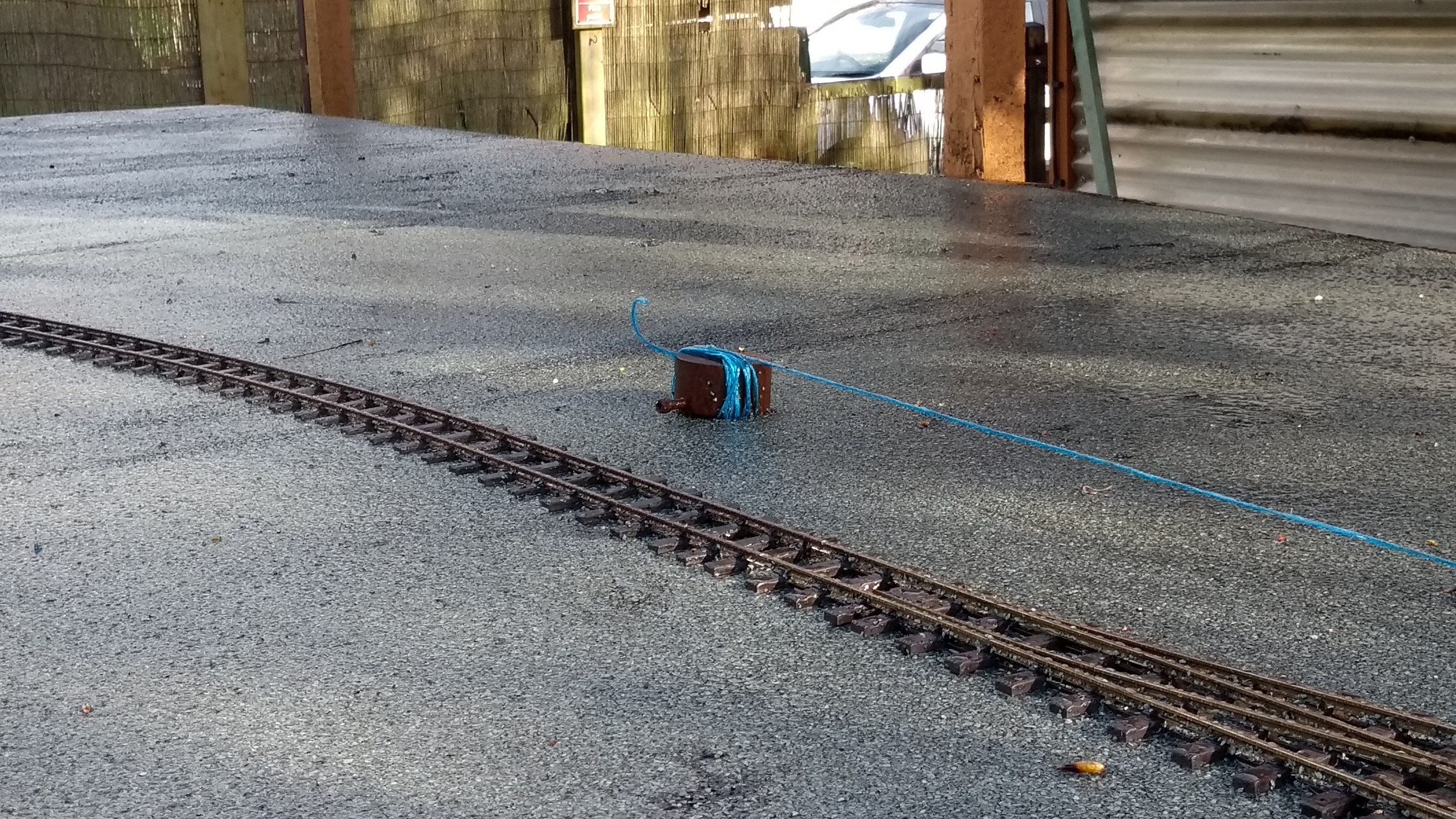 String powered shunting anyone?
February 2020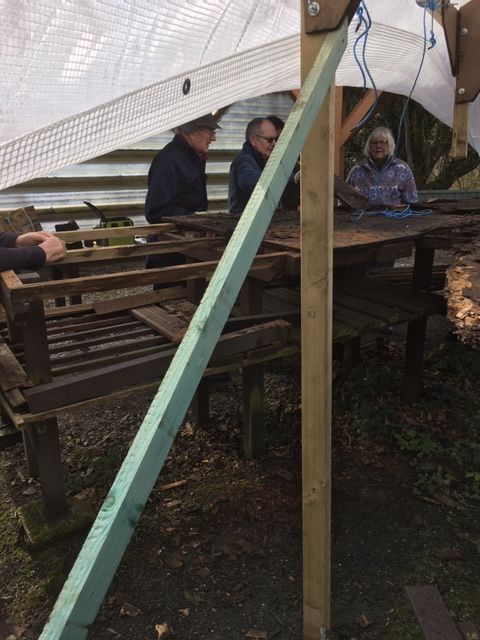 Who knows what is going on under cover of the shelter?
February 2020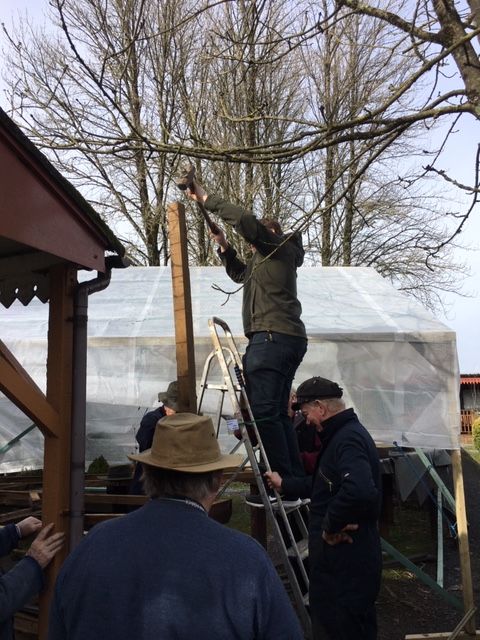 ...whilst outside a girt big support is being hammered in
February 2020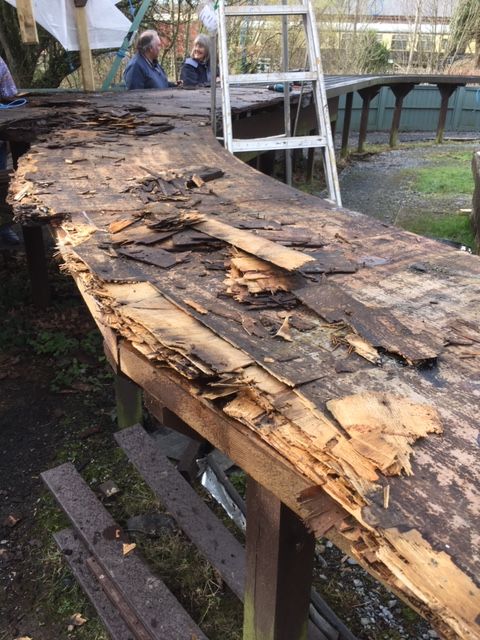 I guess the old baseboard was just about ready for replacement
February 2020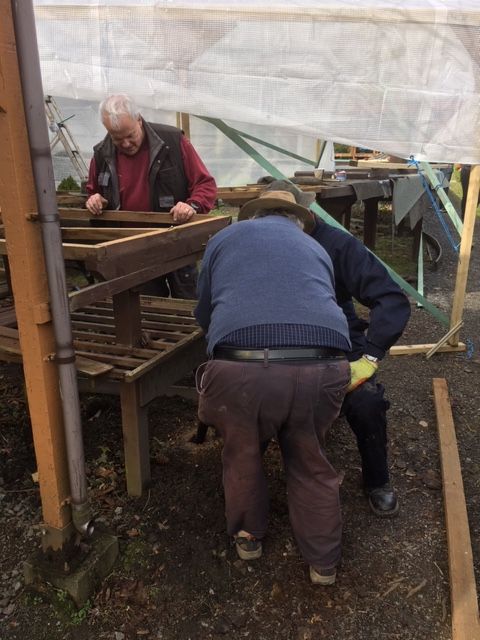 .....captions please...
January 2020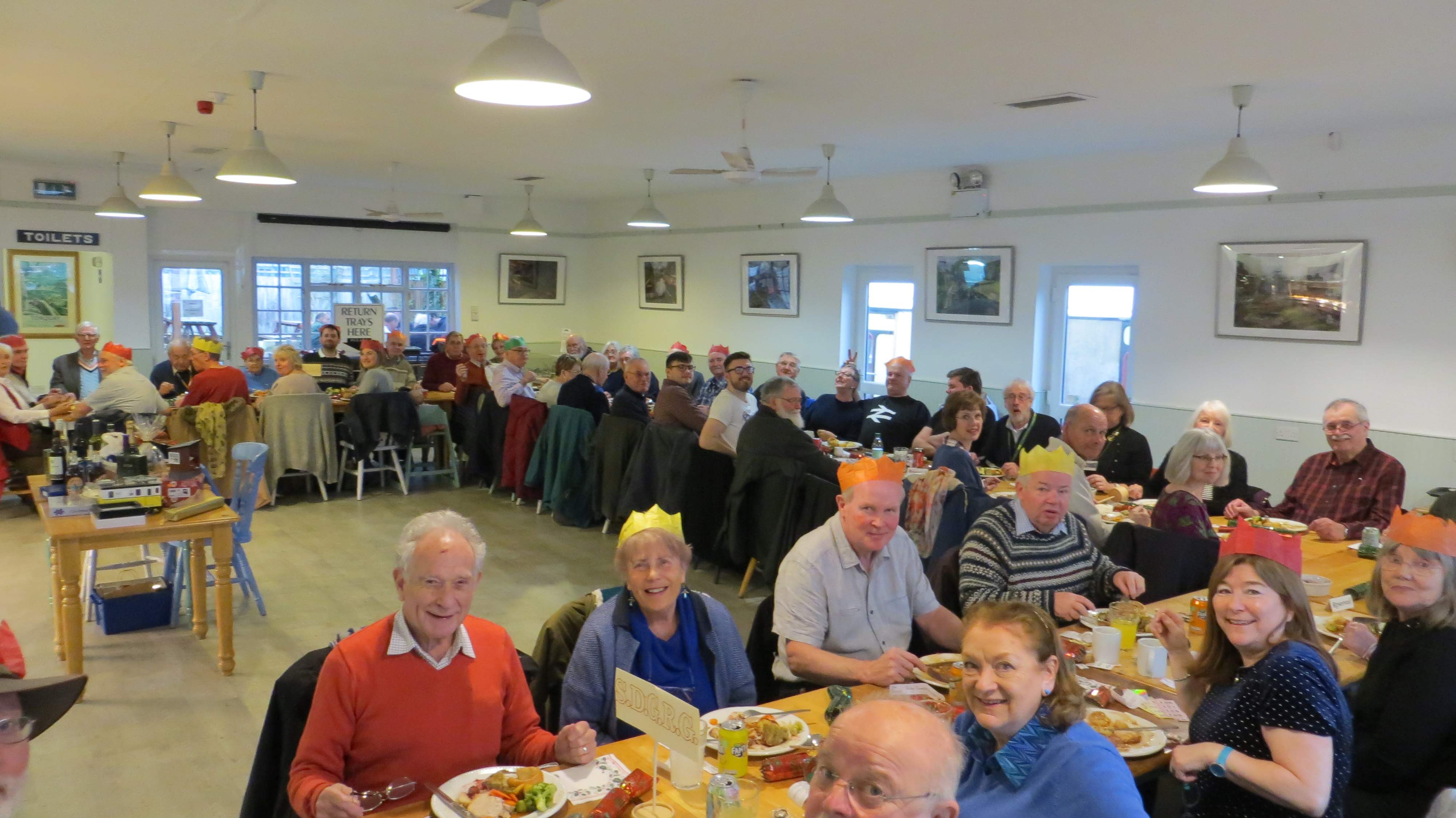 Before all the hard work to renew the baseboards begins......a party!.....
January 2020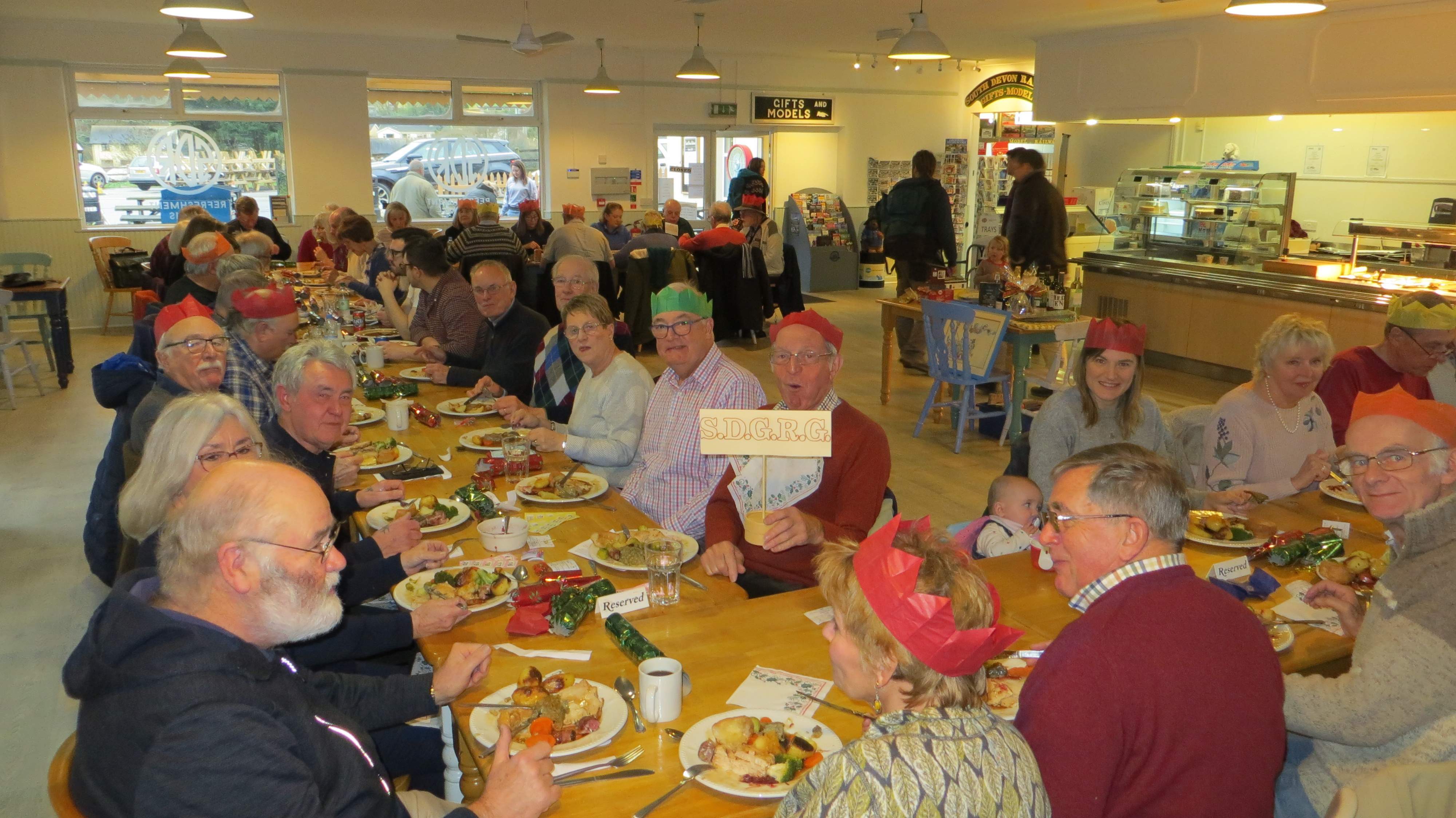 ....our annual late Christmas Lunch for members and partners was held in the Restaurant at Buckfastleigh Station....where else?
October 2019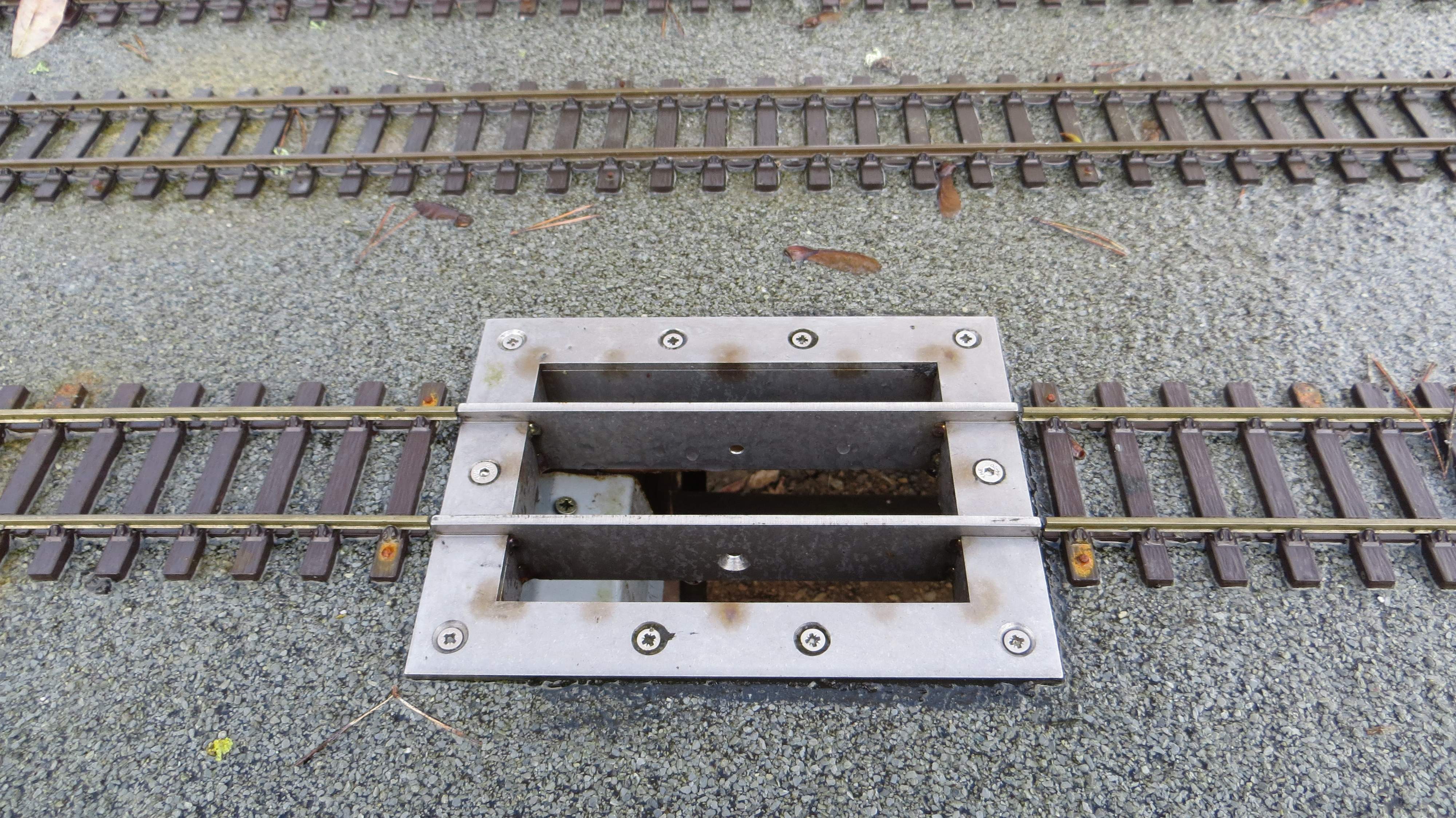 New ashpit for coal fired Gauge One locos.
January 2020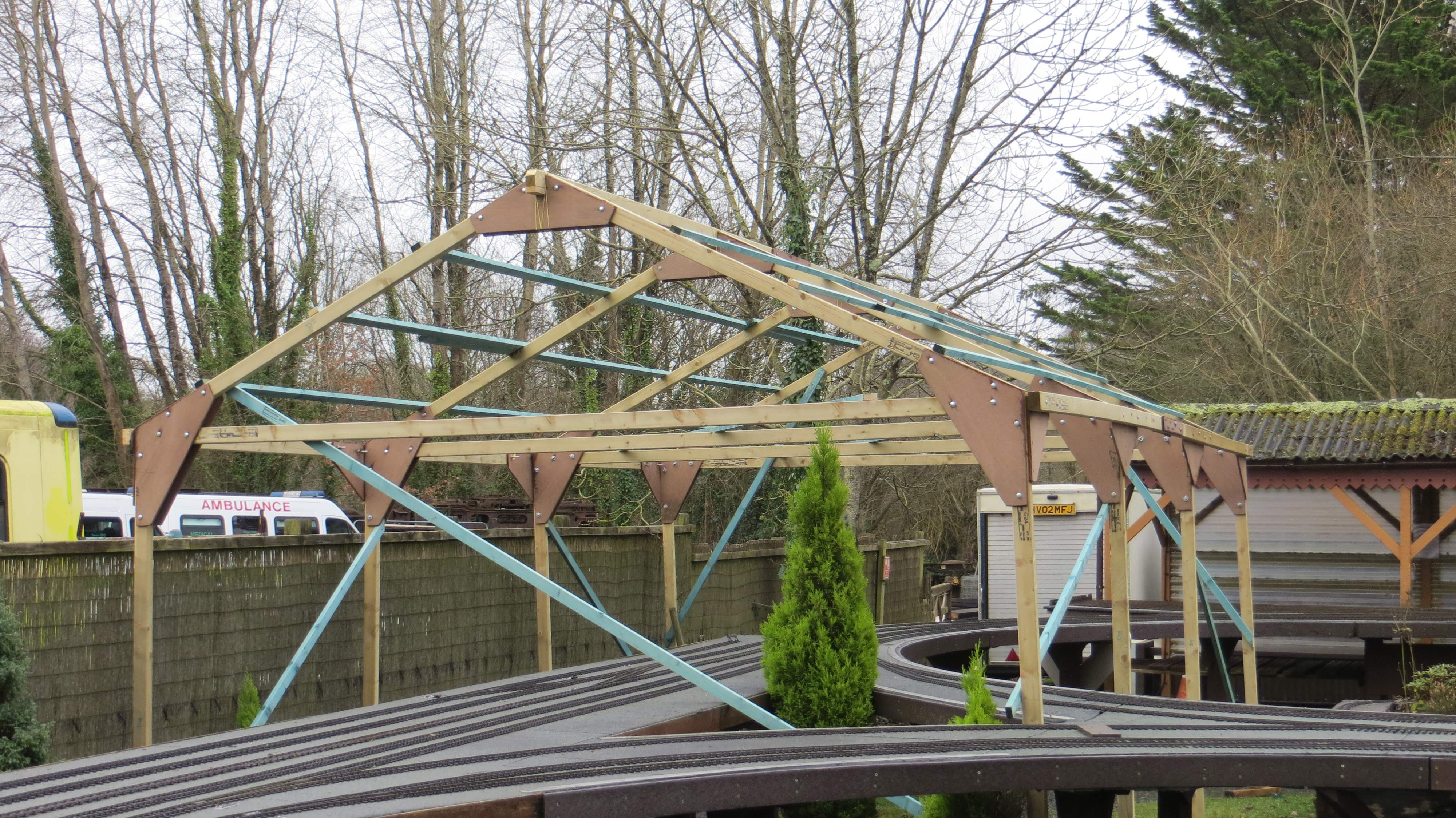 At the beginning of the new decade the track was closed for essential baseboard renewals.This framework, which will be covered by a large plastic sheet was erected to keep our work gangs dry.
June 2019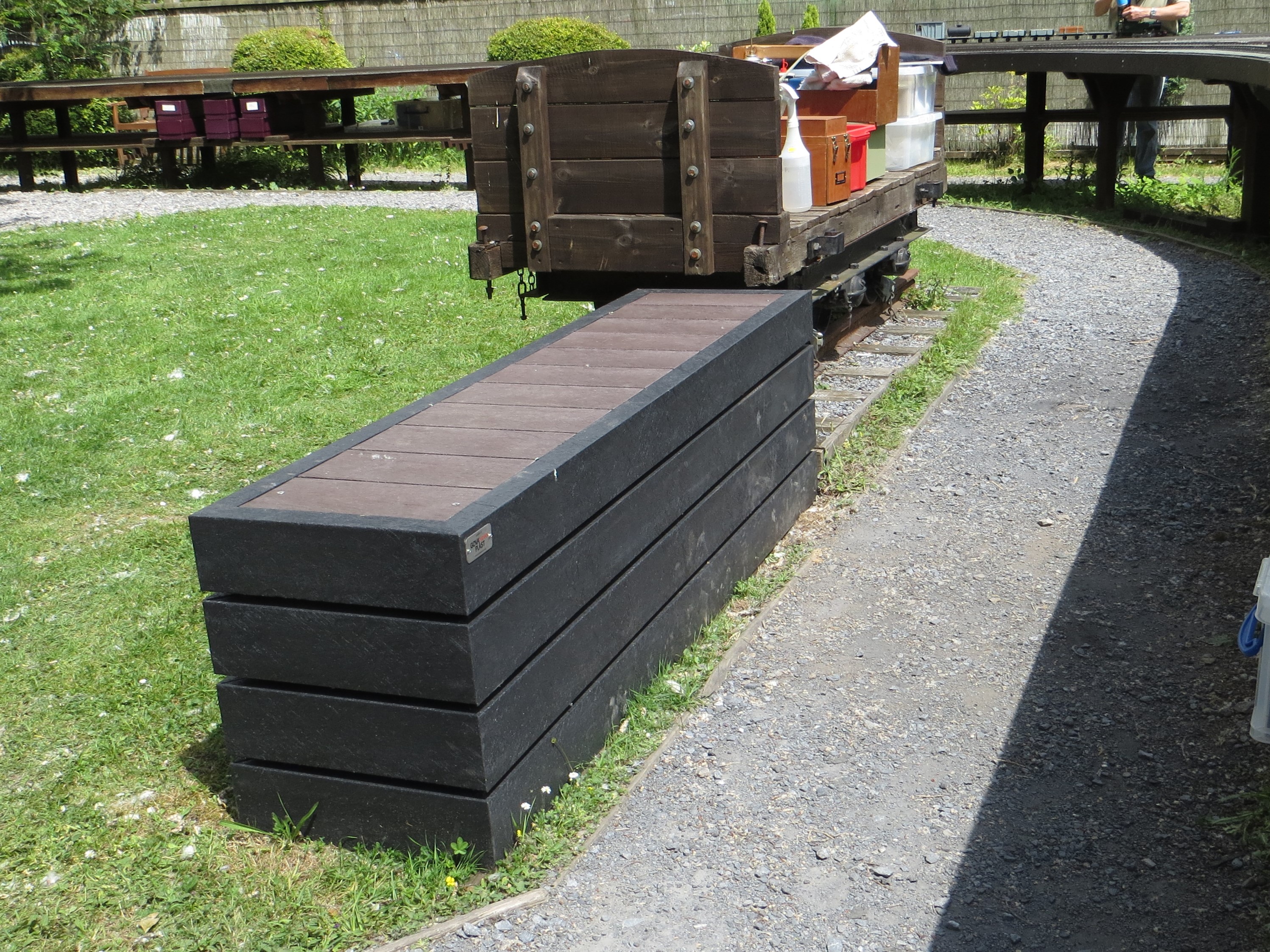 Replacement filcris bench for tired gauge oners to sit and admire their trains.
June 2019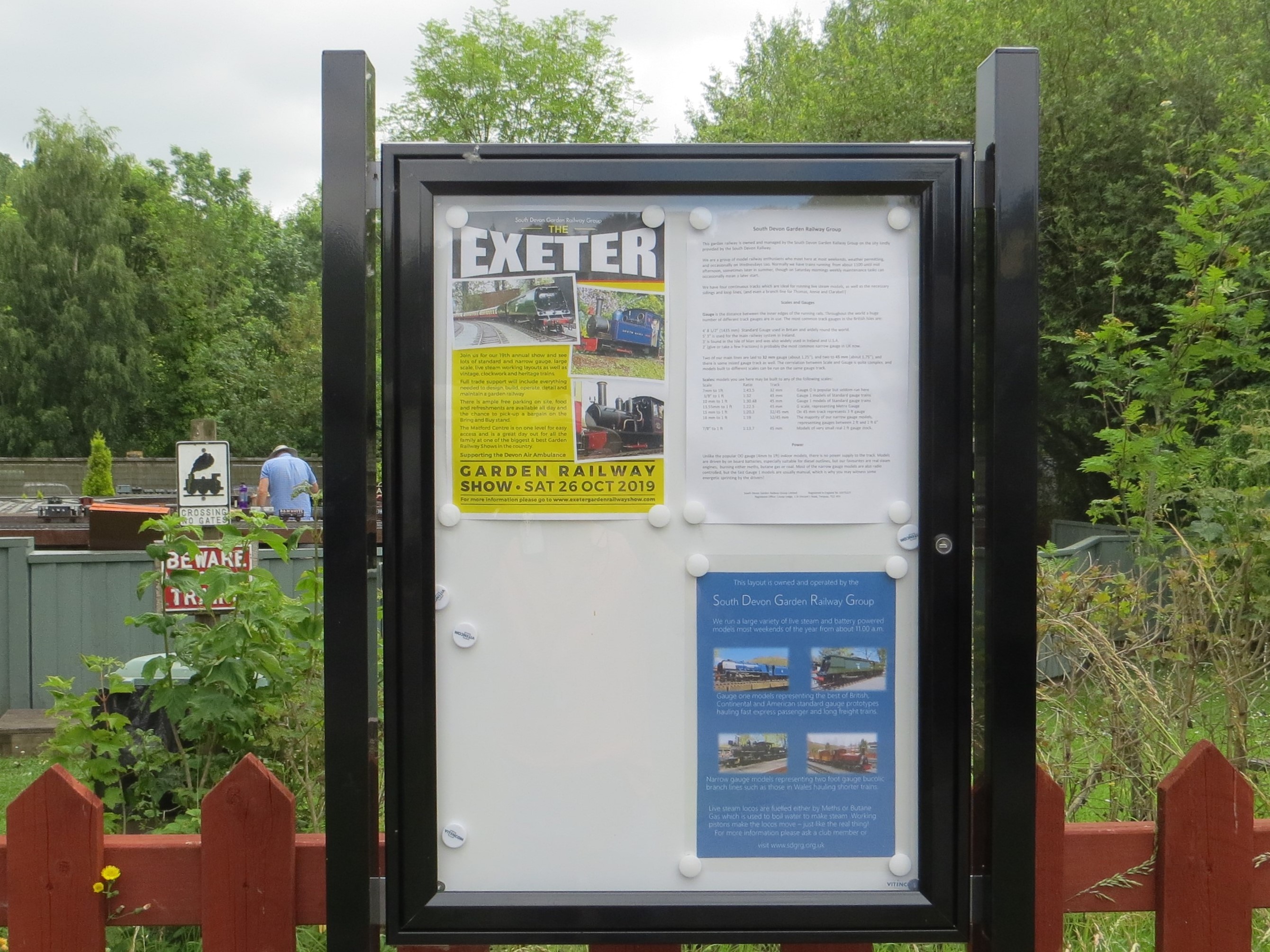 At the visitors entrance to our site a lovely new information board.
June 2019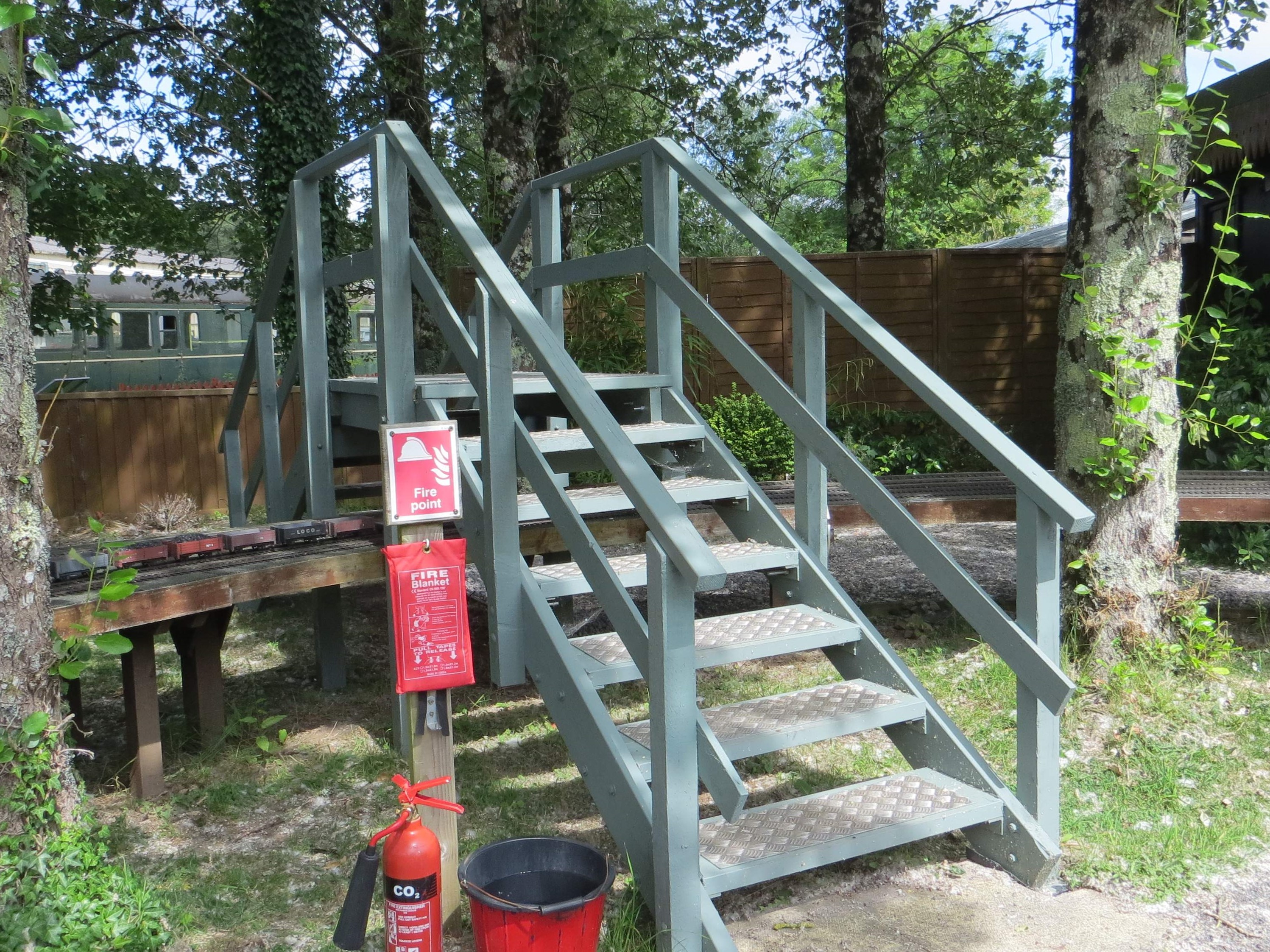 All done - now ain't that pretty?.
June 2019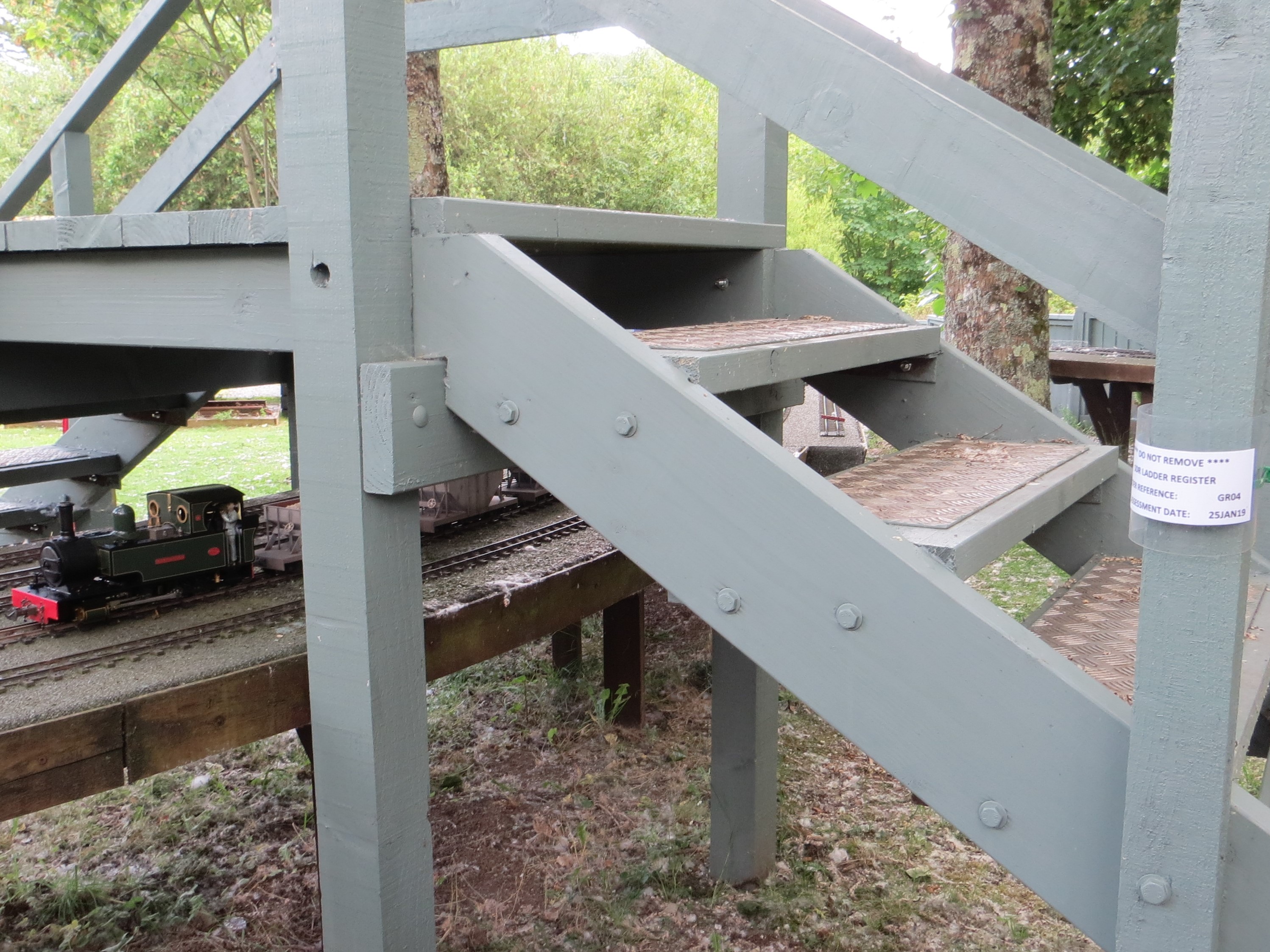 It's now a ladder.....the label tied to it makes it official!
May 2019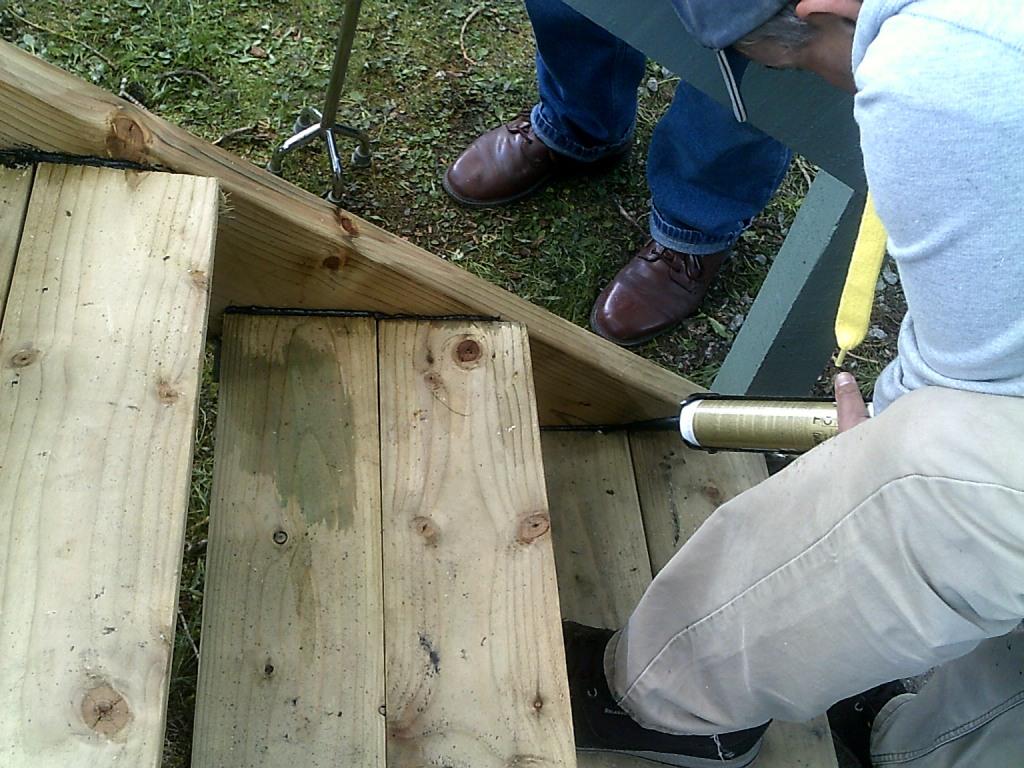 The rain won't get in again!.
May 2019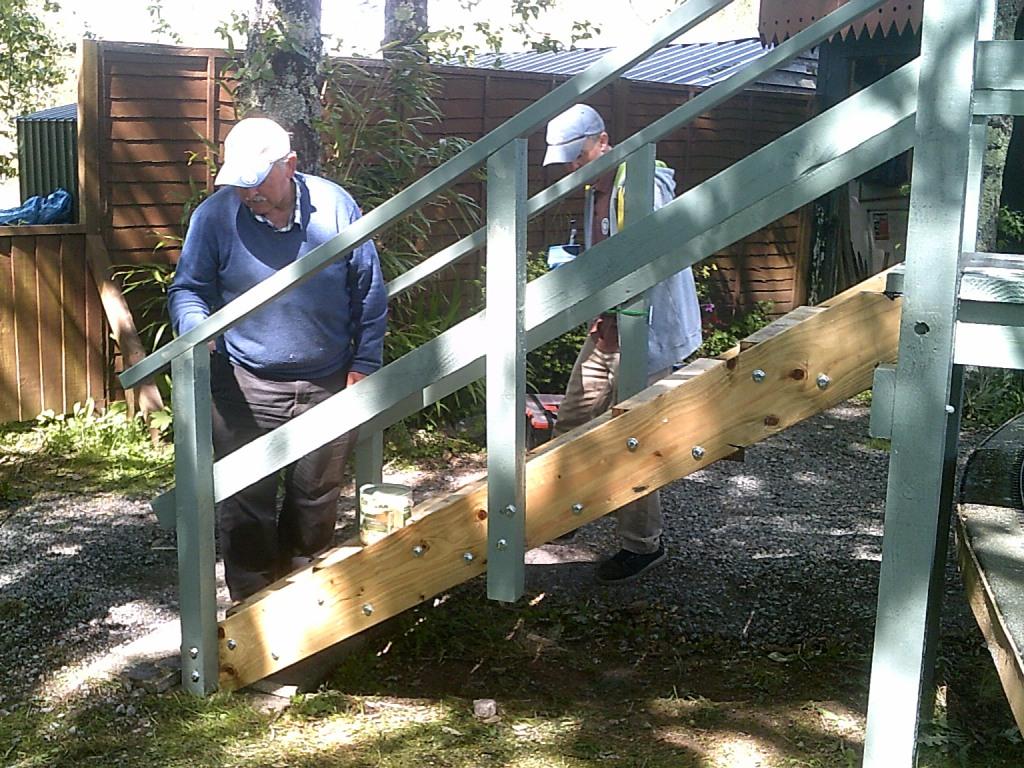 Nearly finished...now all it needs is a nice coat of preservative.
May 2019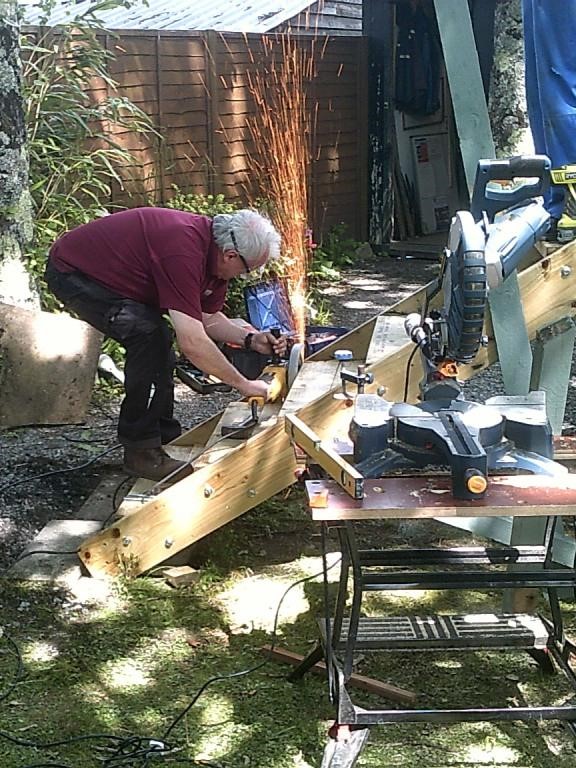 There is no truth in the rumour that the chairman's position has been described as precarious.
March 2019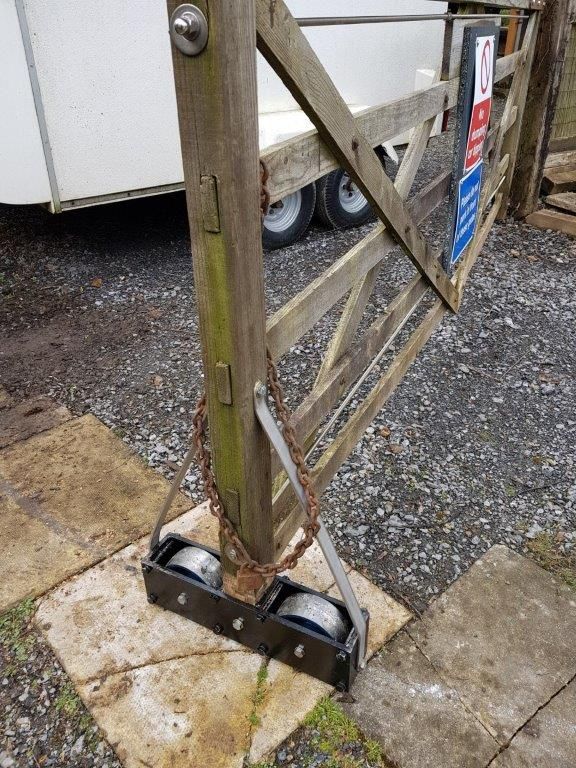 Rolling road?
January 2019 - (15)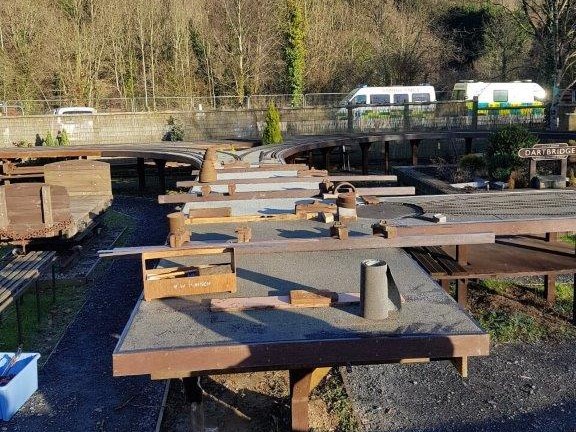 More historical artefacts holding down the finished felt.
January 2019 - (16)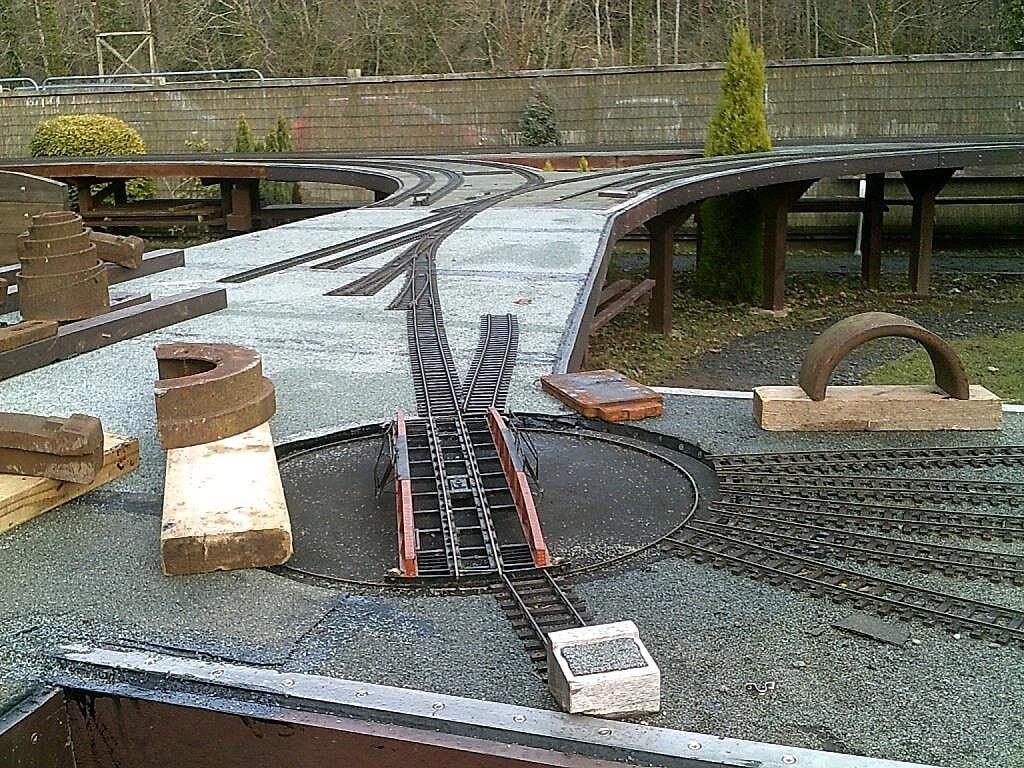 Looking good - the turntable is refitted and some track laid.
January 2019 - (13)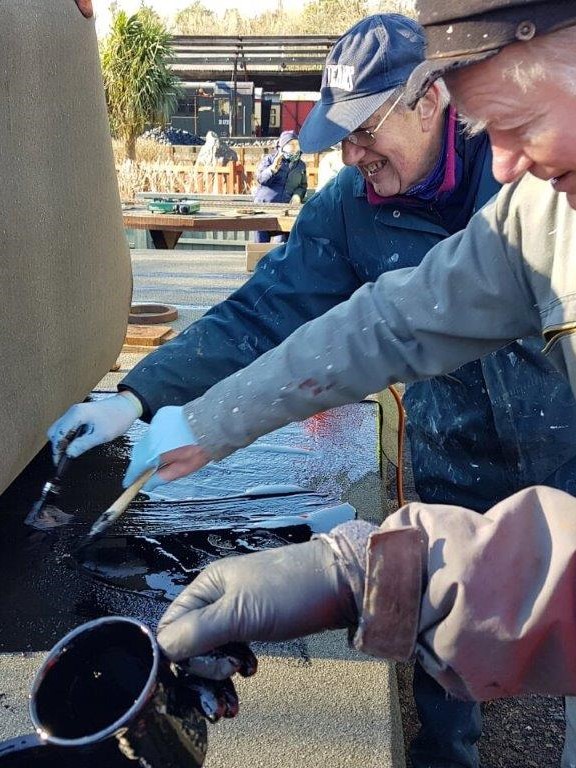 Tar for lunch again.
January 2019 - (14)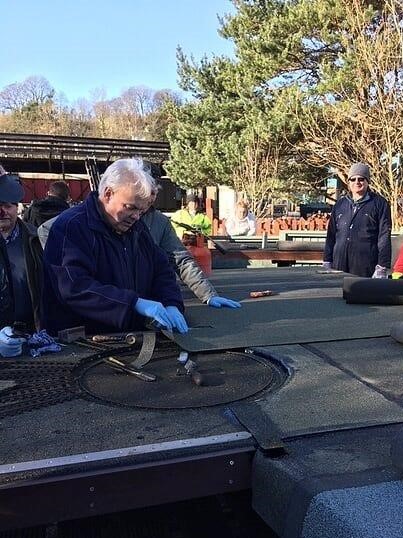 The fiddly bits can only be entrusted to someone senior.
January 2019 - (11)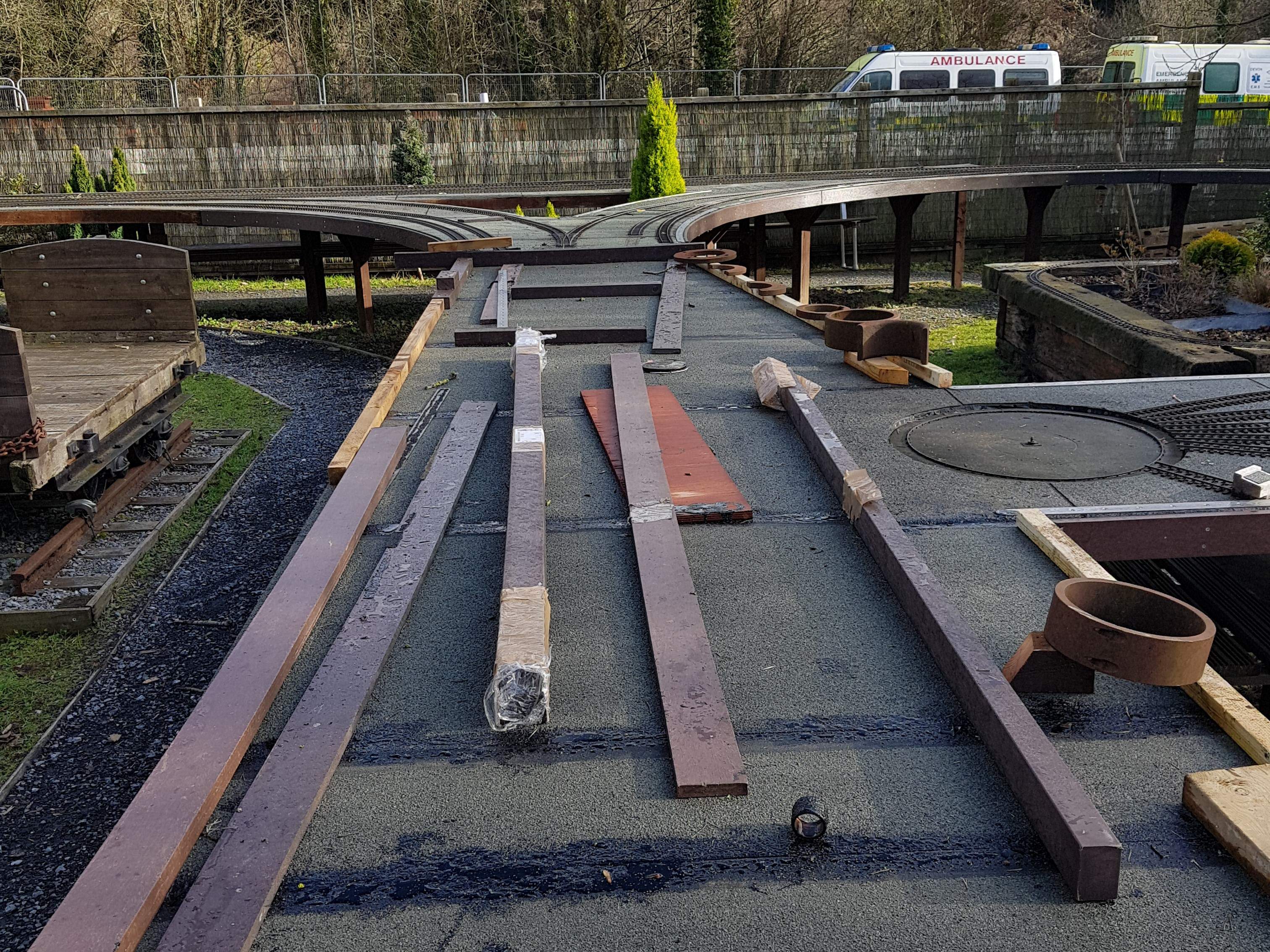 It's now Sunday and wouldn't you know it - the sun is out! The first layer of felt is in place and it looks like we have found a use for some of the S.D.R. "historical artefacts".
January 2019 - (12)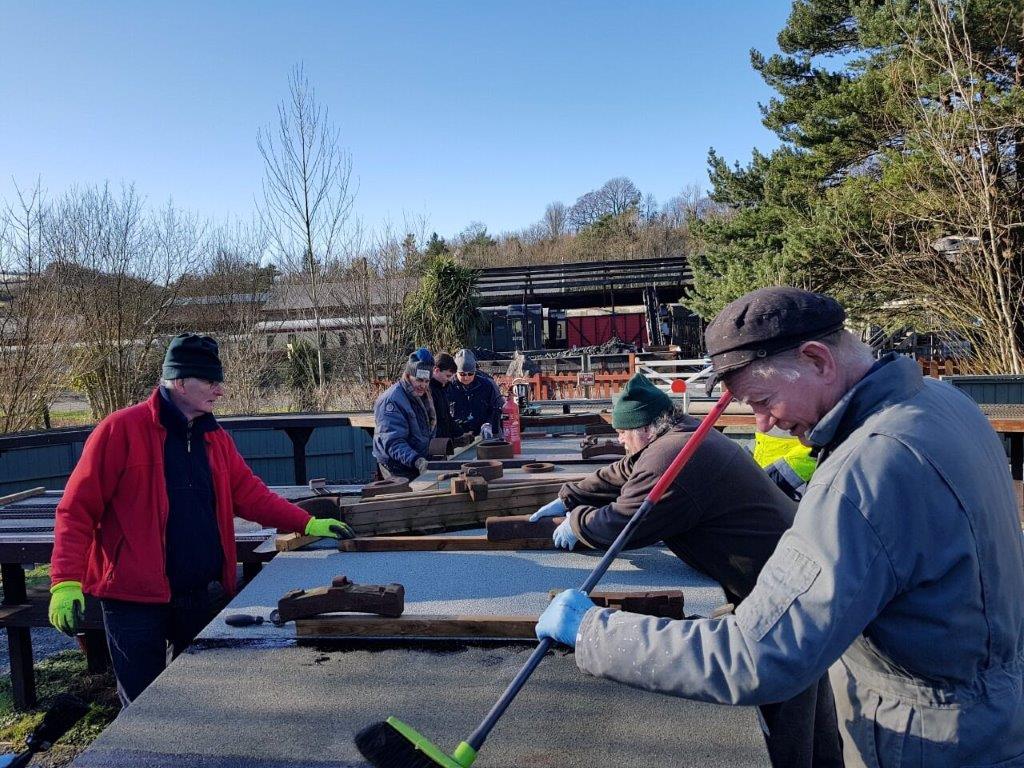 Weekend 3 and something's wrong here - the sun is out! Second layer of felt is being laid today.
January 2019 - (9)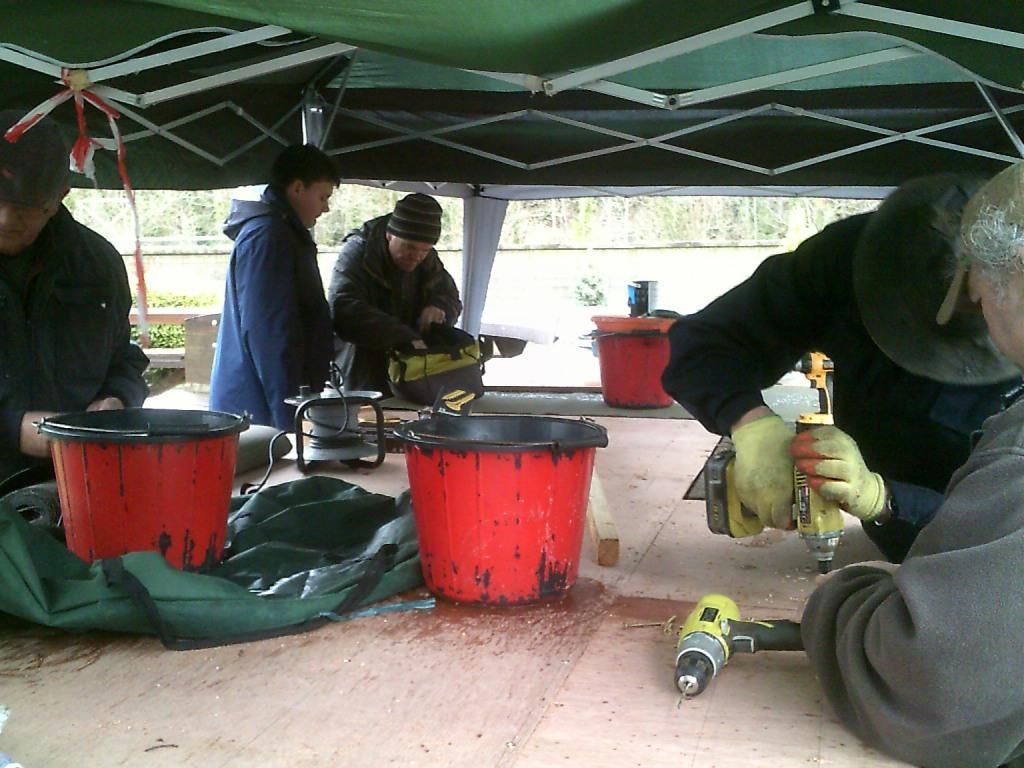 Is that tar soup in the buckets? The ply tops are now being secured to the framing.
January 2019 - (10)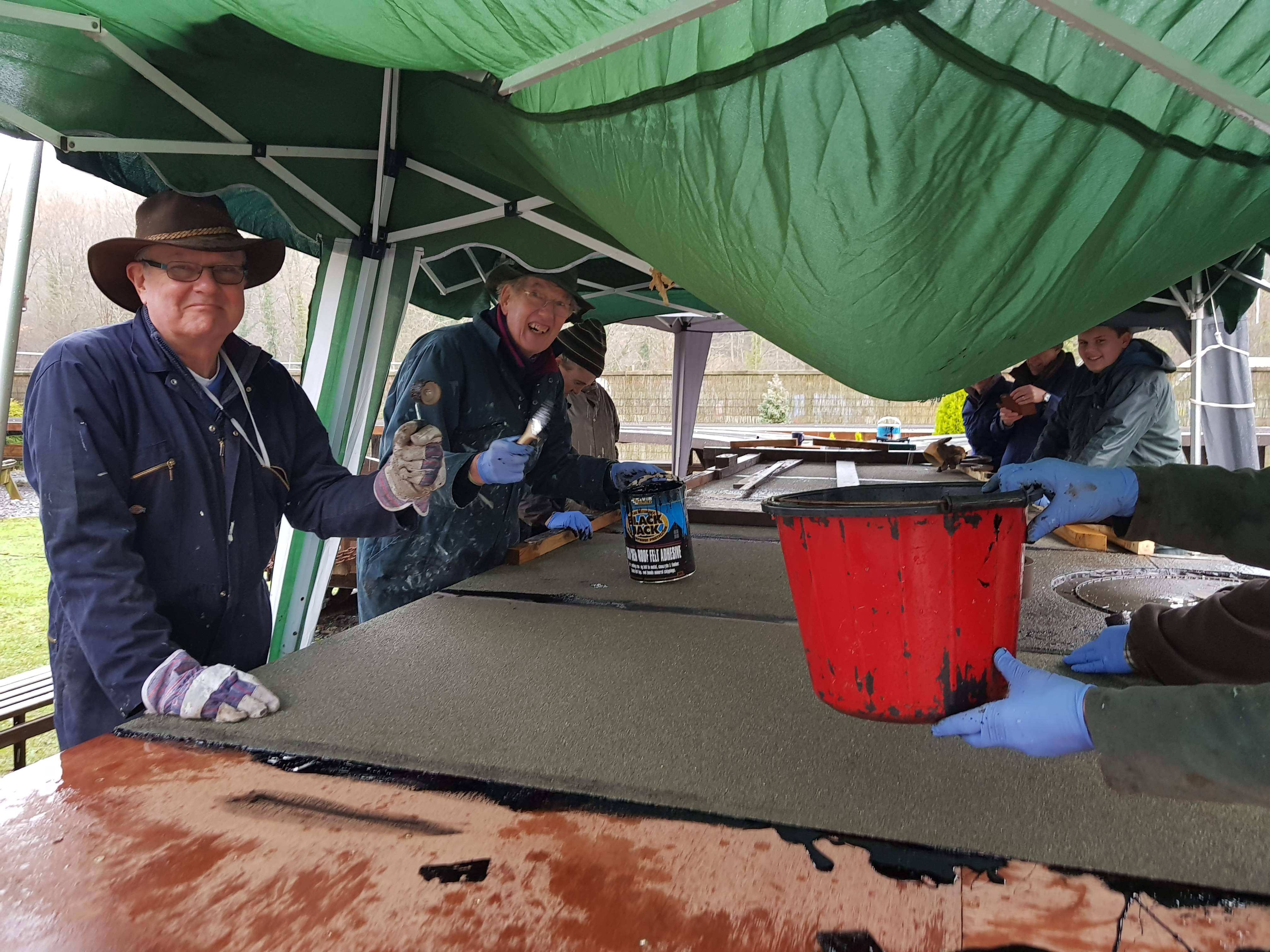 Paul is winning at Black Jack apparently which means he doesn't have to hold the bucket to catch the water above it.
January 2019 - (7)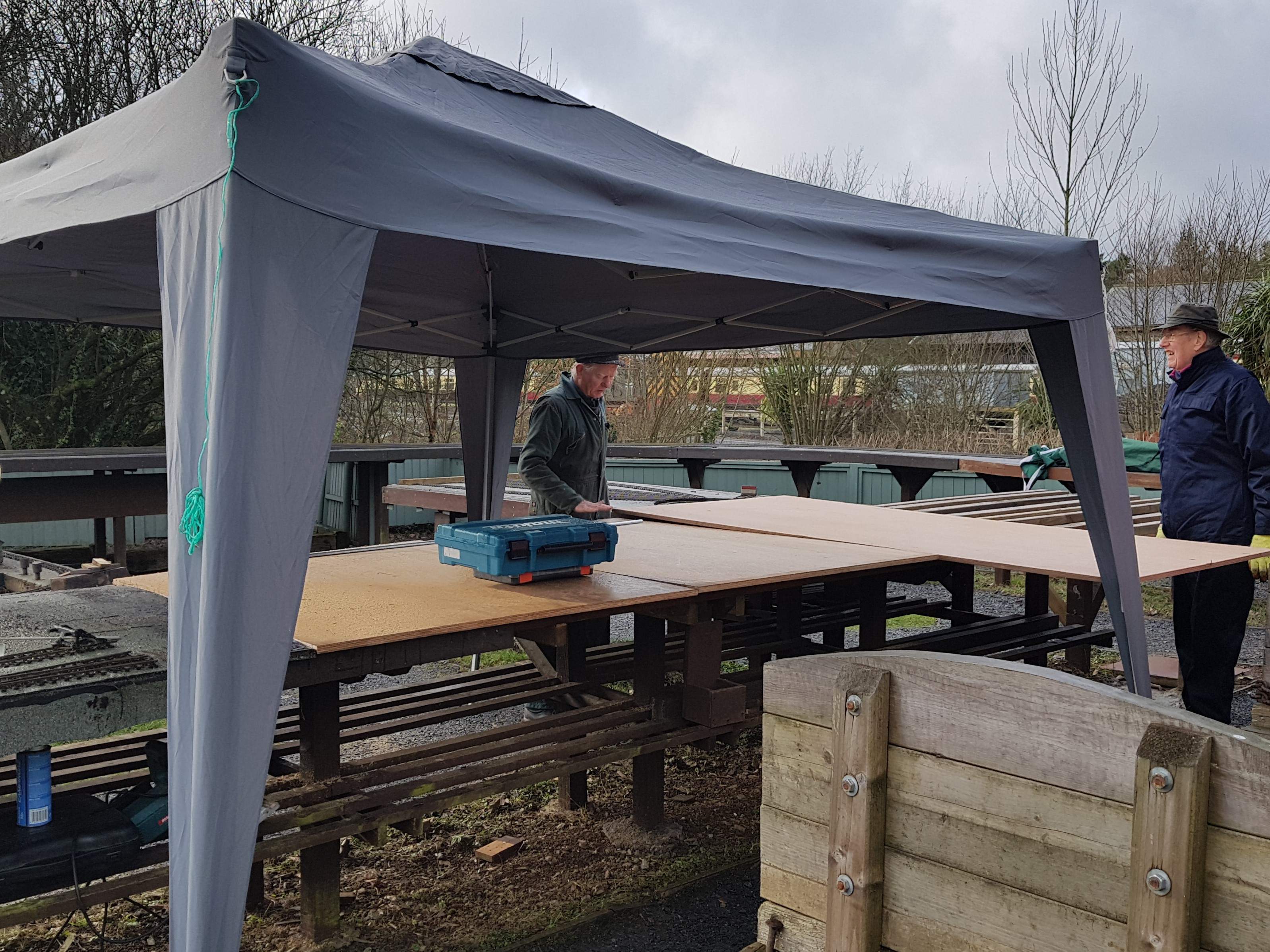 Another Saturday and another wet day...a gazebo has been erected for picnic purposes or perhaps to protect the ply from the rain.
January 2019 - (8)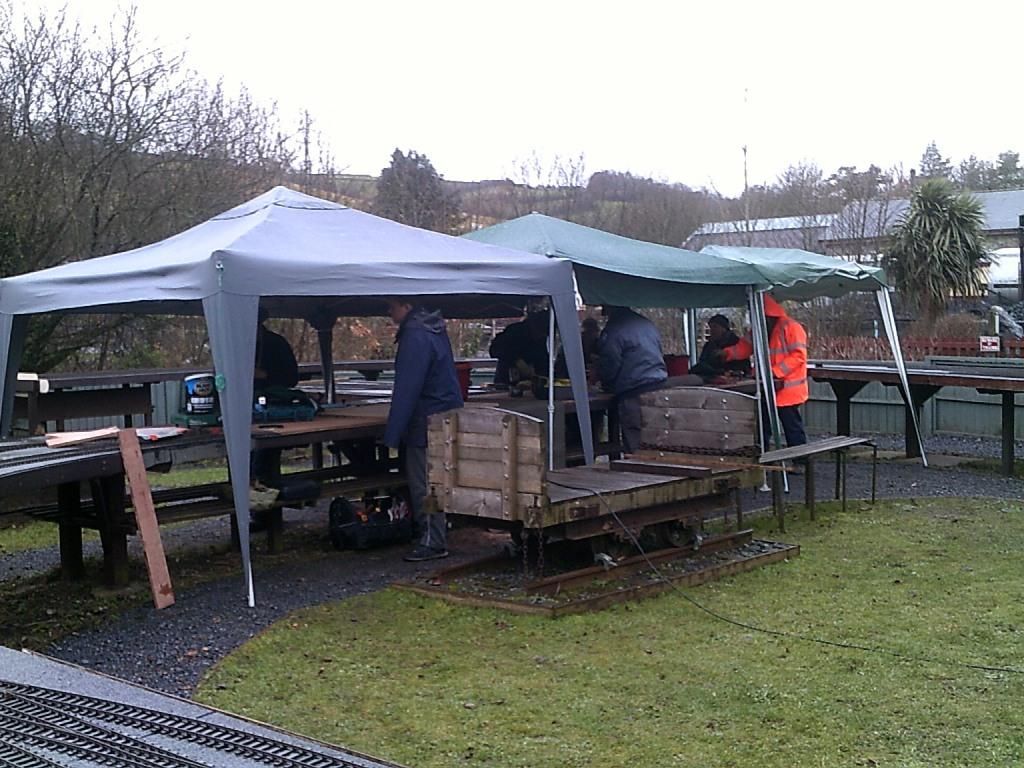 The weather is getting worse - it's now been upgraded to a category 3 gazebo downpour.
January 2019 - (5)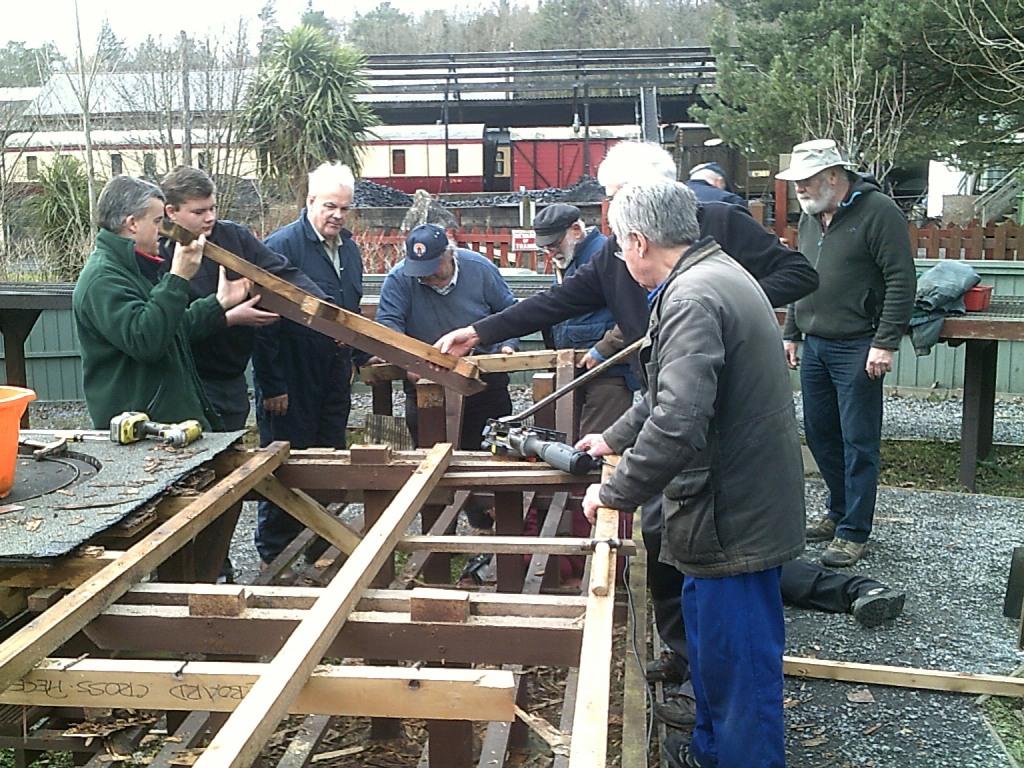 The framing is also found to be a bit suspect - so a lot of it too has to be replaced.
January 2019 - (6)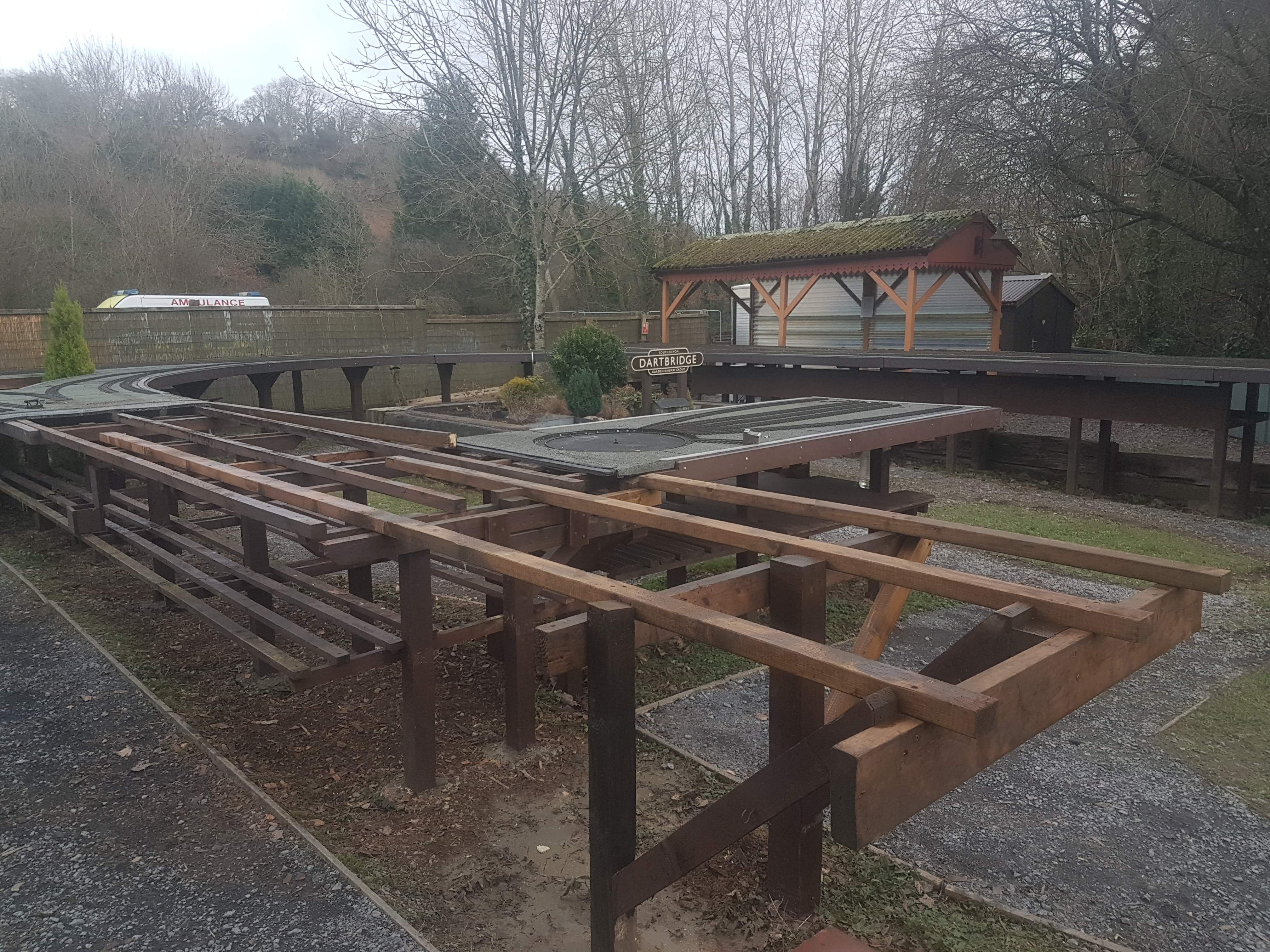 By 3 o'clock new baseboard frames are in place and have been given a coat of preservative. A great days work.
January 2019 - (3)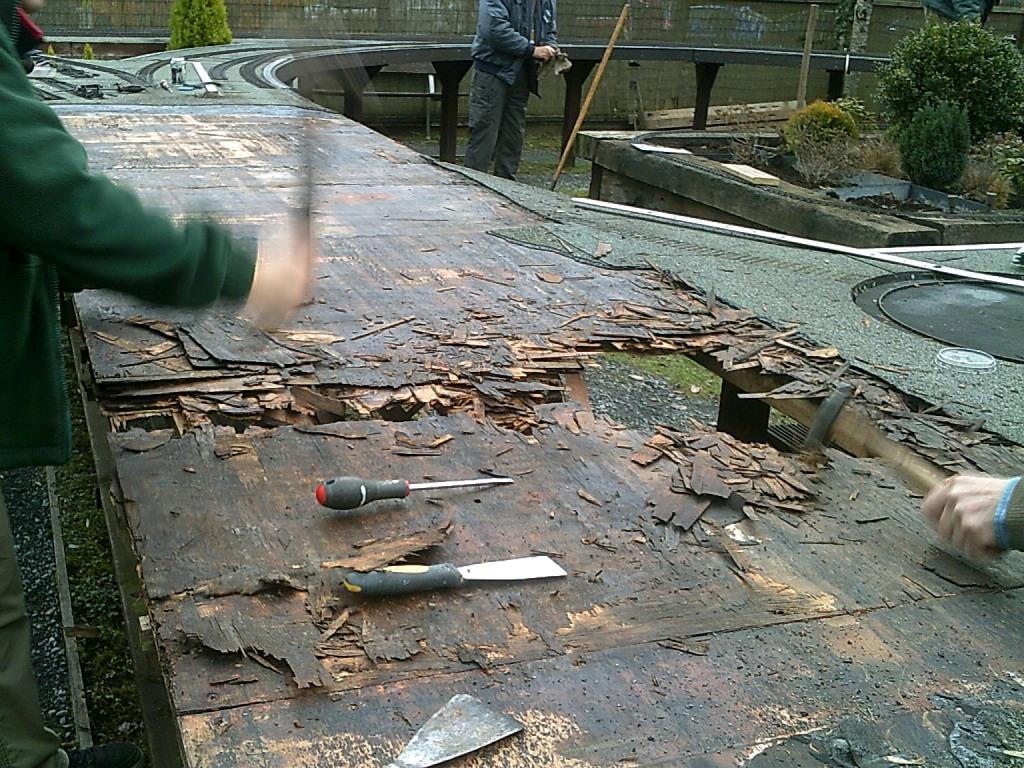 You can have a lot of fun with a big hammer - you can even make a screwdriver bounce!
January 2019 - (4)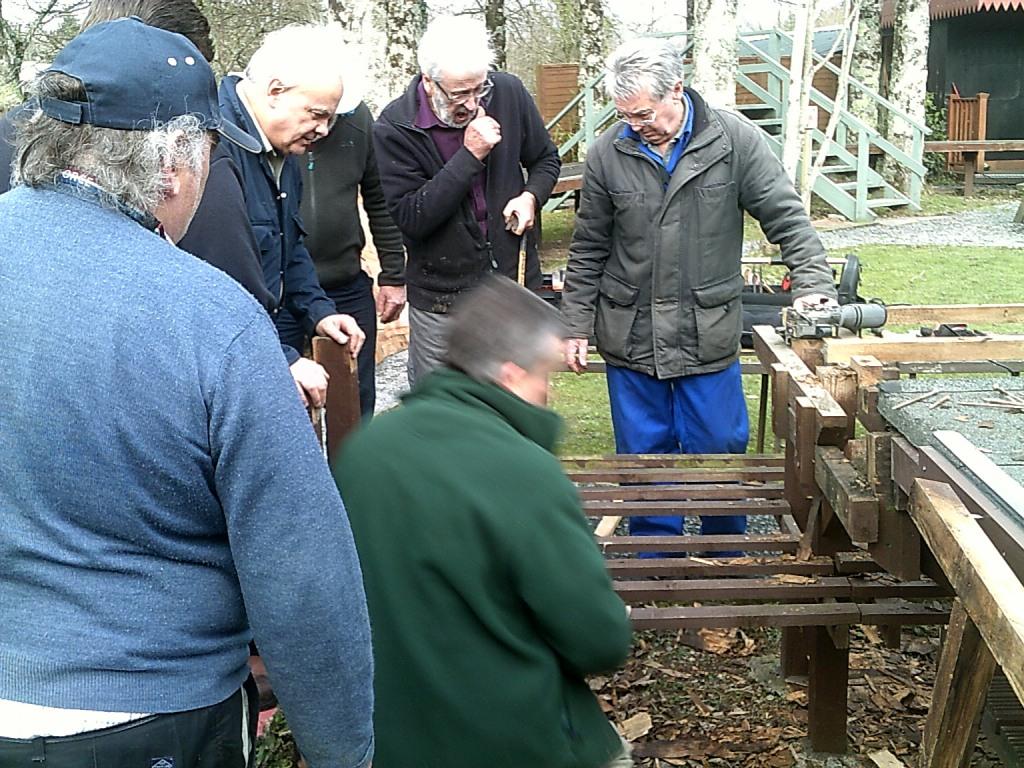 1 working and 6 watching so either this crew are from the local council or it must be nearly lunchtime.
January 2019 - (1)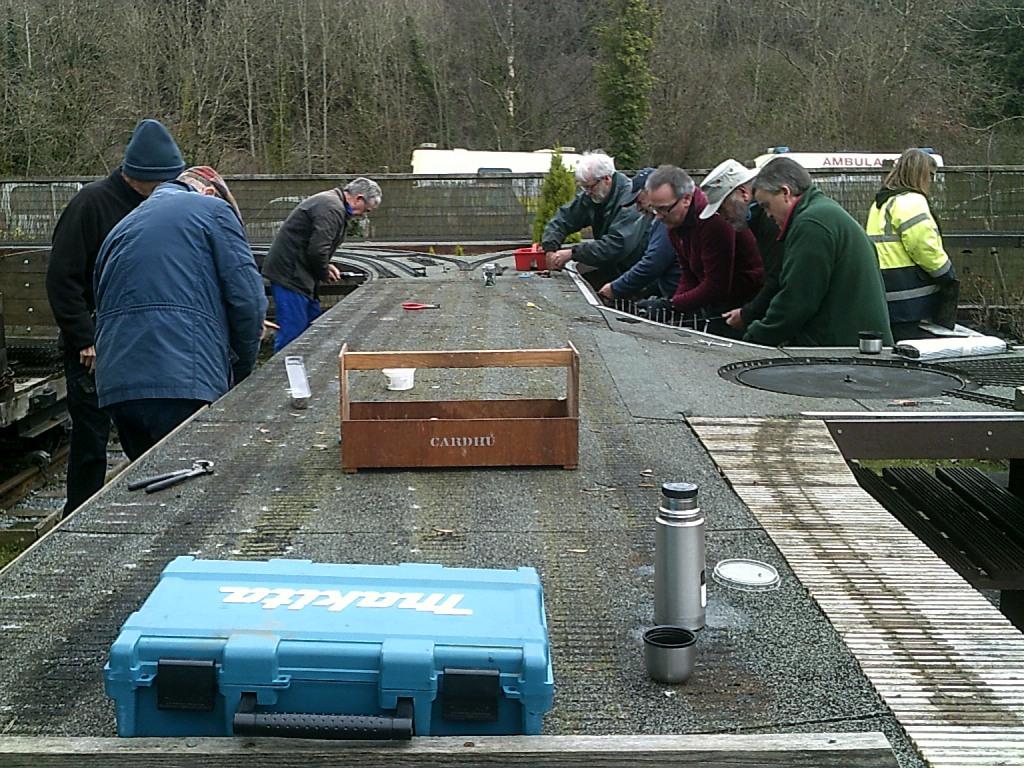 The Gauge 1 sidings area needs some urgent attention. First task is to take up the track - and what a lot of track pins there are to remove!
January 2019 - (2)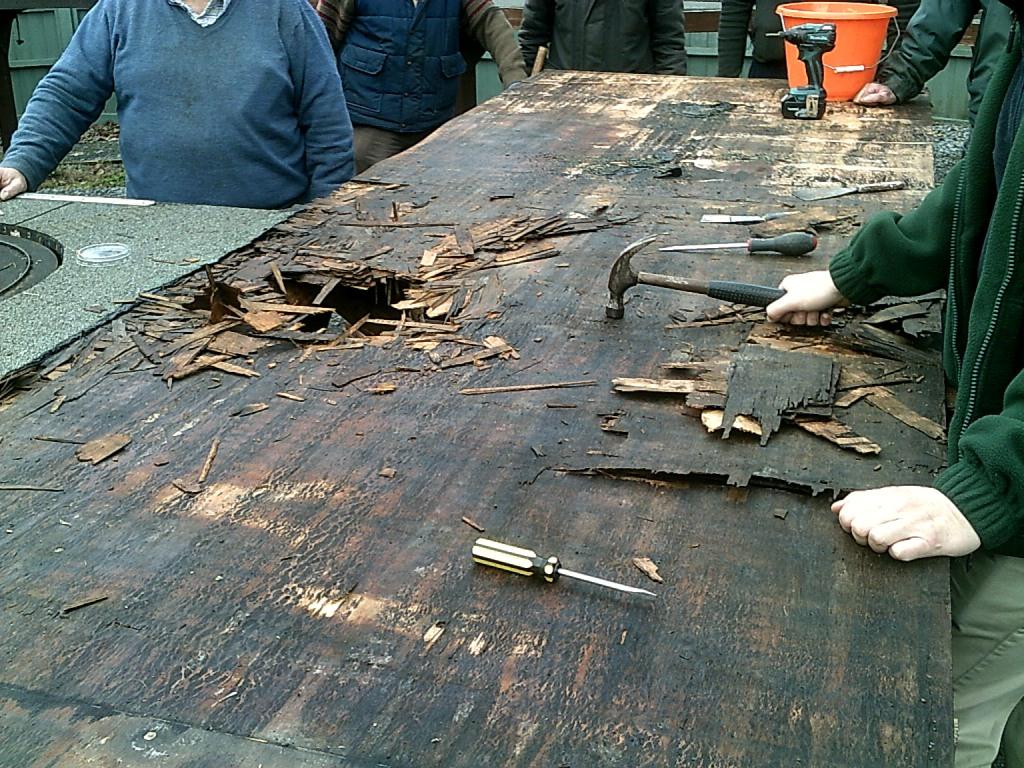 Removal of the felt reveals what once was a solid baseboard surface.
October 2018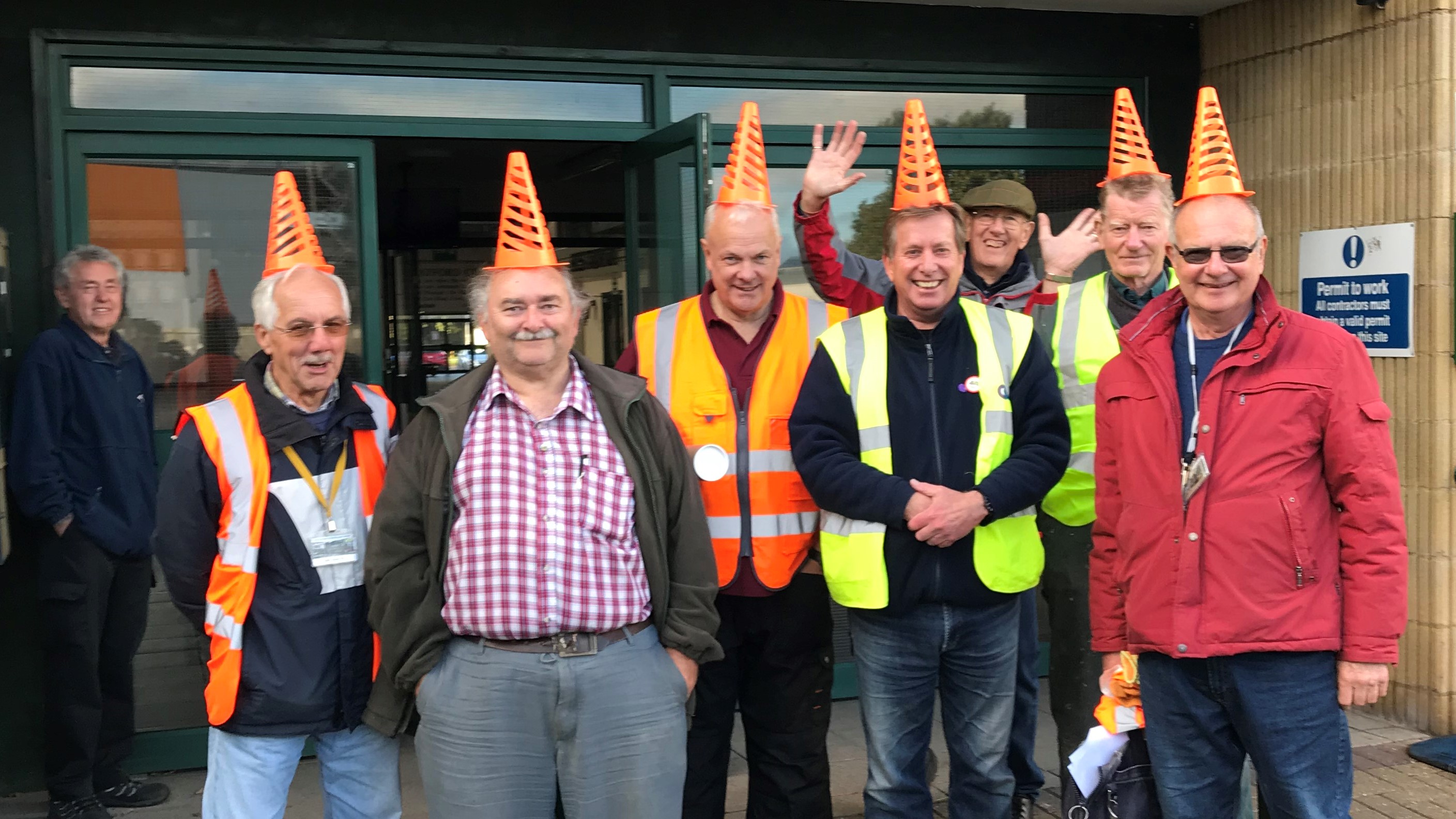 Be afraid.........be very afraid..... ...the pre-show party was obviously a great success
May 2018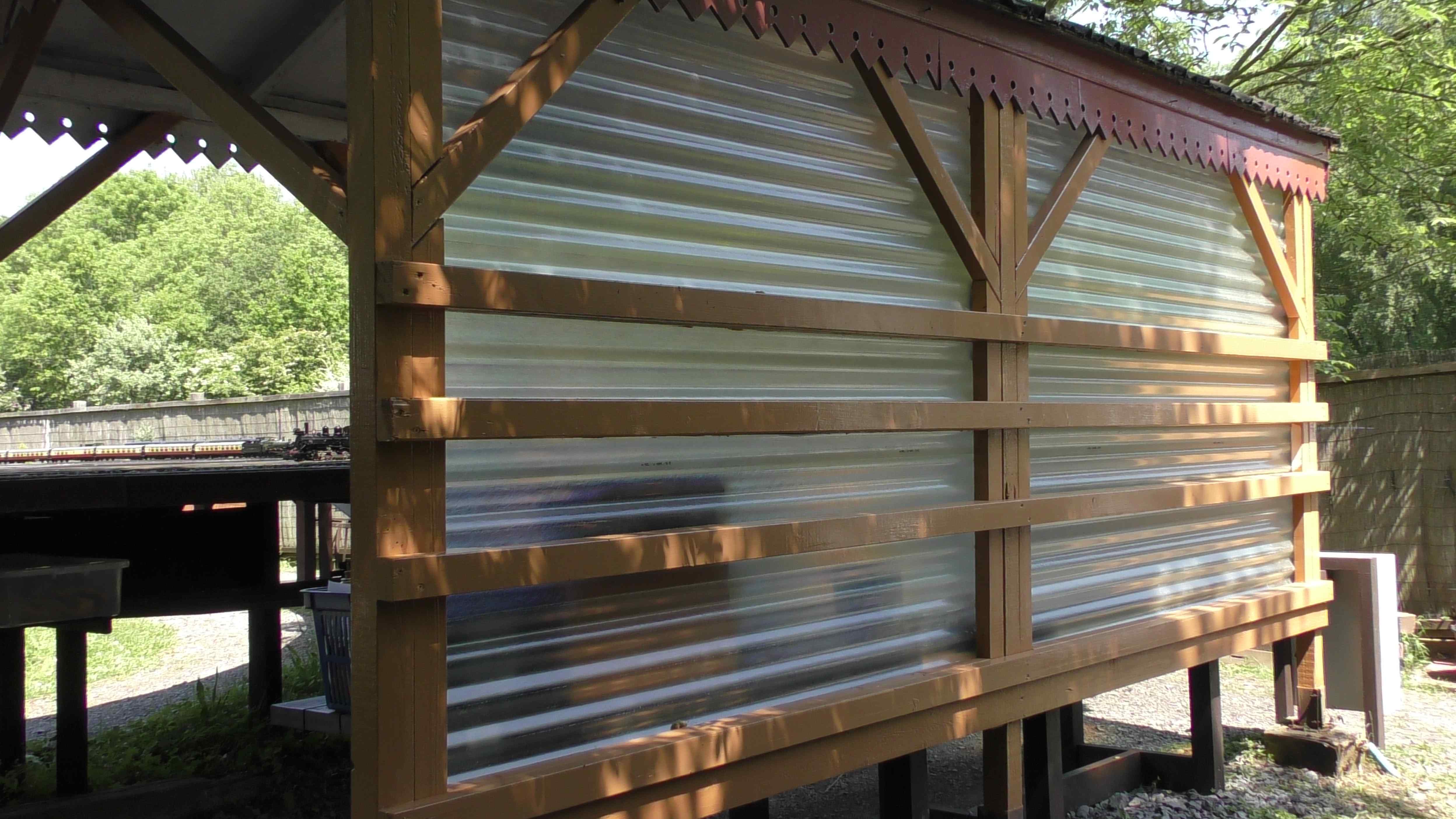 The back of the signing in table is now as smart as the front - thanks Richard.
May 2018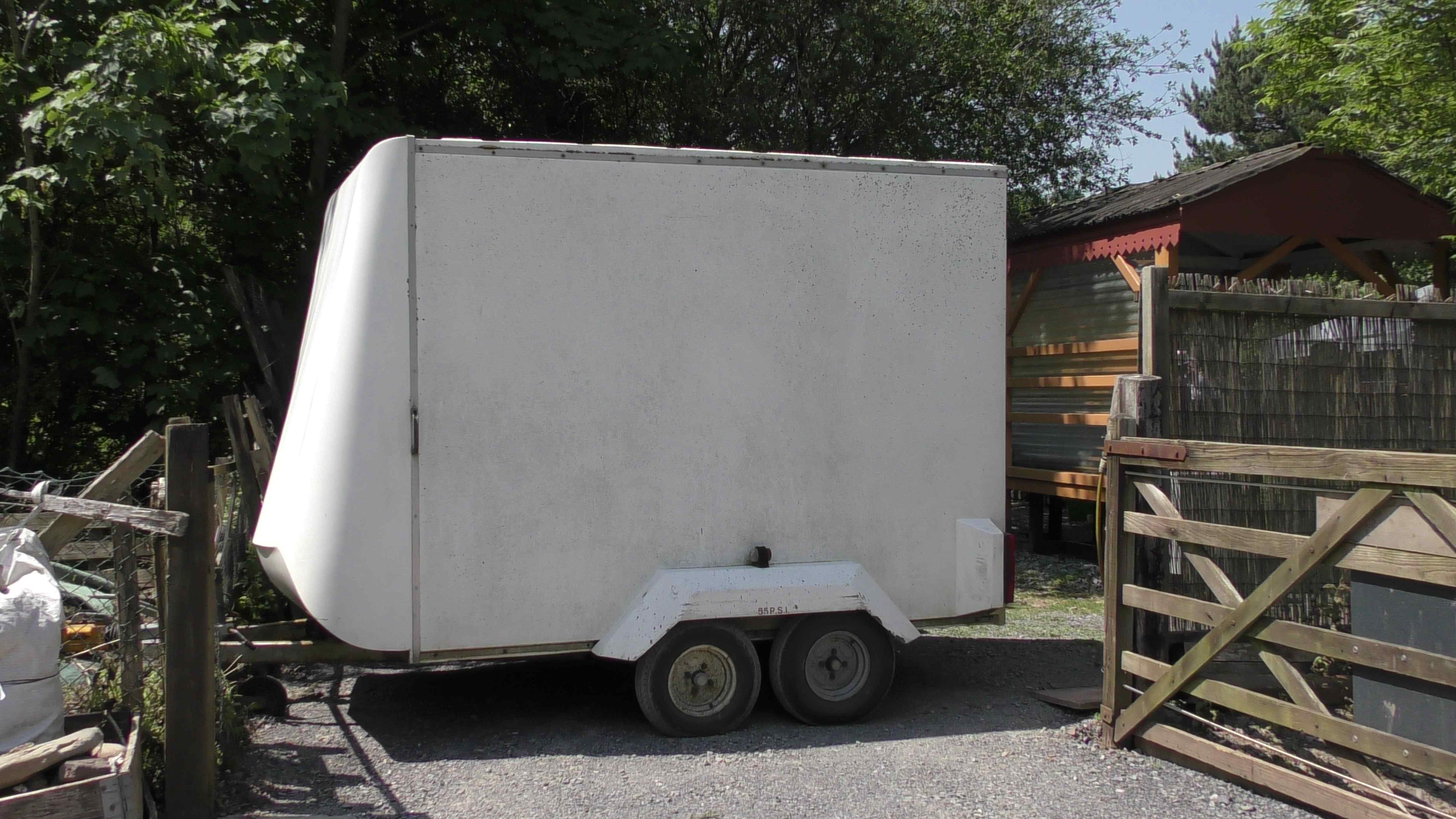 Burgers anyone? In deference to all our waistlines perhaps not. How about a low fat Gauge One layout? Much more satisfying....our "new" trailer.
April 2018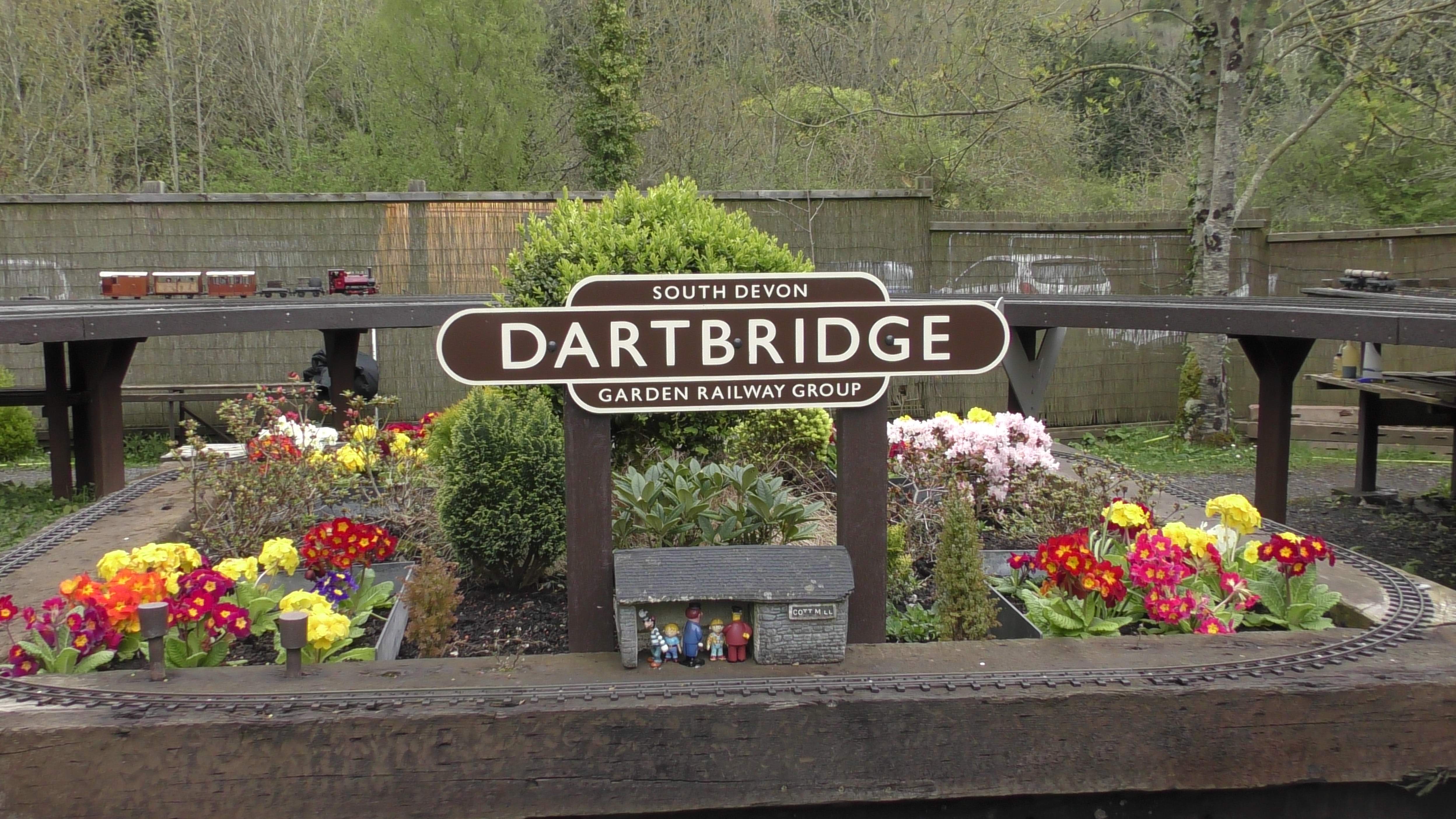 Those passengers are in for a long wait....it's often a Sunday only service that passes here....... still they can always admire the flowers.
April 2018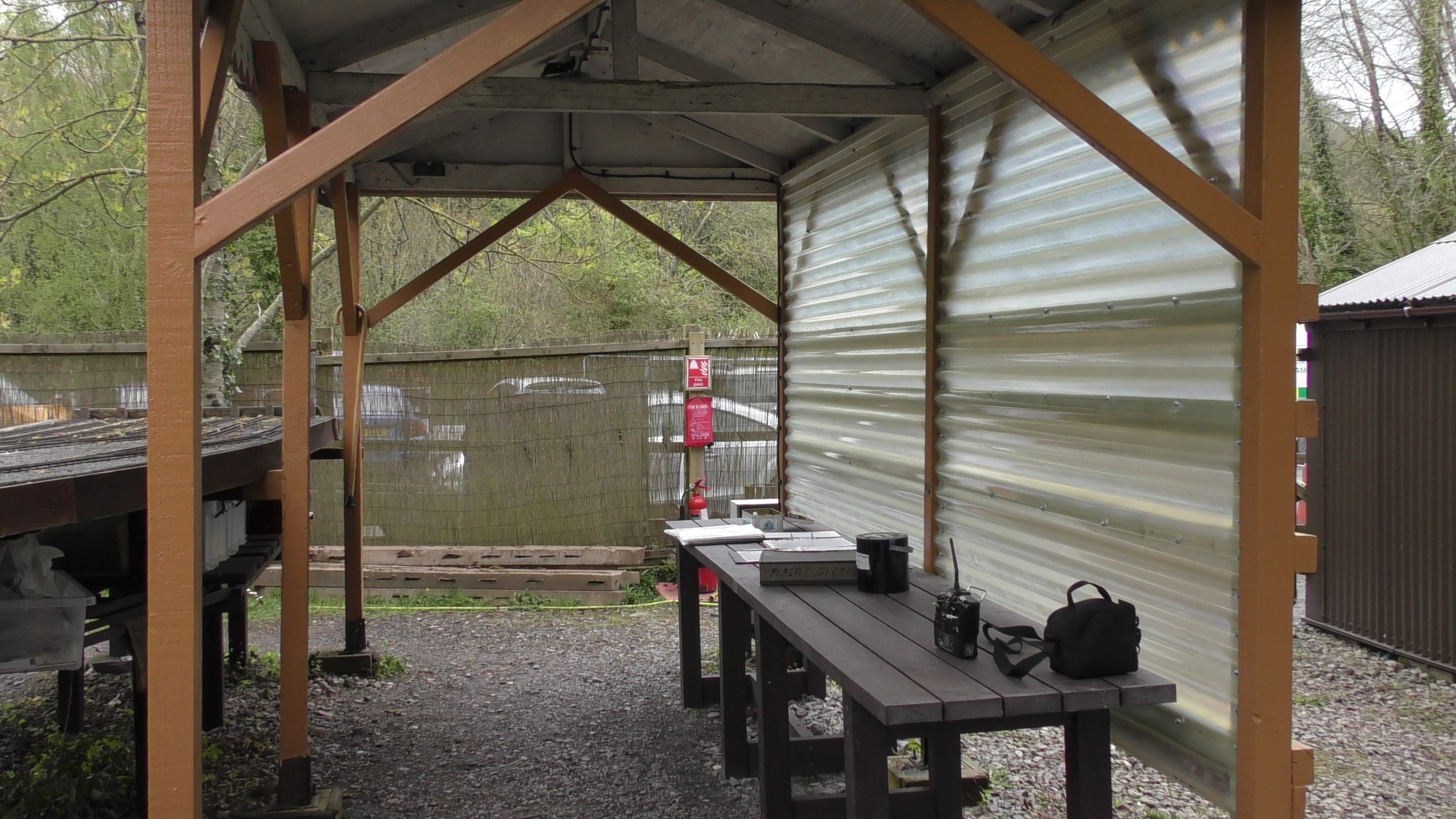 The new table now has a lovely back to stop the signing on forms from blowing away or getting wet.......no excuse now for not filling them in!
April 2018
Will derailments be a thing of the past?........
April 2018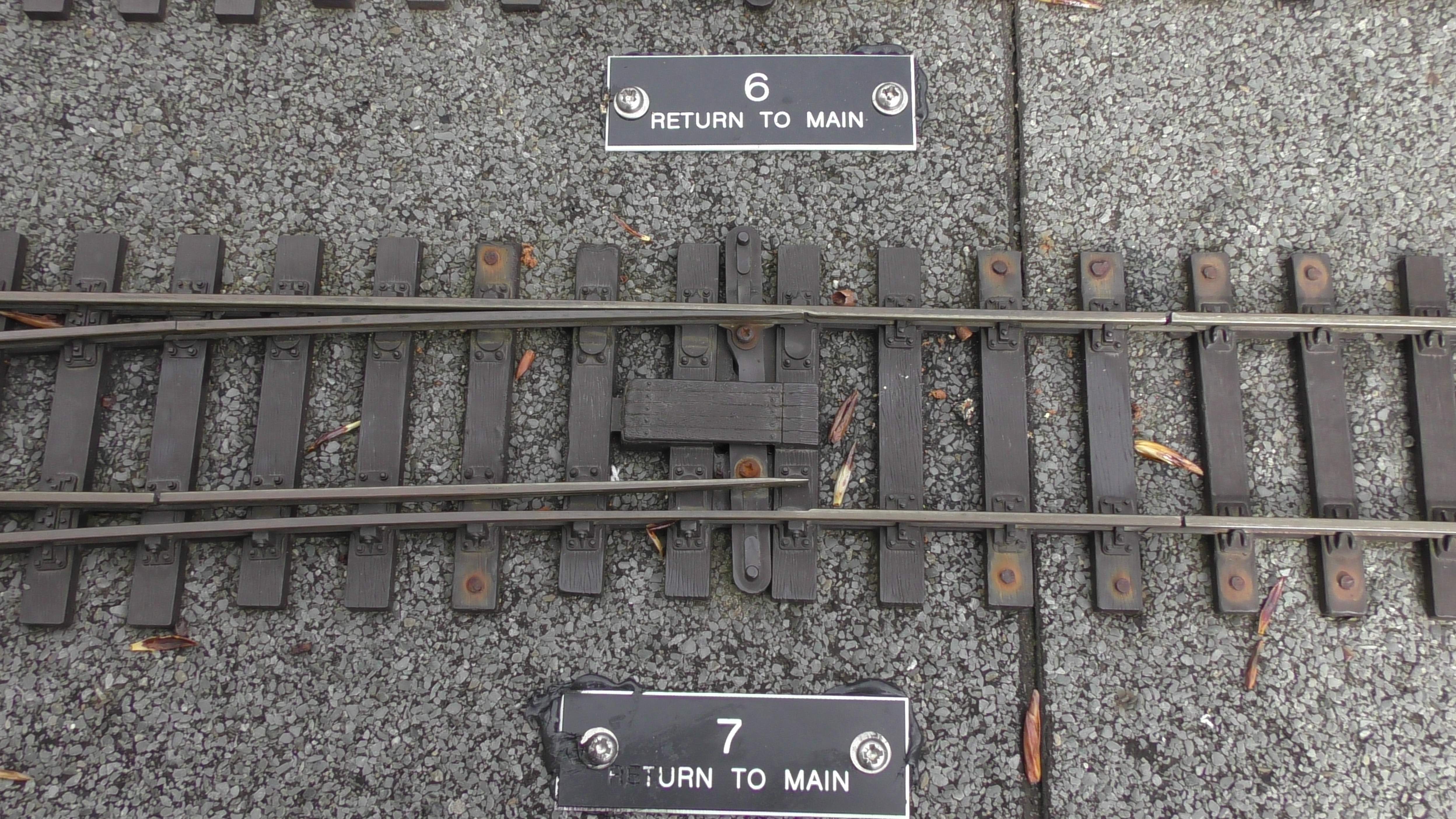 ........now that each point has a sign next to it reminding engine drivers how to leave it after it has been used.
April 2018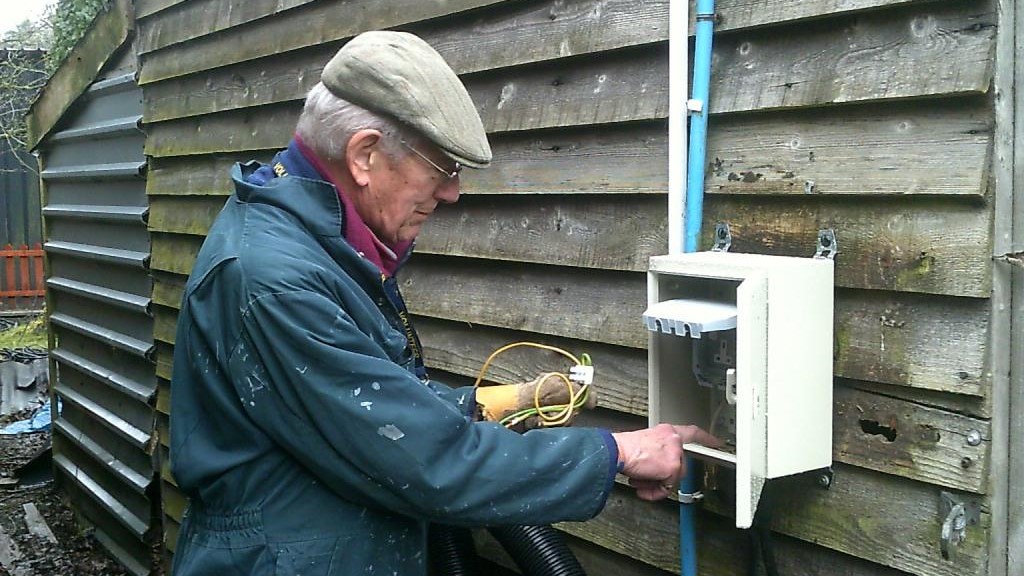 Hiding behind the Portacabin Paul tries to find out which is the live wire........
April 2018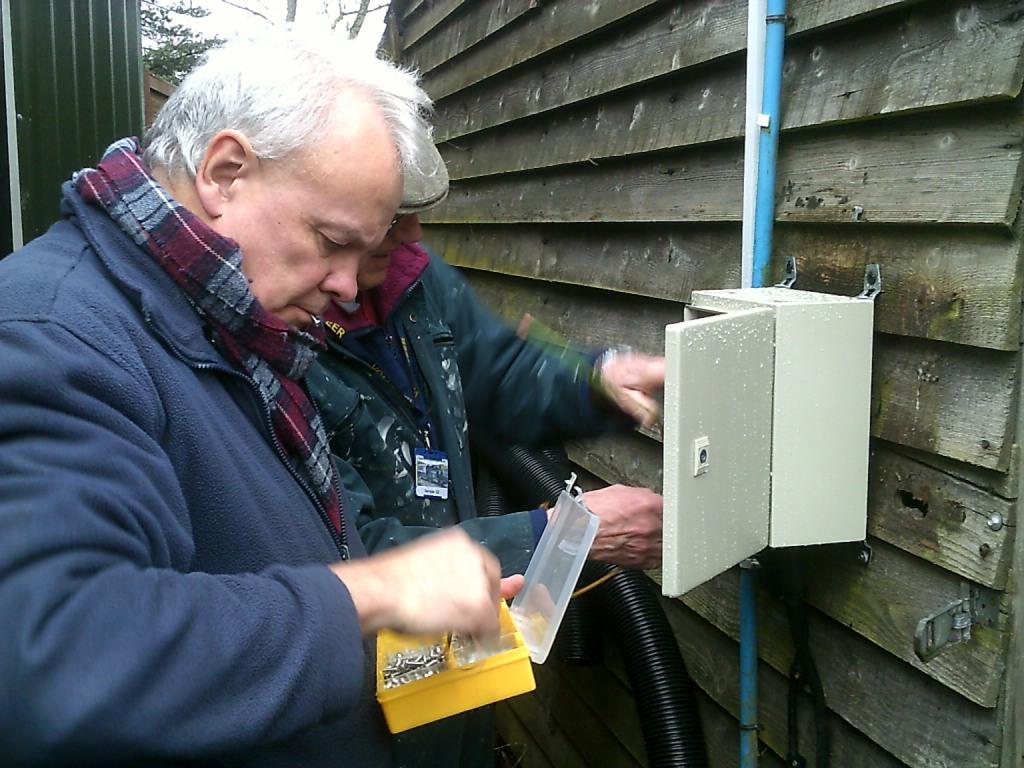 There's some nuts behind here somewhere..
March 2018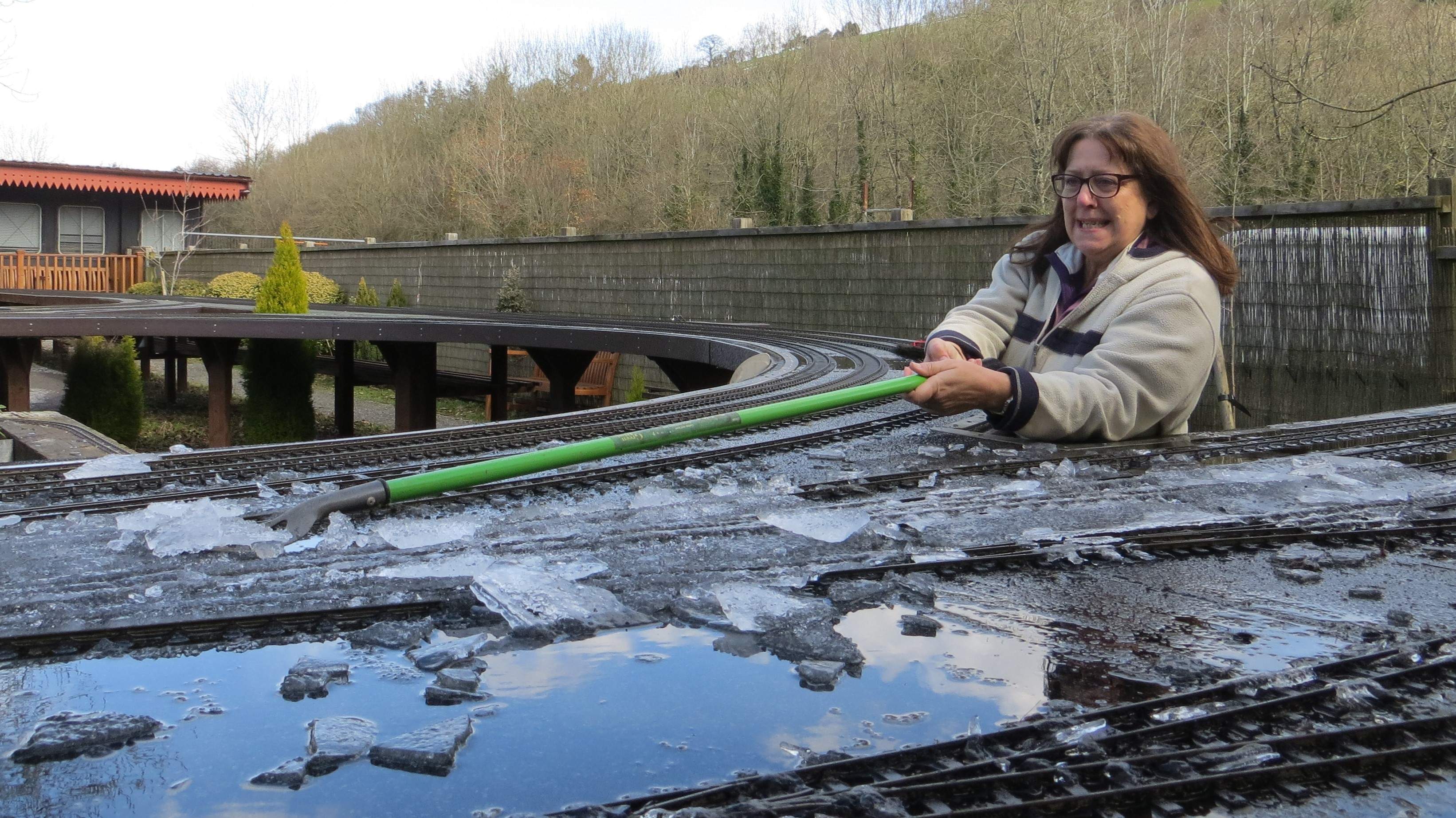 I n'hoe I asked for ice................
March 2018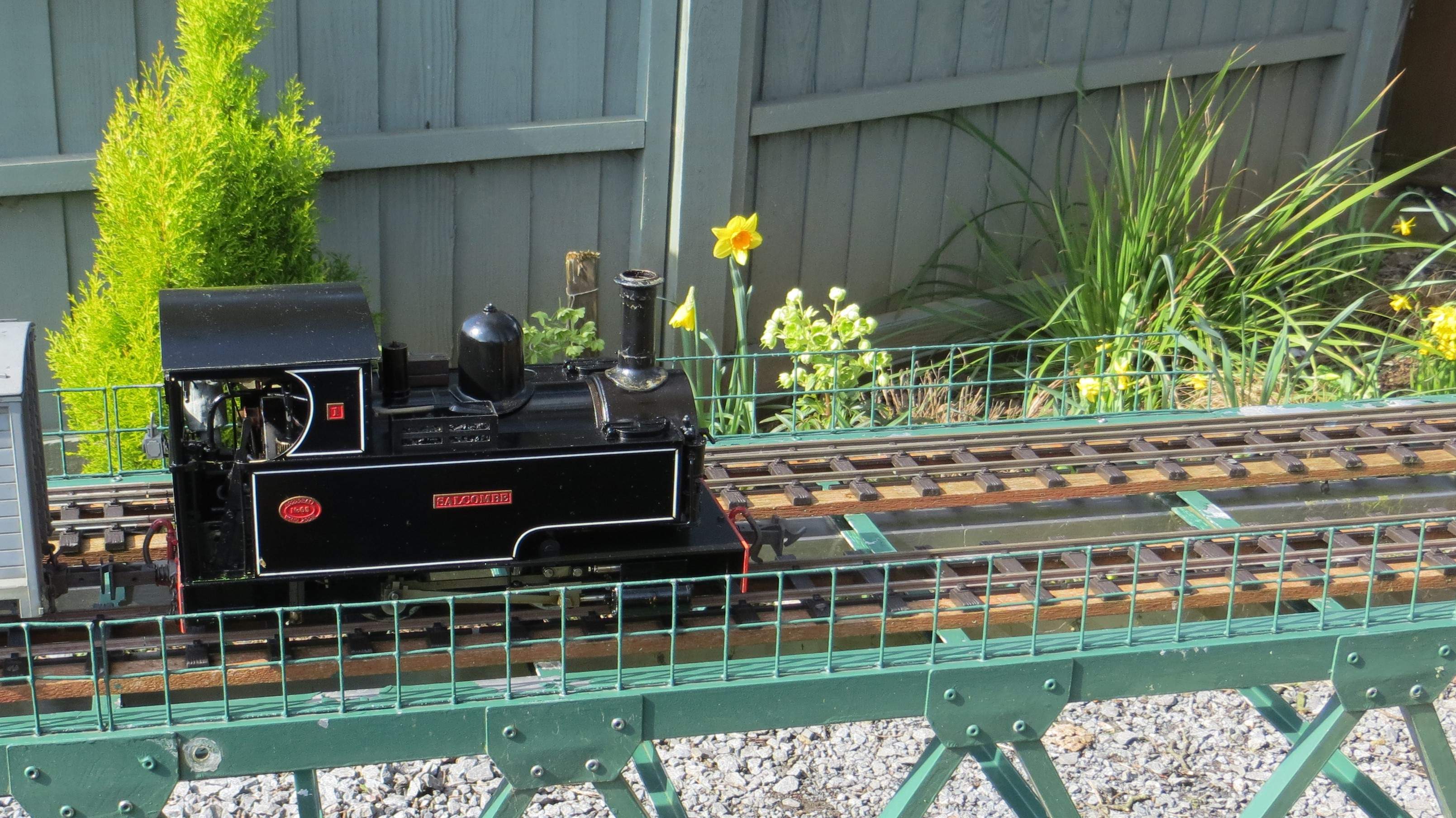 Four days later.........and Spring has sprung
February 2018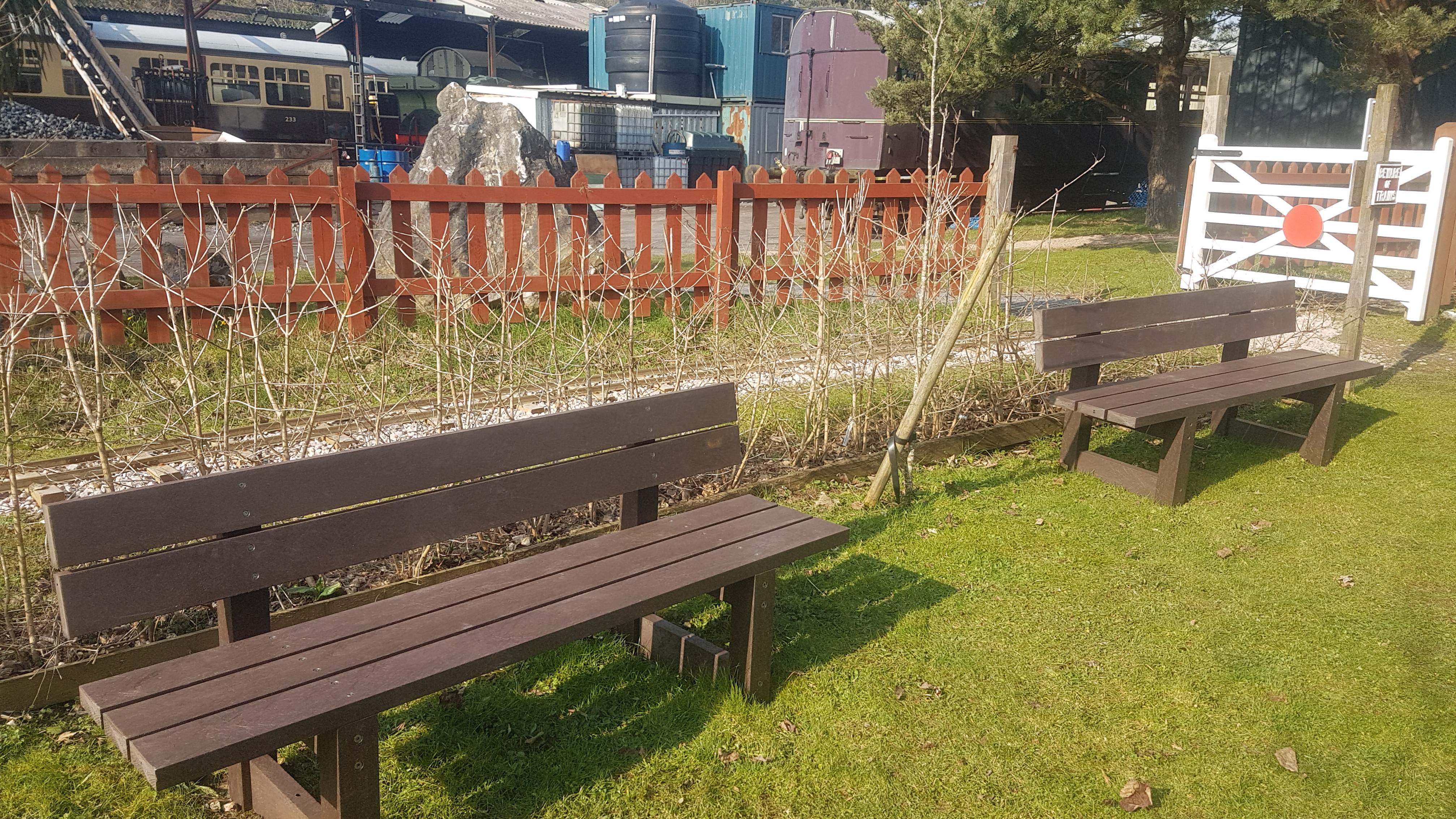 That's more like it...some new benches have been constructed......should they go here?
February 2018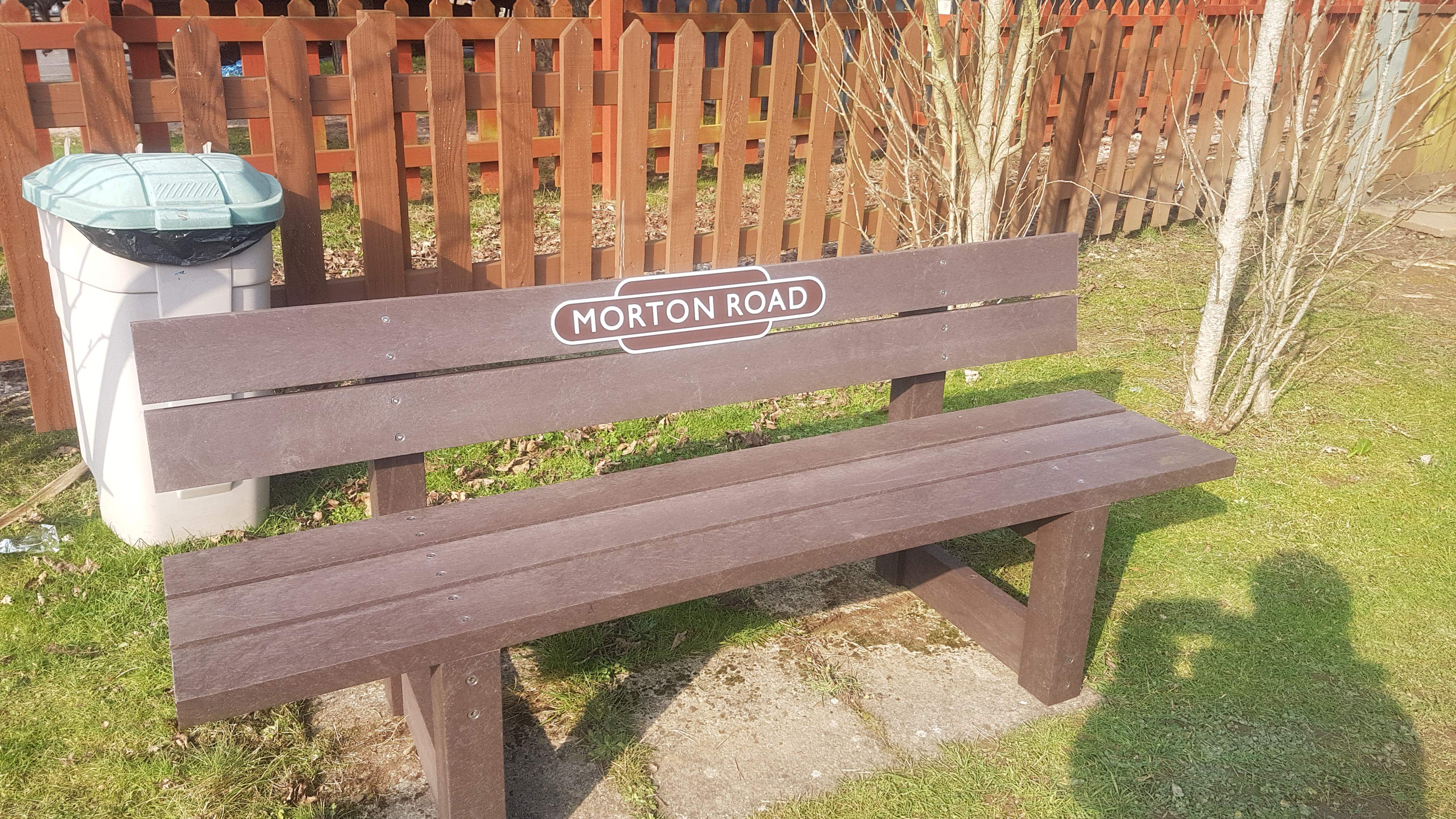 ....or here.....perhaps with a totem to remind us of Alan? Well, as we have three, I guess in both places.Very smart.
February 2018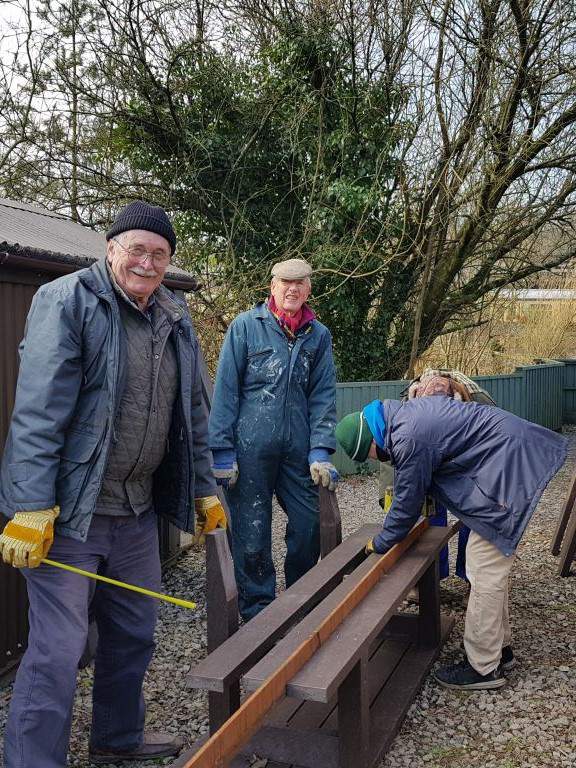 OK so it's back to work.....for some.........whilst others are intrigued by one of they new-fangled camera phone thingies. Meanwhile Tim gets on with the bench marks!
February 2018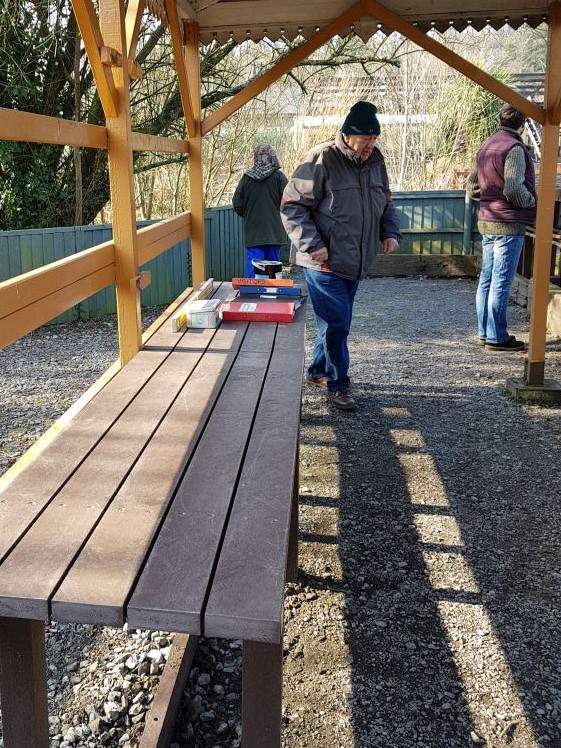 ....a table seems to have appeared so someone must have understood the instructions. Unless of course it was supposed to have been a bench.
January 2018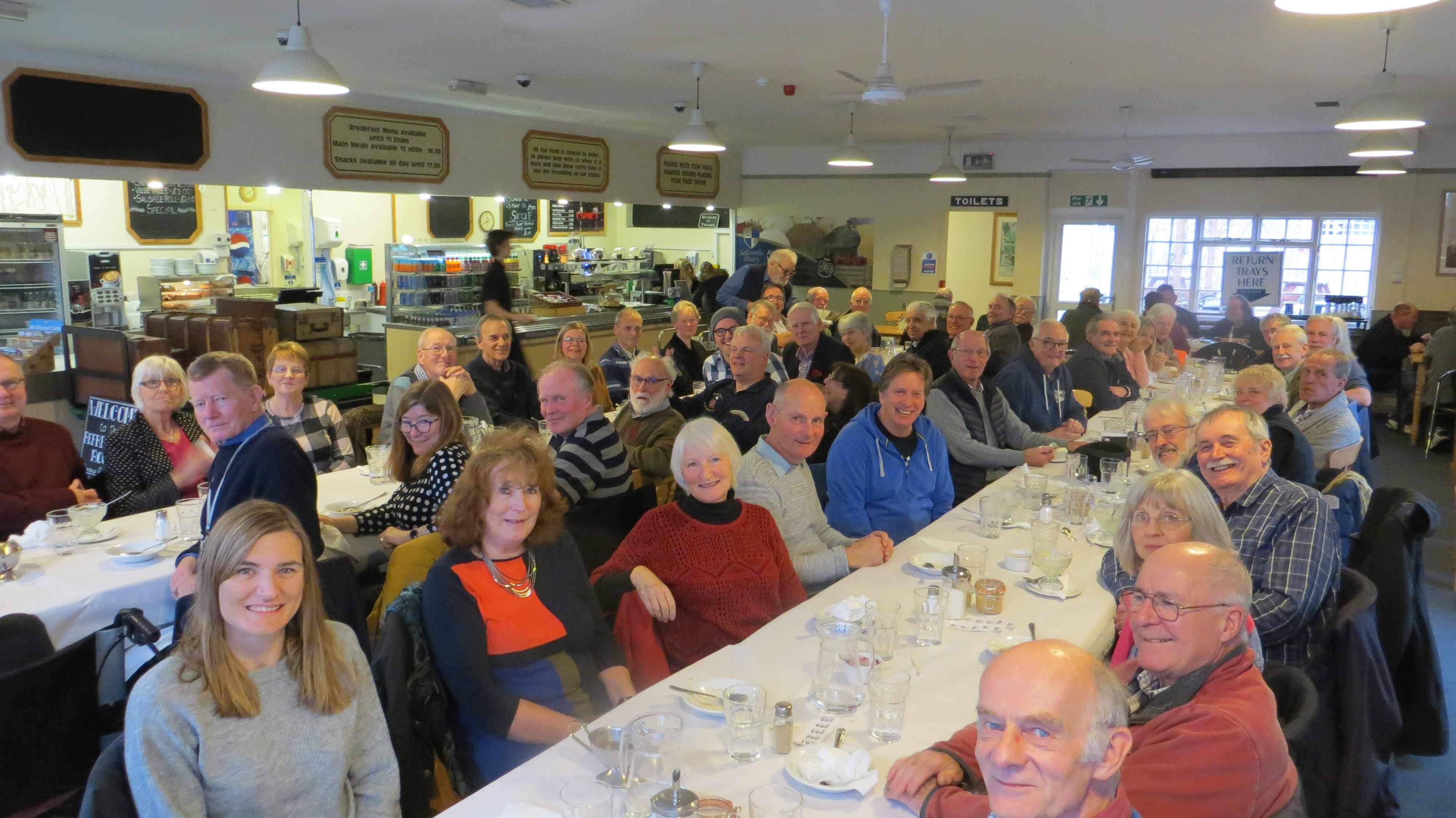 Our annual post-Christmas dinner as usual was held in the Buckfastleigh Station Restaurant .....
January 2018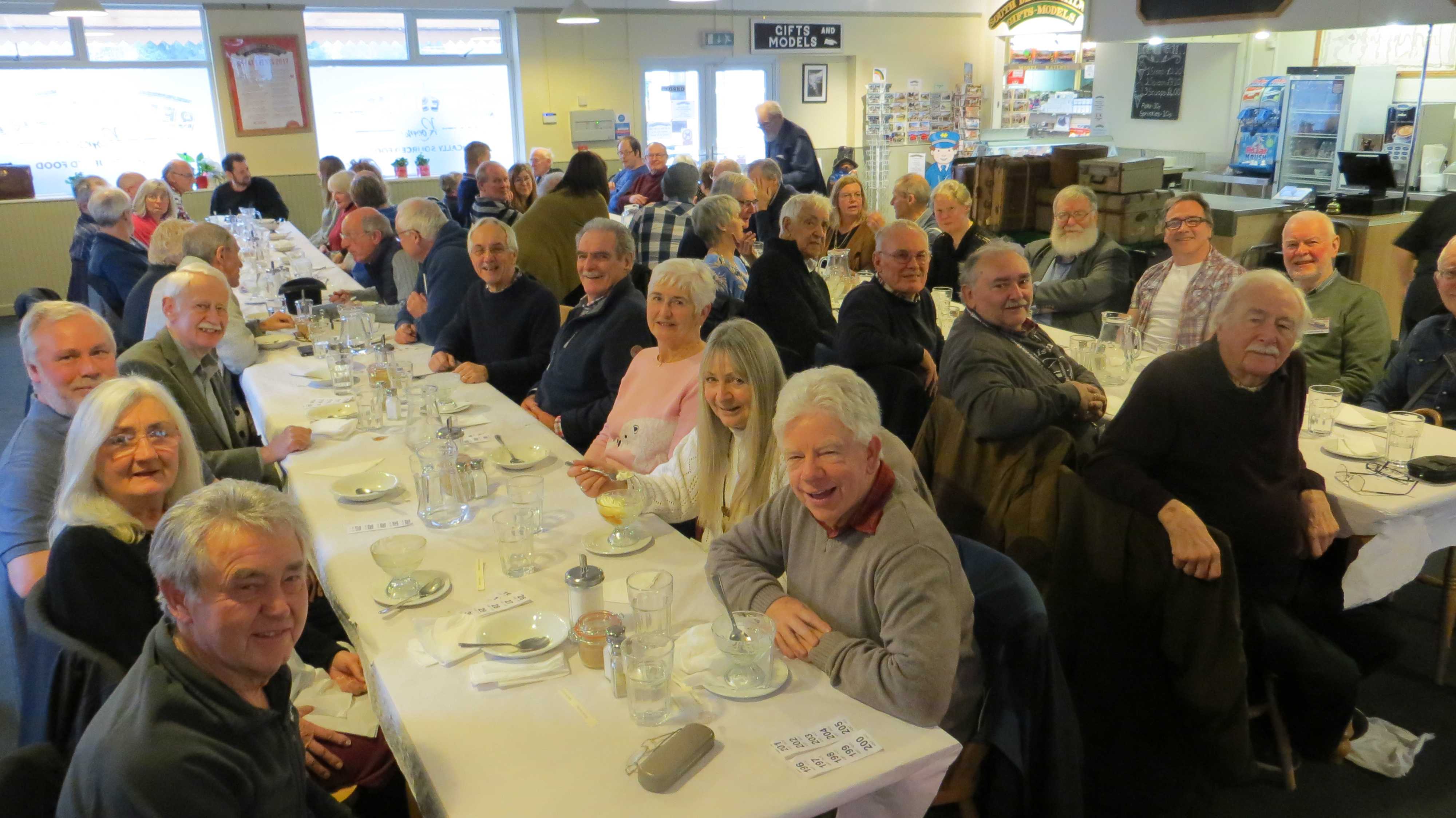 ....with 54 happy members,wives and partners present this was our largest and best annual lunch yet.
January 2018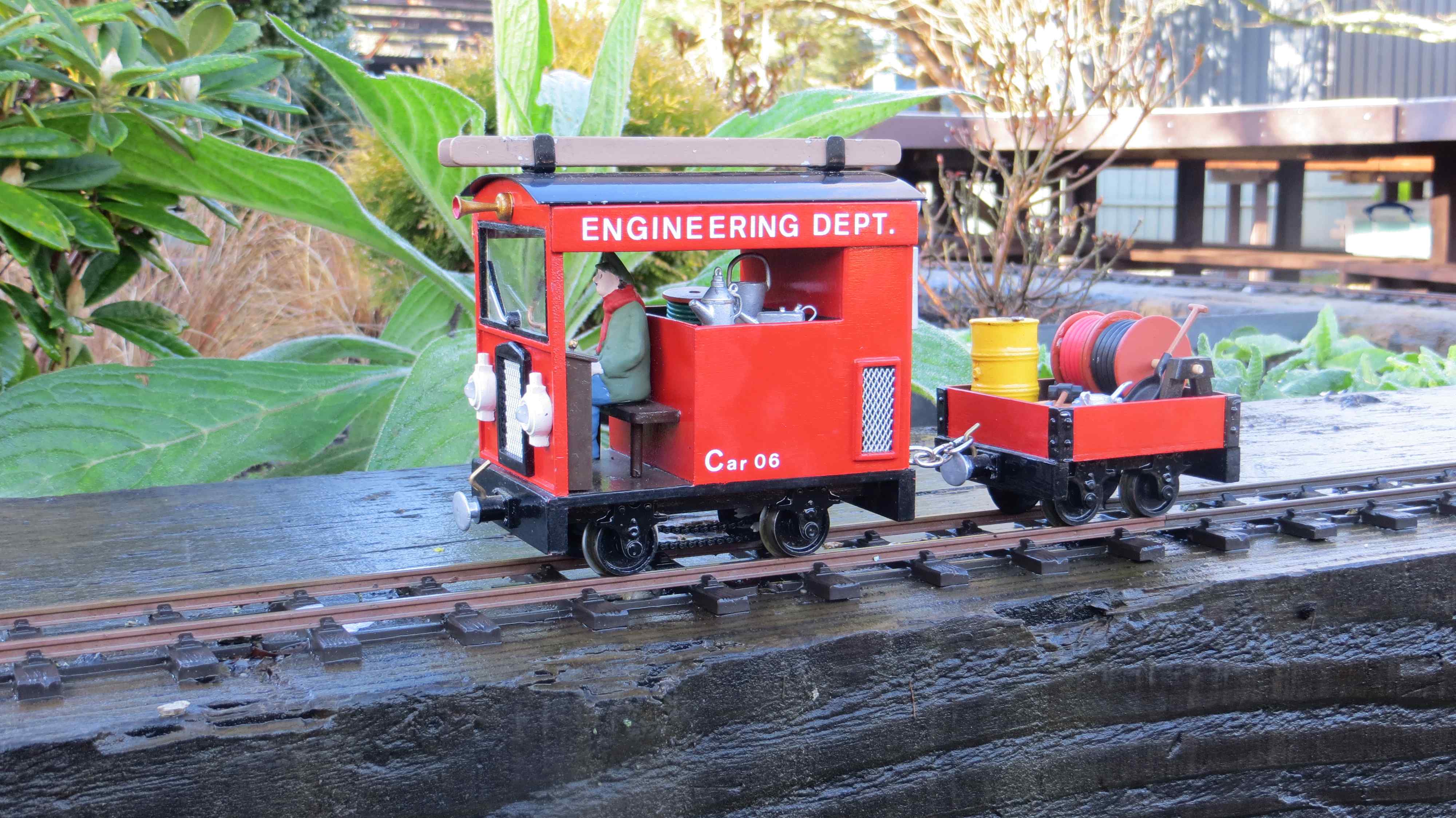 The inspection gang ran their little train round the mini garden railway to check all was now OK.....and it was...
January 2018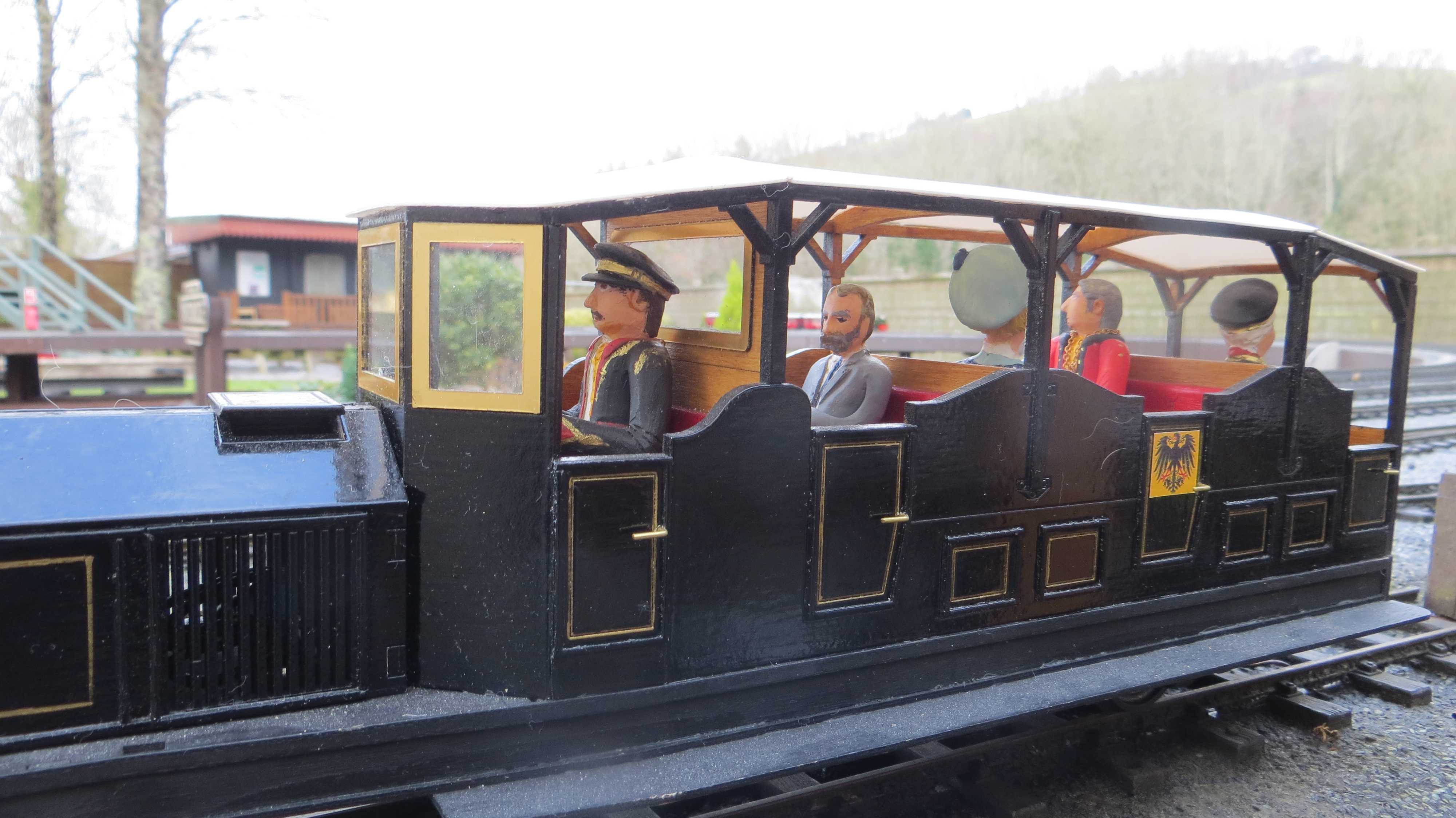 ....just in time for the 2018 season to be opened by a "Royal" visitor...(he's in red). Our coaches weren't good enough or fast enough so he brought his own ...nice.
December 2017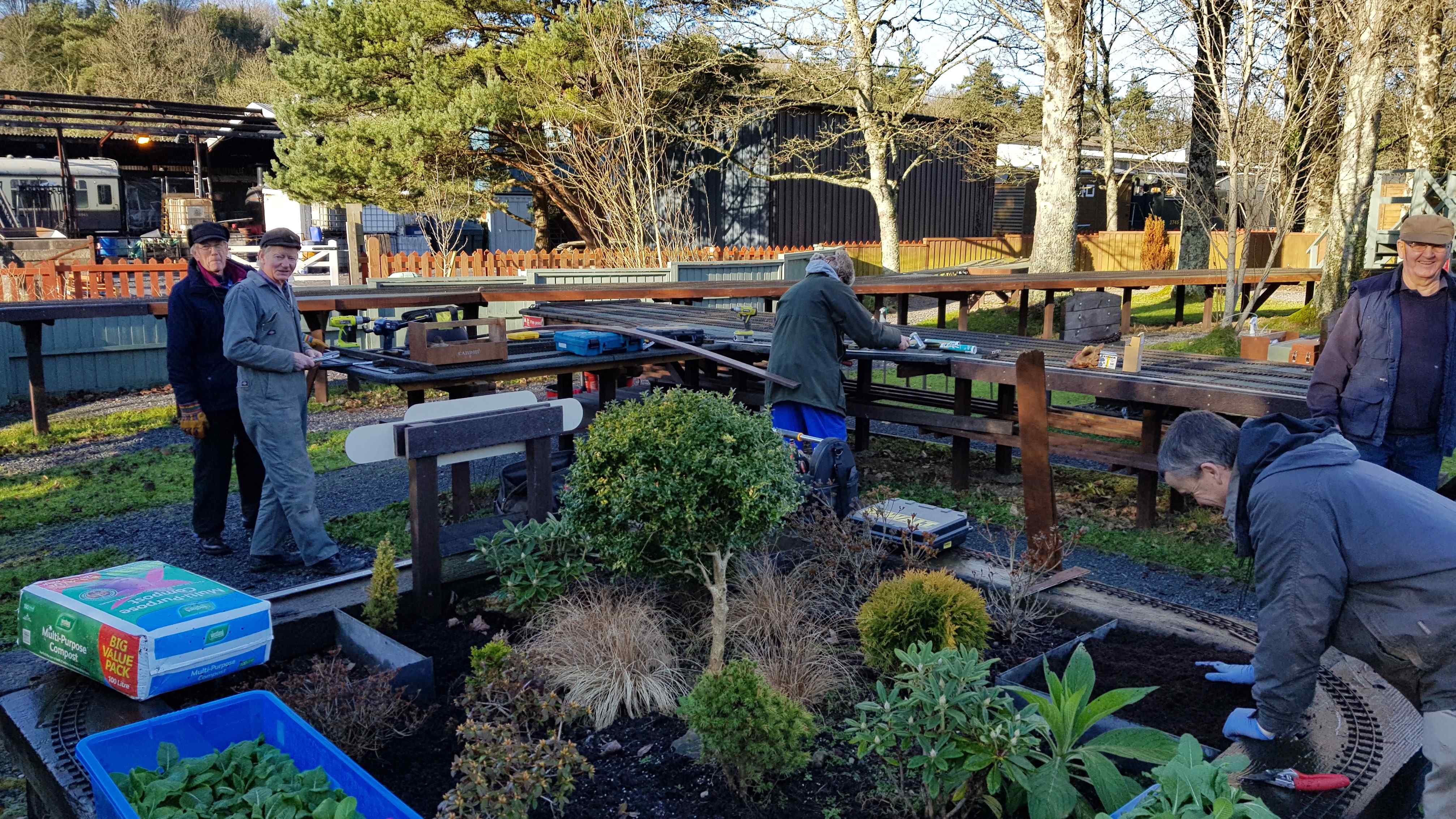 With the show behind us time for some serious (and not so serious) maintenance to the layout and to the gardens.....
December 2017
....but this is all looking a bit serious....3 drills and a sealant gun.......
September 2017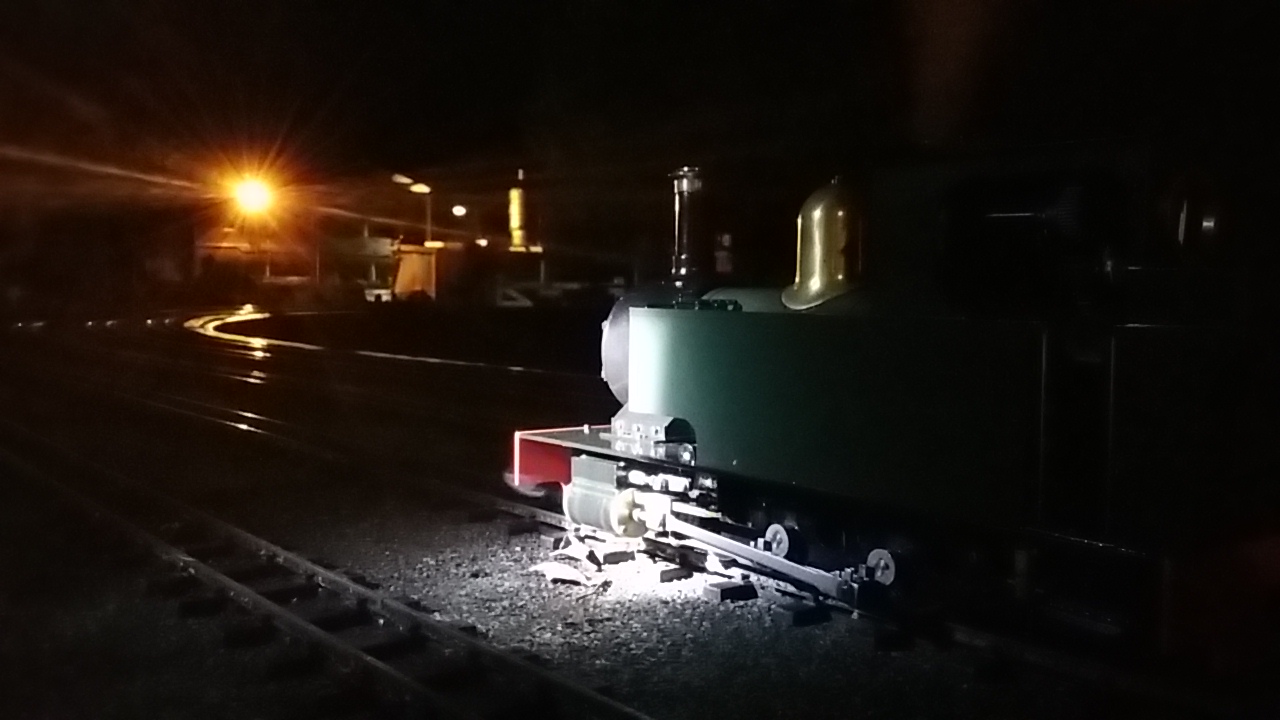 For the first time, this year the club held a summer BBQ, in September. About 40 members and partners attended and the event was pronounced a great success!
September 2017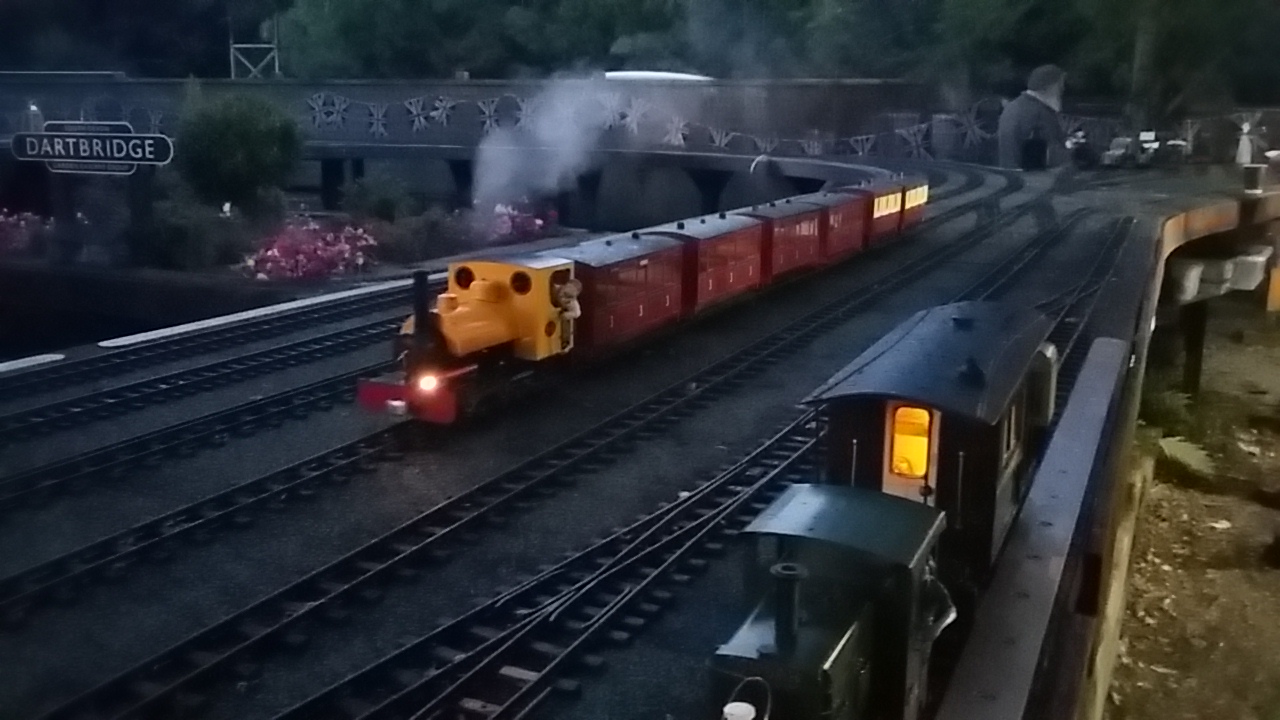 ....the opportunity was taken for some day night running....the sights and sounds of live steam mixing brilliantly with those of sausages and burgers!
July 2017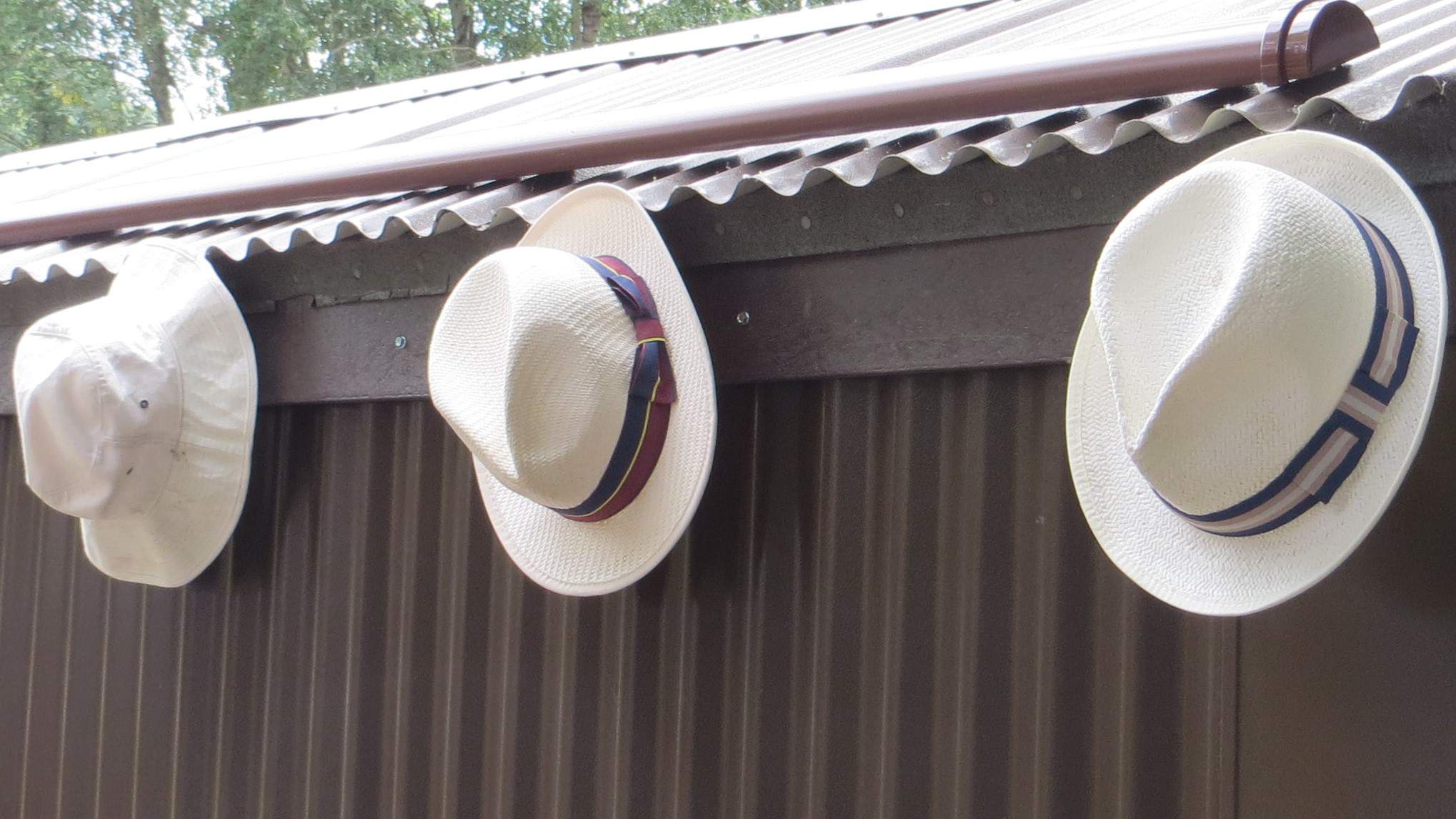 After weeks of work by the maintenance team we finally have 3 hat pegs!.
July 2017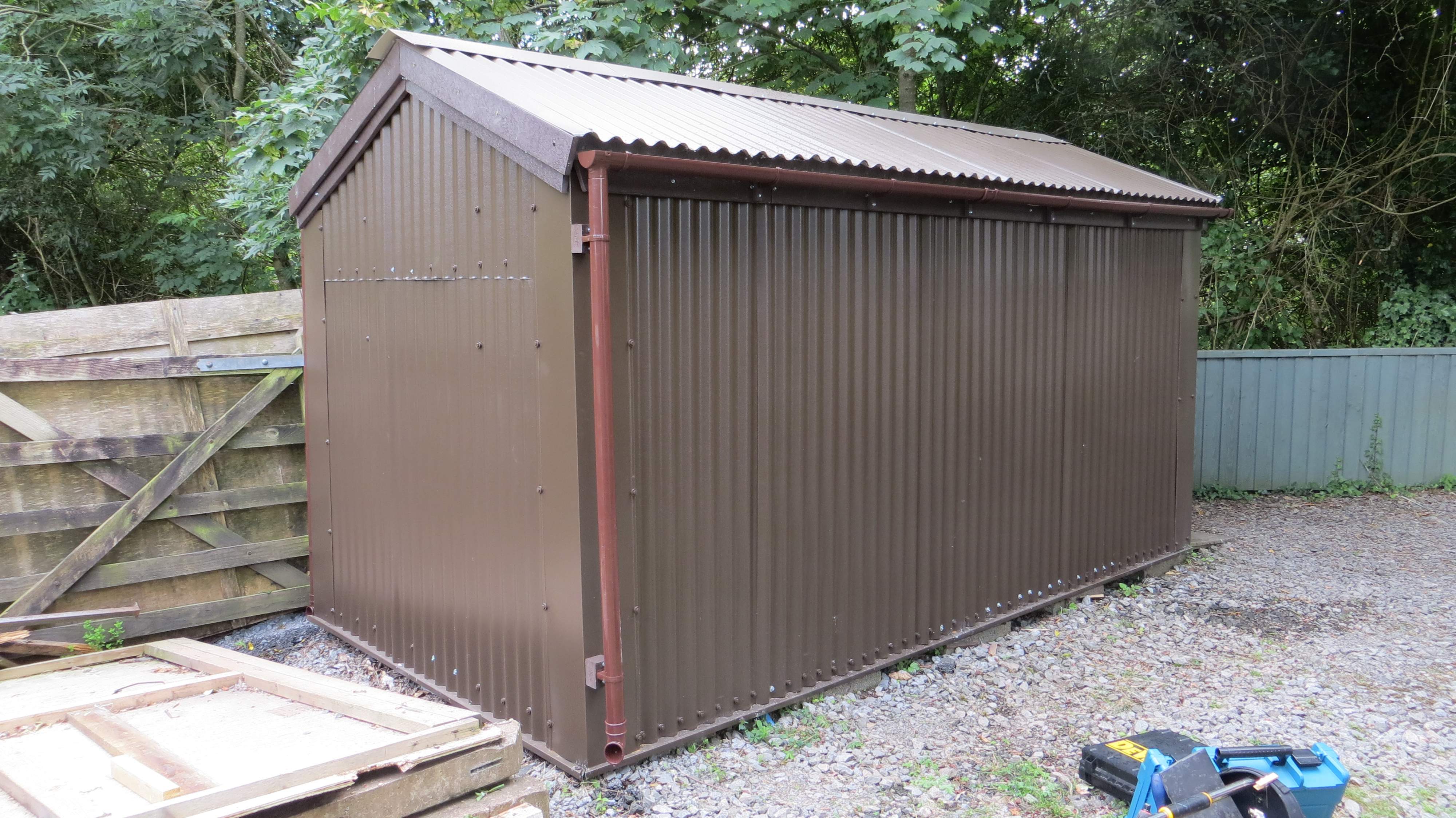 ....ooh and by the way, the shed is now fully clad and watertight...looks good, doesn't it.....well done chaps!.
May 2017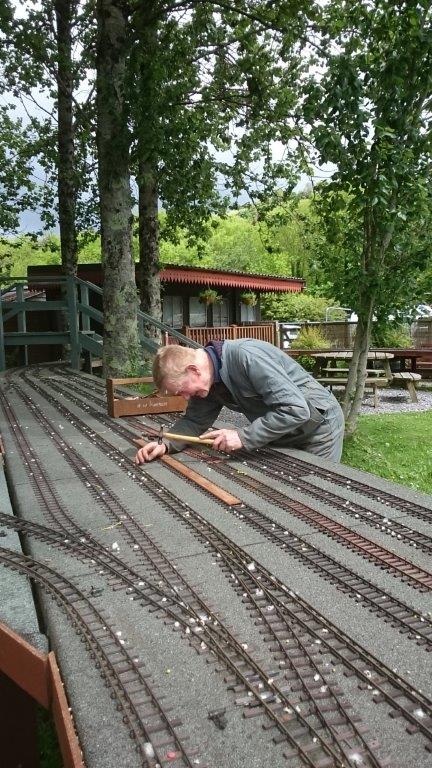 The Hon Sec trying to pin down all those annoying white furry things...or is he laying some more Gauge 1 track?
May 2017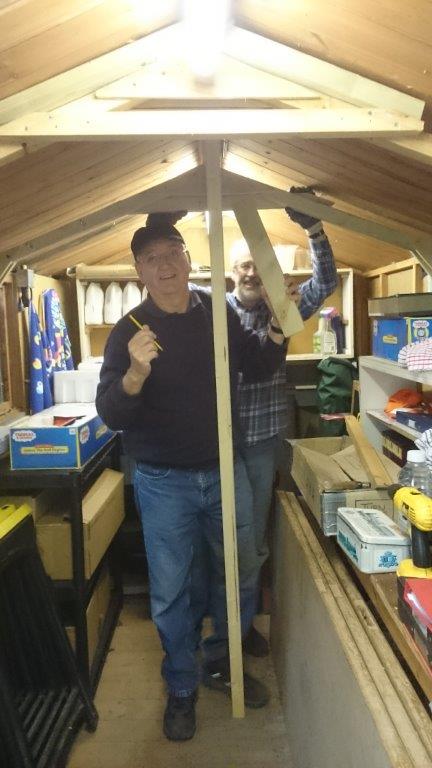 Two new shed roof supports.....but what are those new trusses for?
May 2017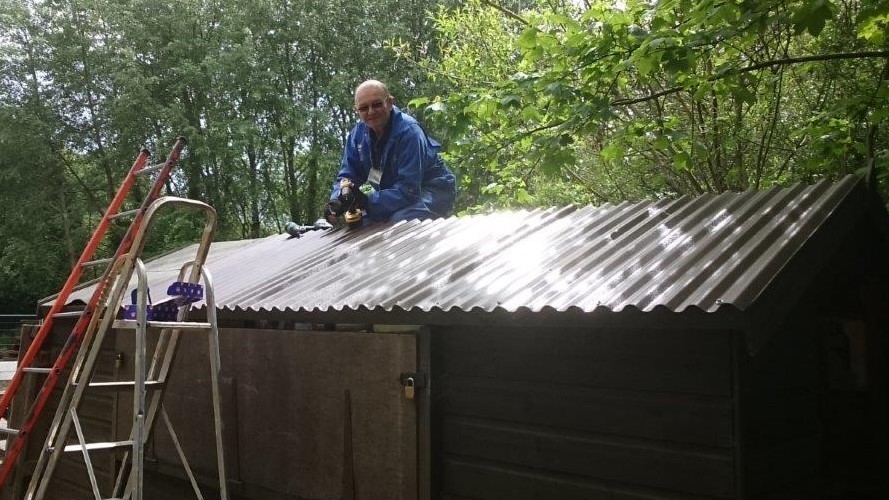 Who's this trying to get in without paying his running fee?....some people really are roofless ....but the shed isn't and it is now watertight.
May 2017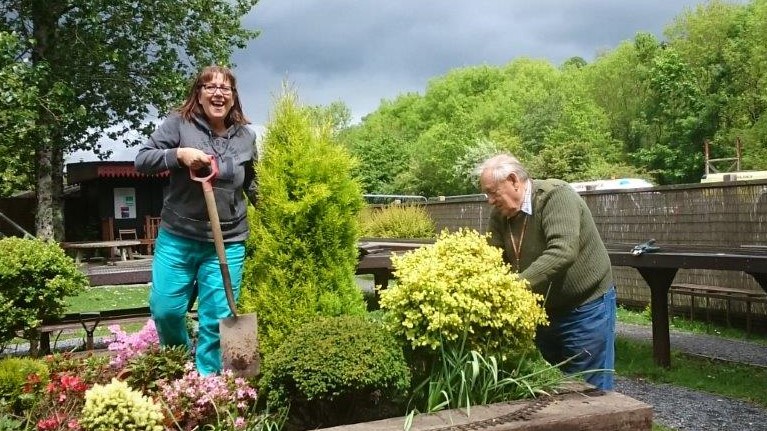 ....gardening...or trampling the flowers down? Looks fun anyway.
April 2017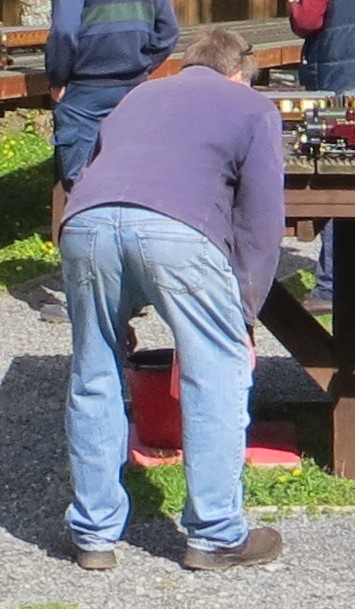 The end of the chairman?
April 2017
Graham Wilkins has stepped down from the Chairman's role after 20 years of of loyal and knowledgeable service. One of the original founding members of the club and joint instigator of the annual Exeter Garden Railway Show which is now one of the leading shows in the country. His input and enthusiasm on the committee will be missed but he will still be an active club member and has promised to continue his ever popular Christmas Quiz.........thanks for everything Graham.
March 2017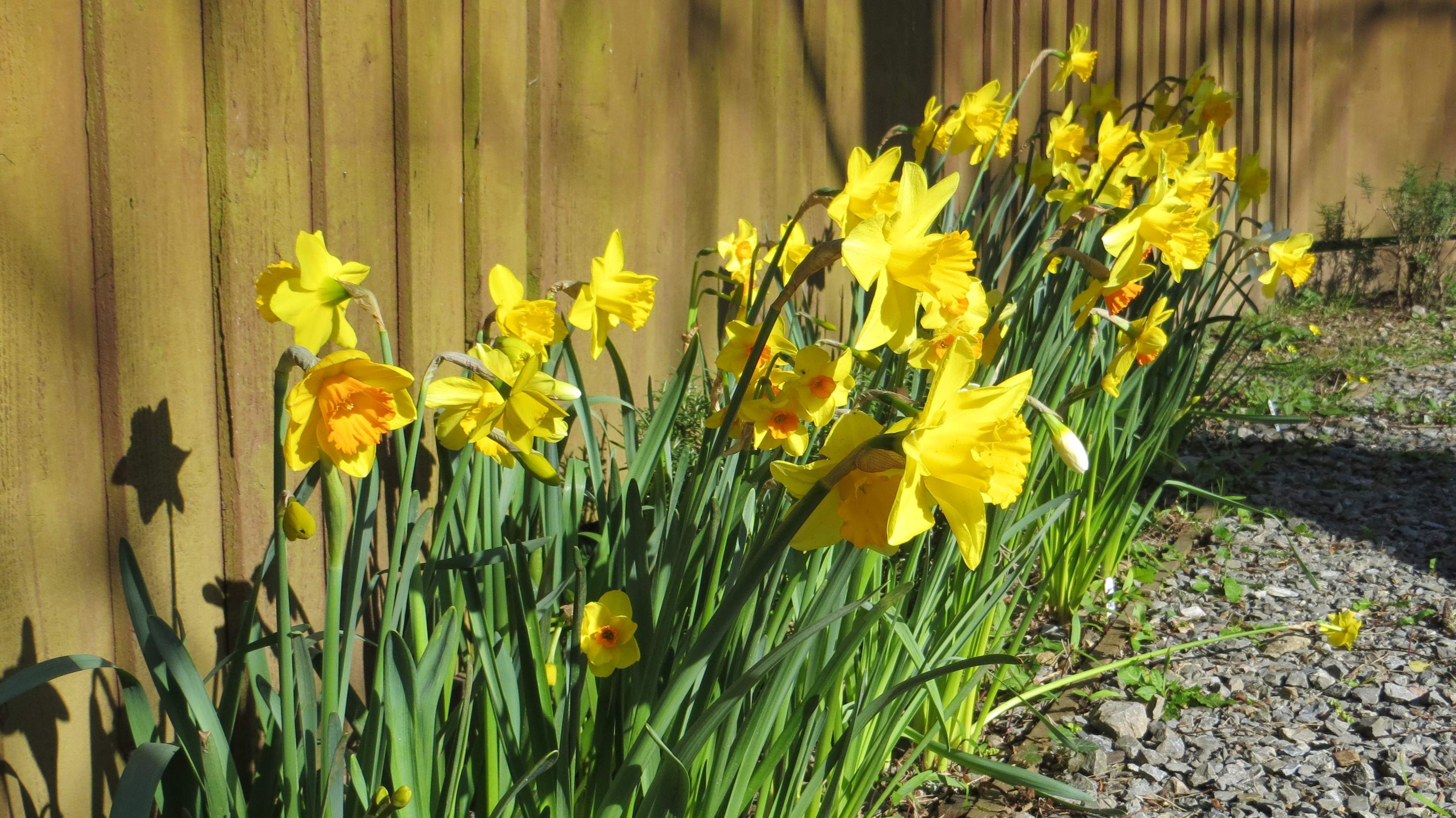 Spring has sprung....
March 2017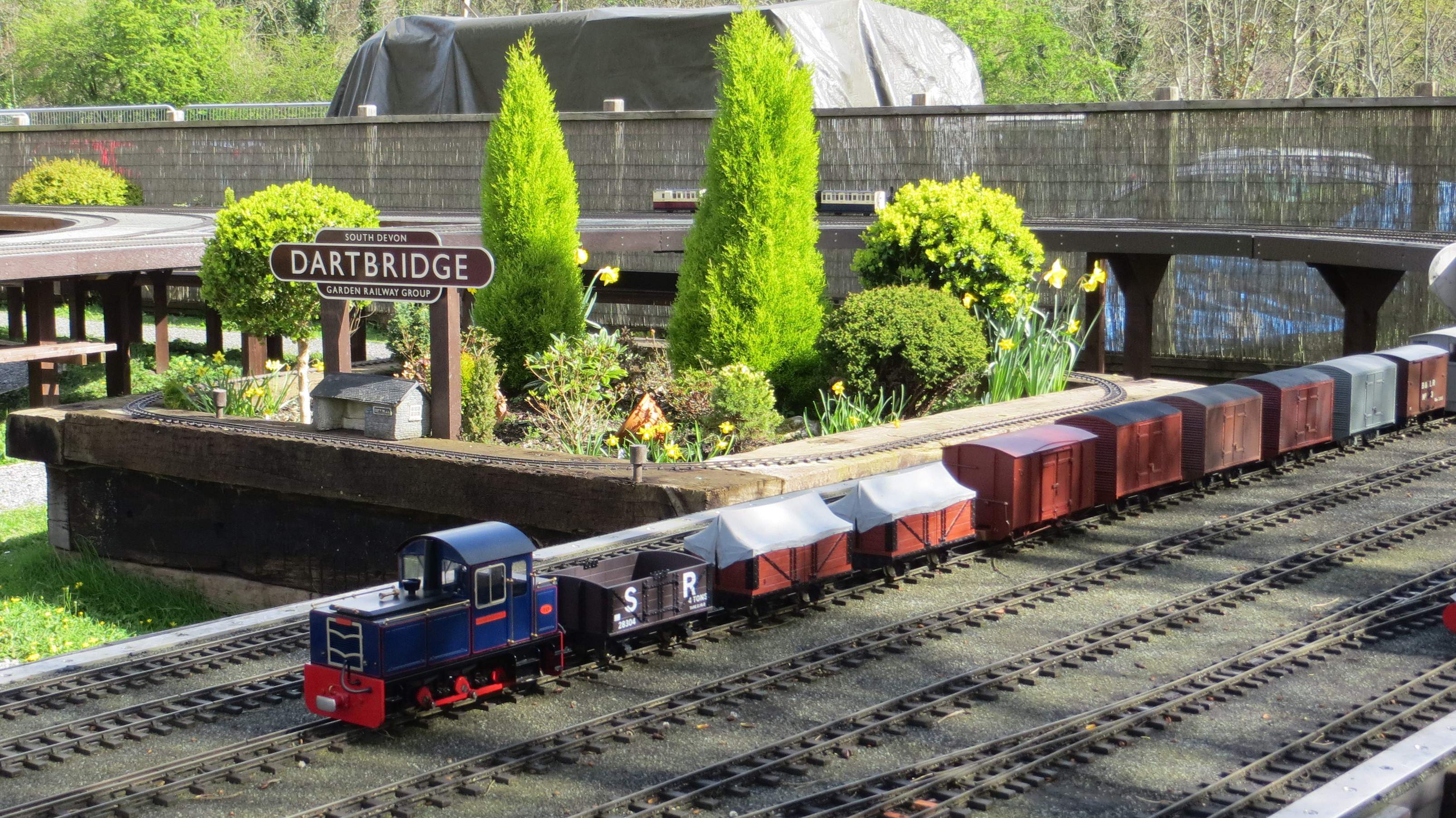 ....and the garden railway looks a bit brighter
January 2017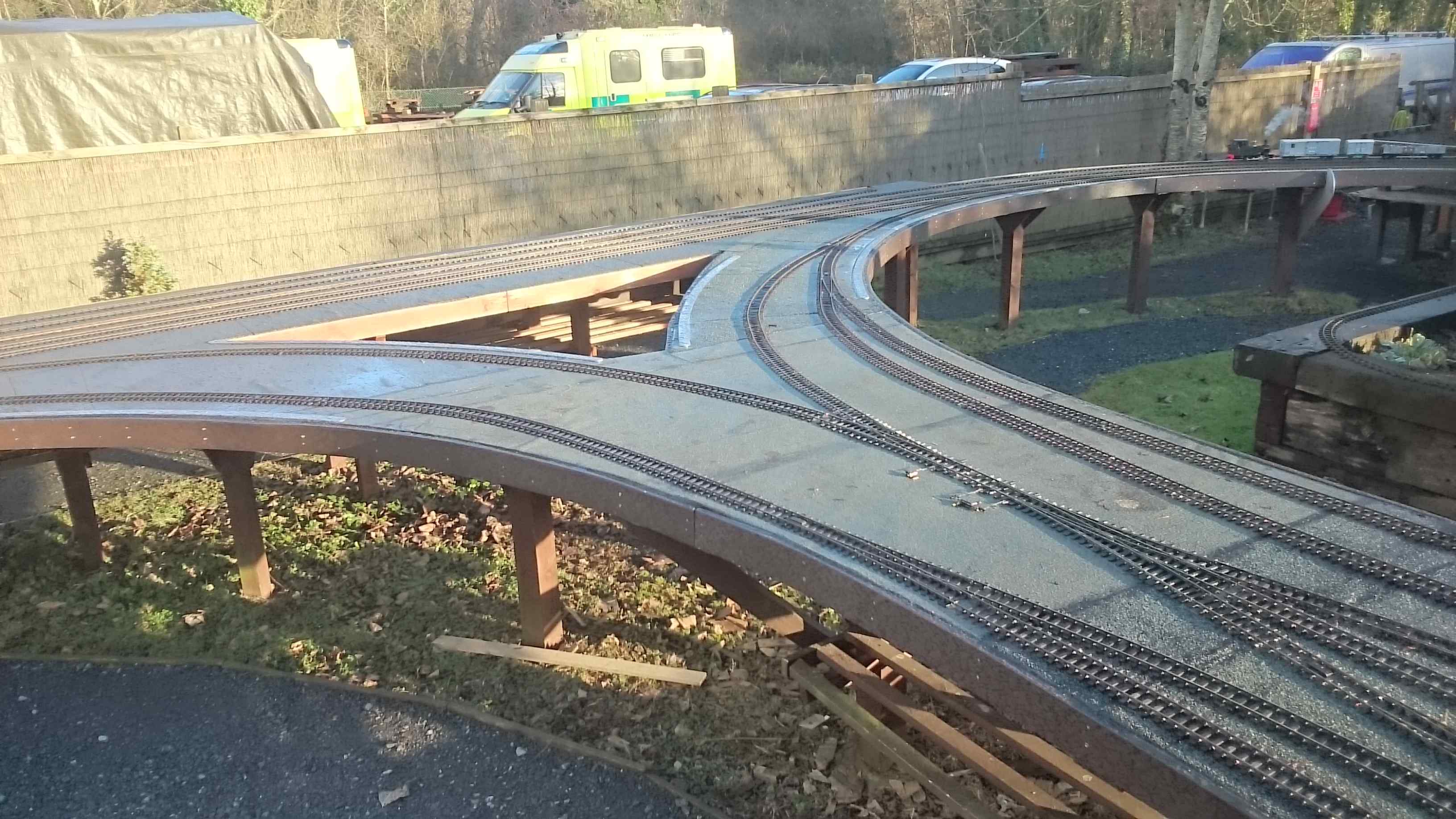 A few days after the party and the gauge one sidings are now reconnected to the rest of the layout.
January 2017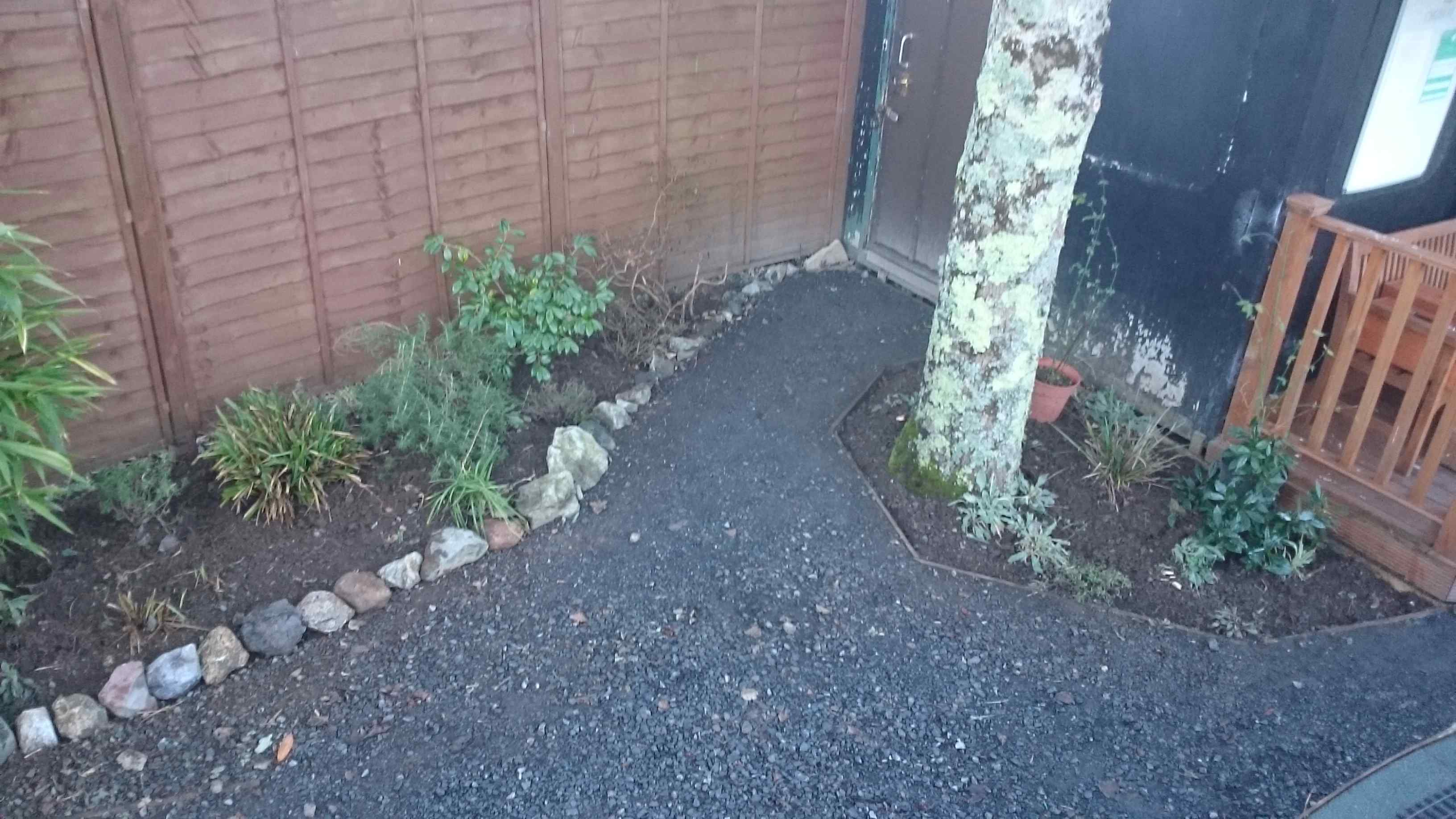 The gardens around the layout have received a much needed prune and tidy up.
January 2017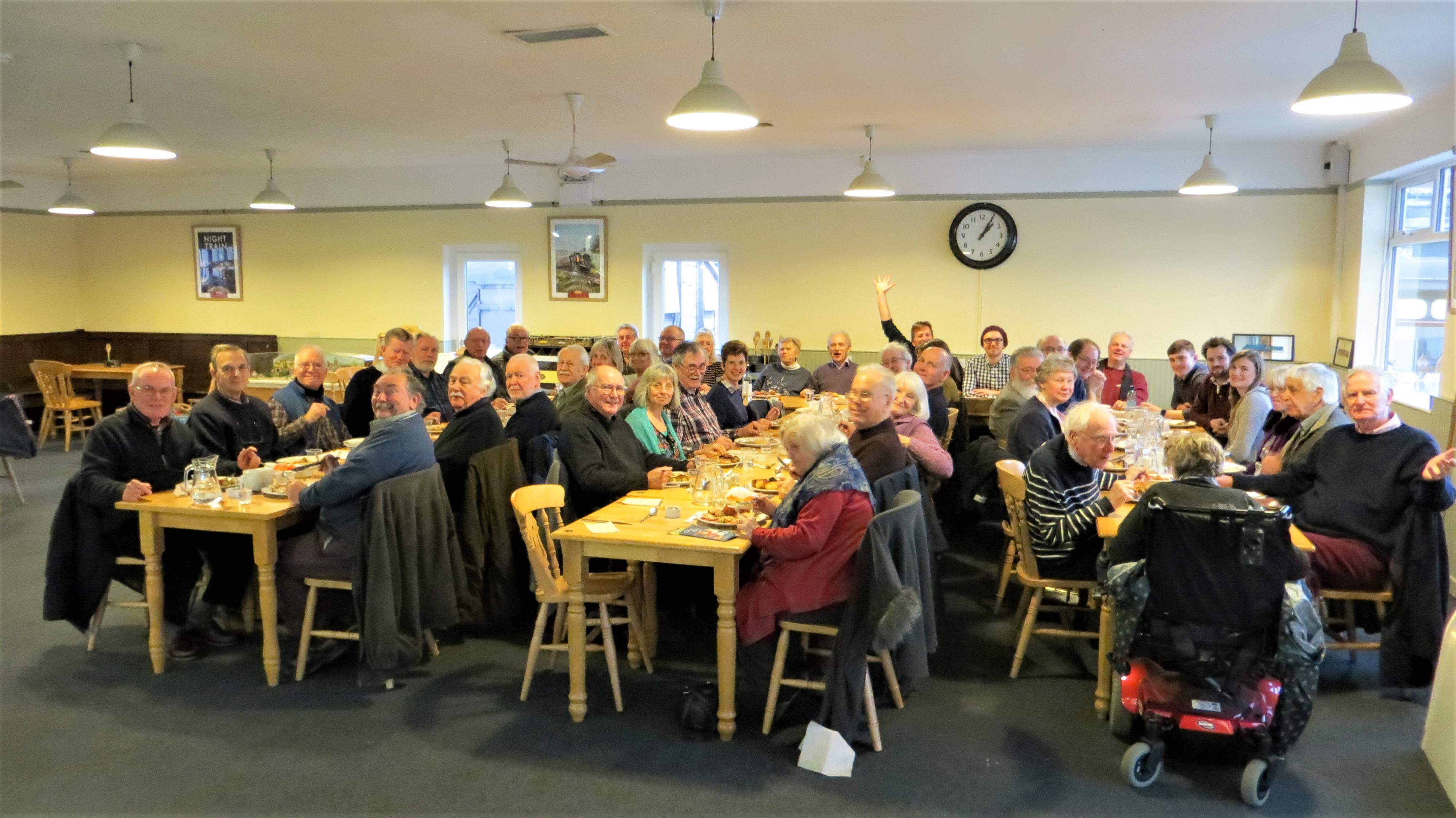 Start the year off with a party! Our annual dinner was great fun as usual.
December 2016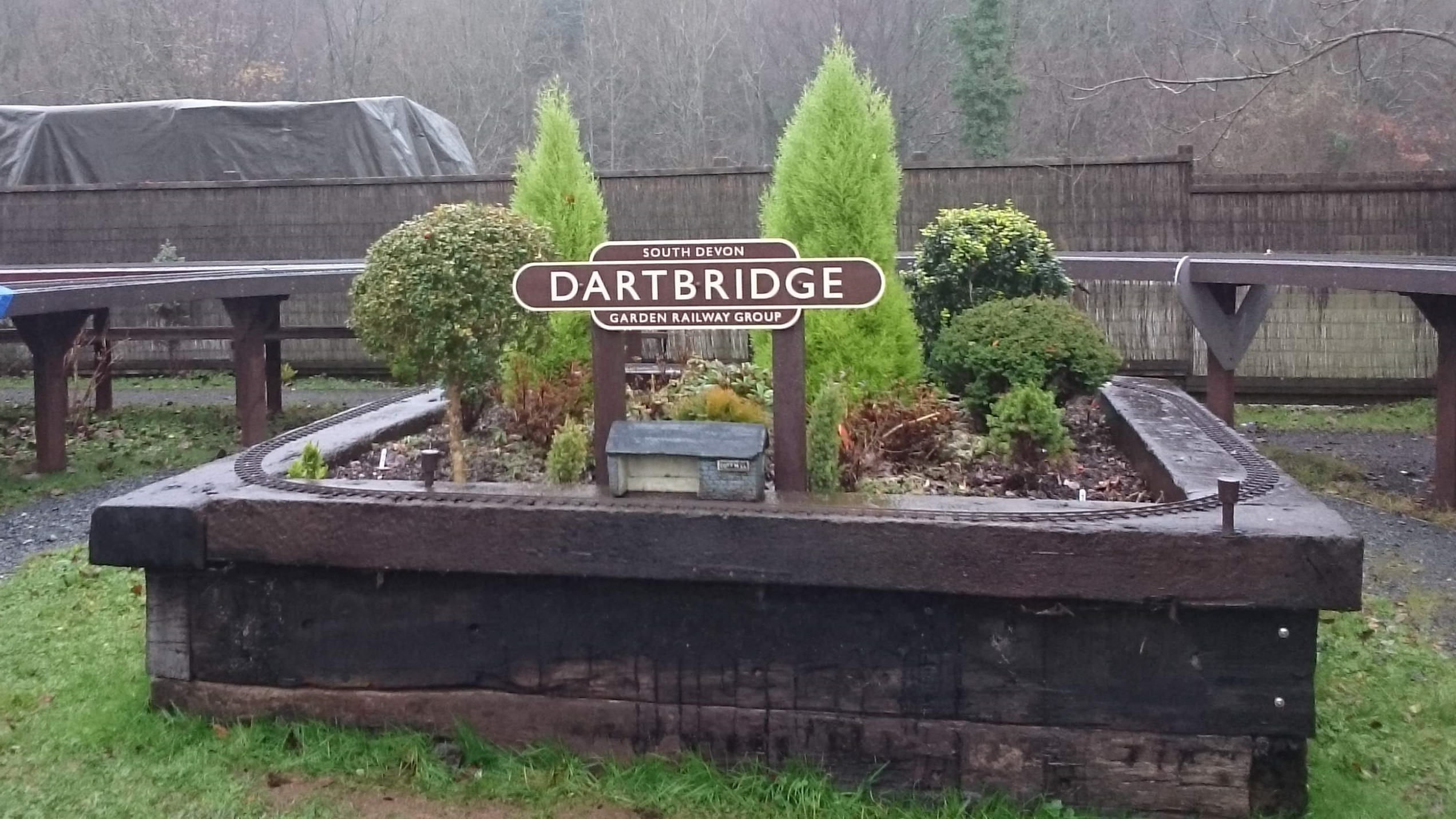 A lovely new visitor sign to show the layout name and who we are.
December 2016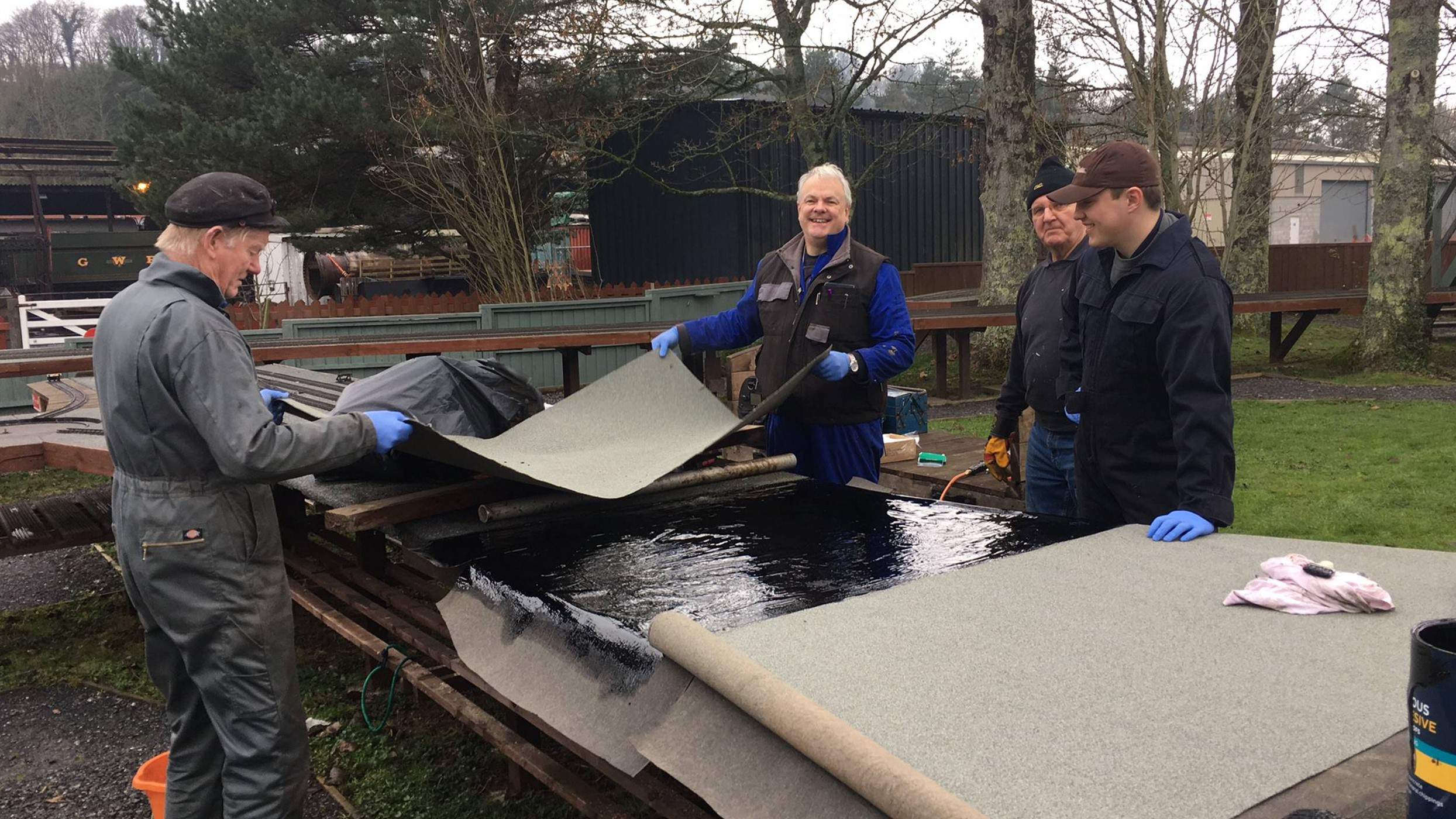 I hope this is going to fit..........
December 2016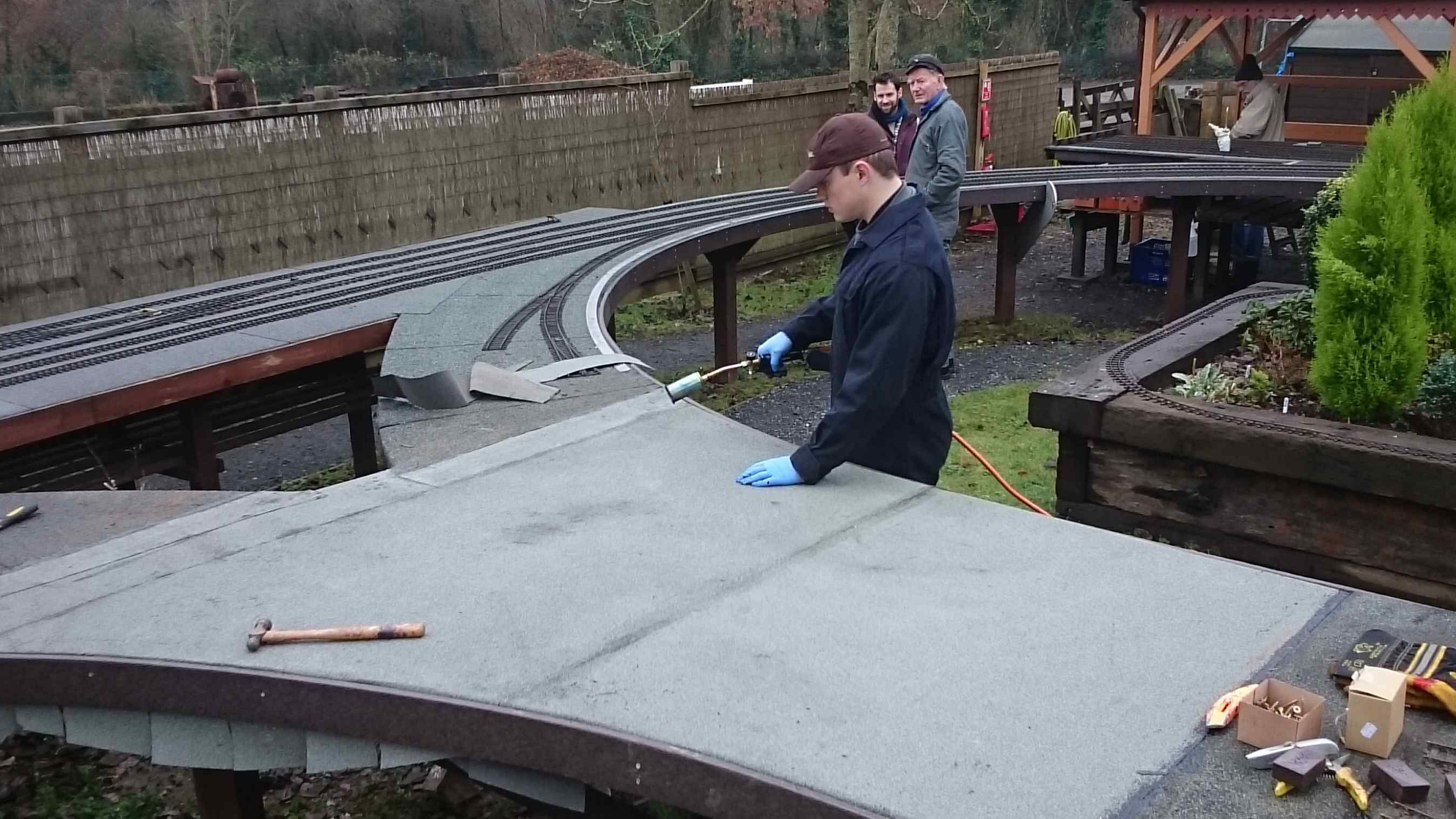 ..........I felt it would!
December 2016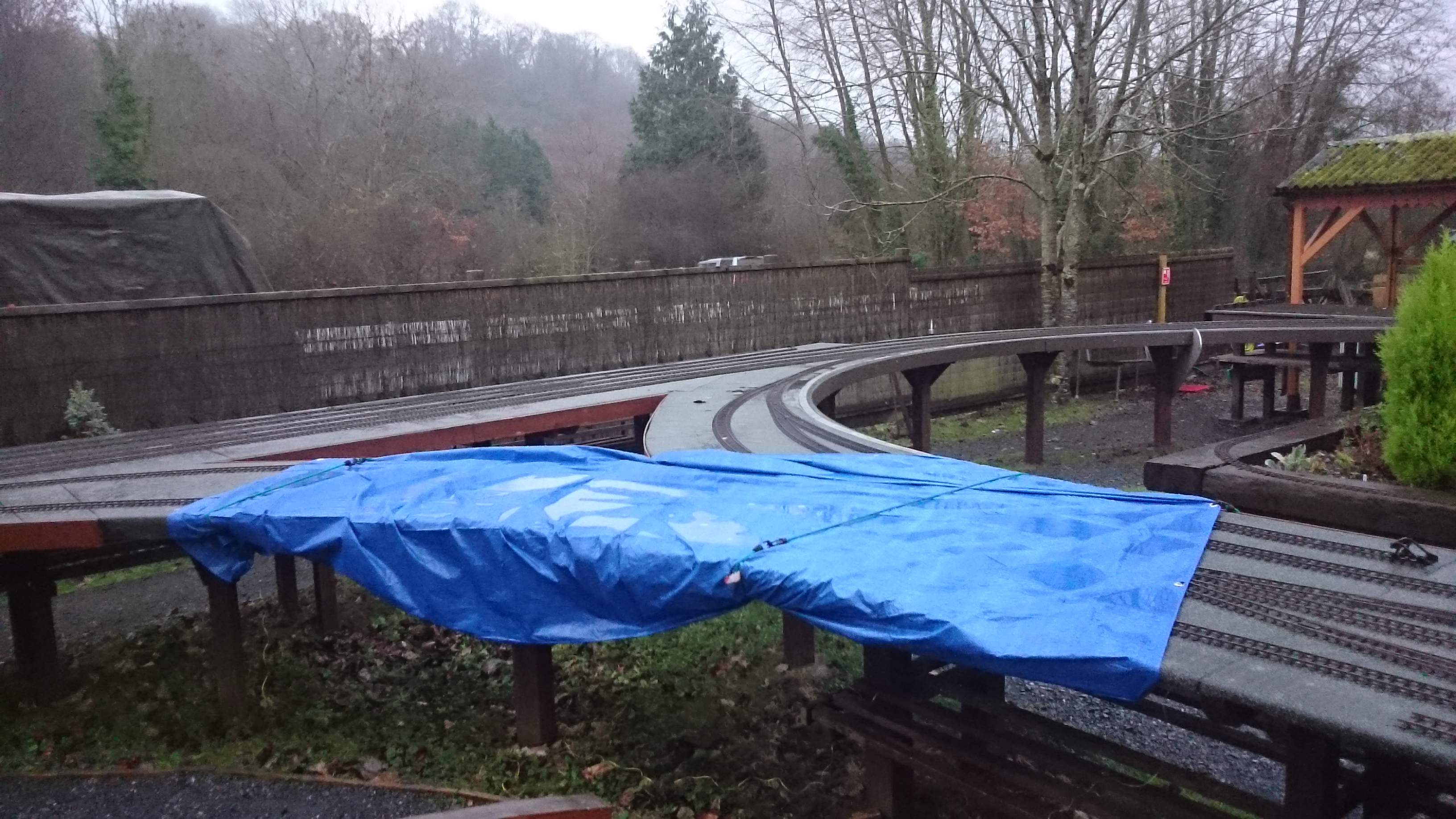 Water has penetrated the baseboard seams at this point.The tarpaulin will have to stay in place until better weather enables a more permanent fix.
December 2016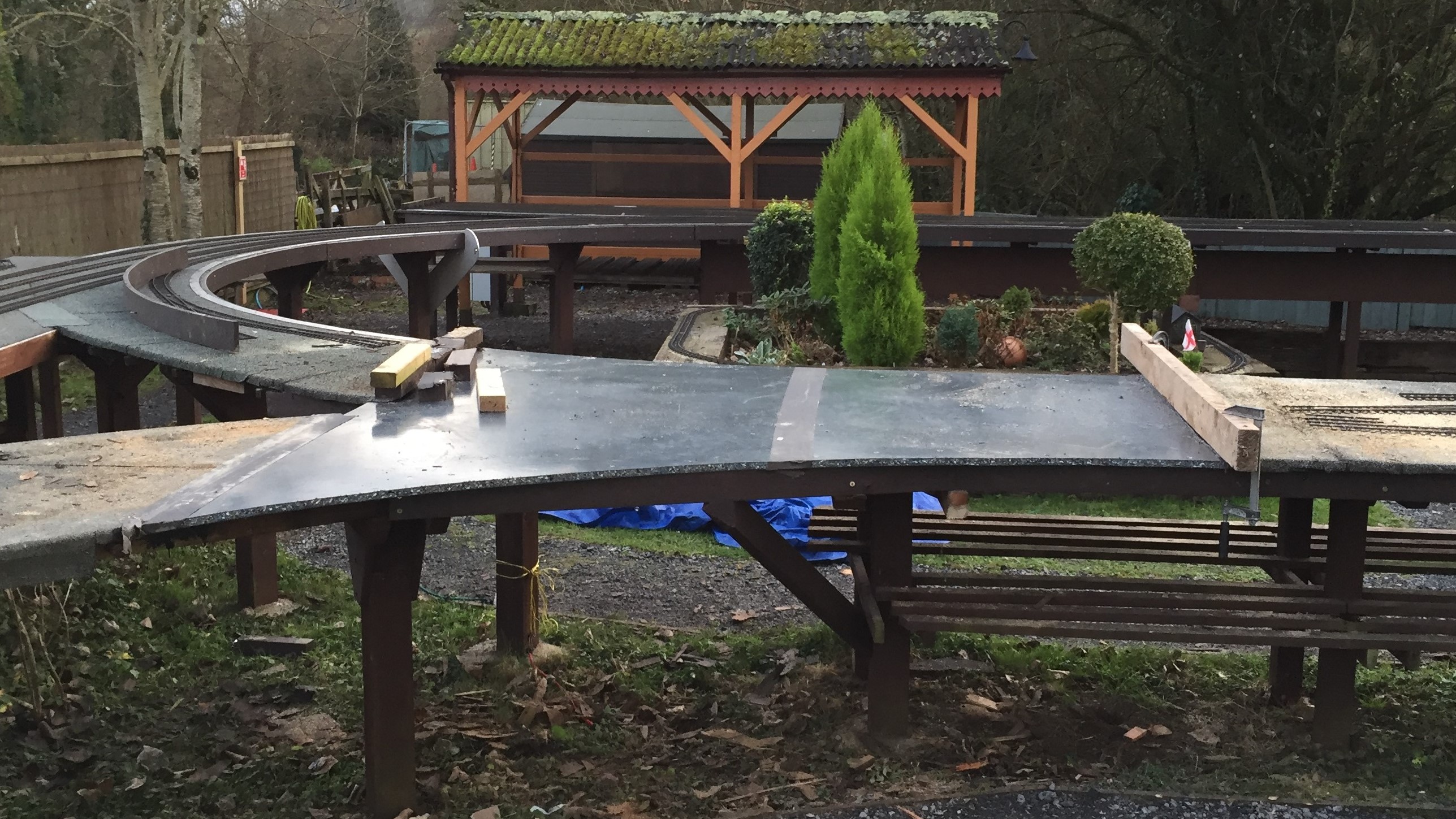 So that's what is under the tarp! We are trialling using the new Filcris board as a replacement for ply. Hopefully it will last longer and require less maintenance.
November 2016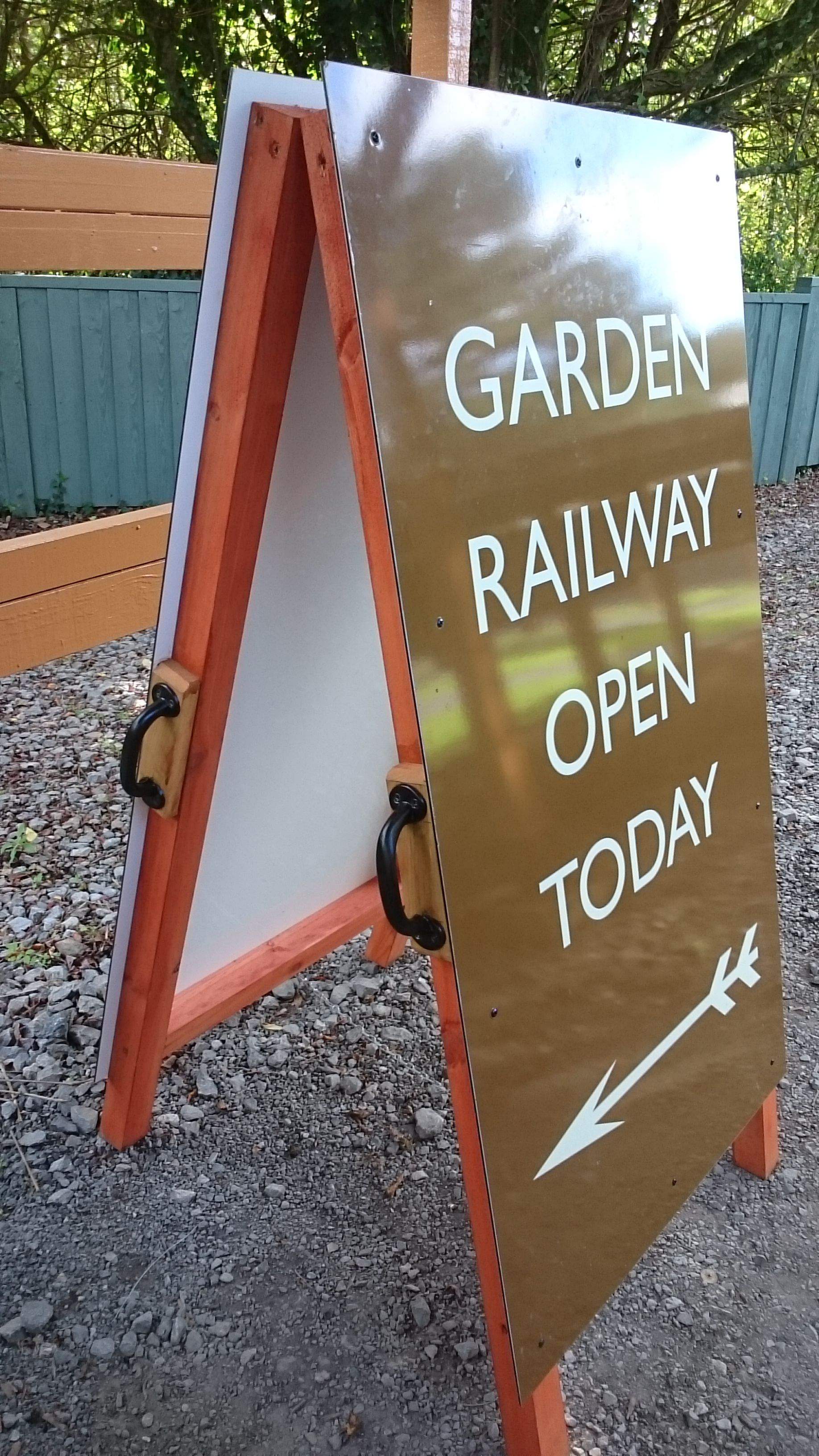 The A frame has now grown handles making it much easier to deploy.
November 2016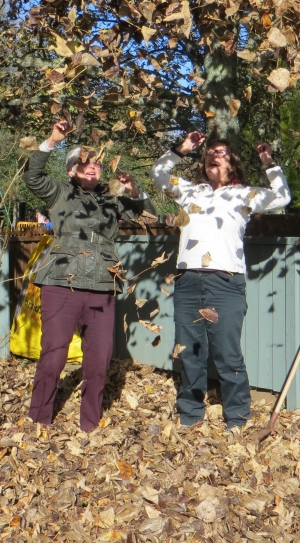 The right sort of leaves obviously!
October 2016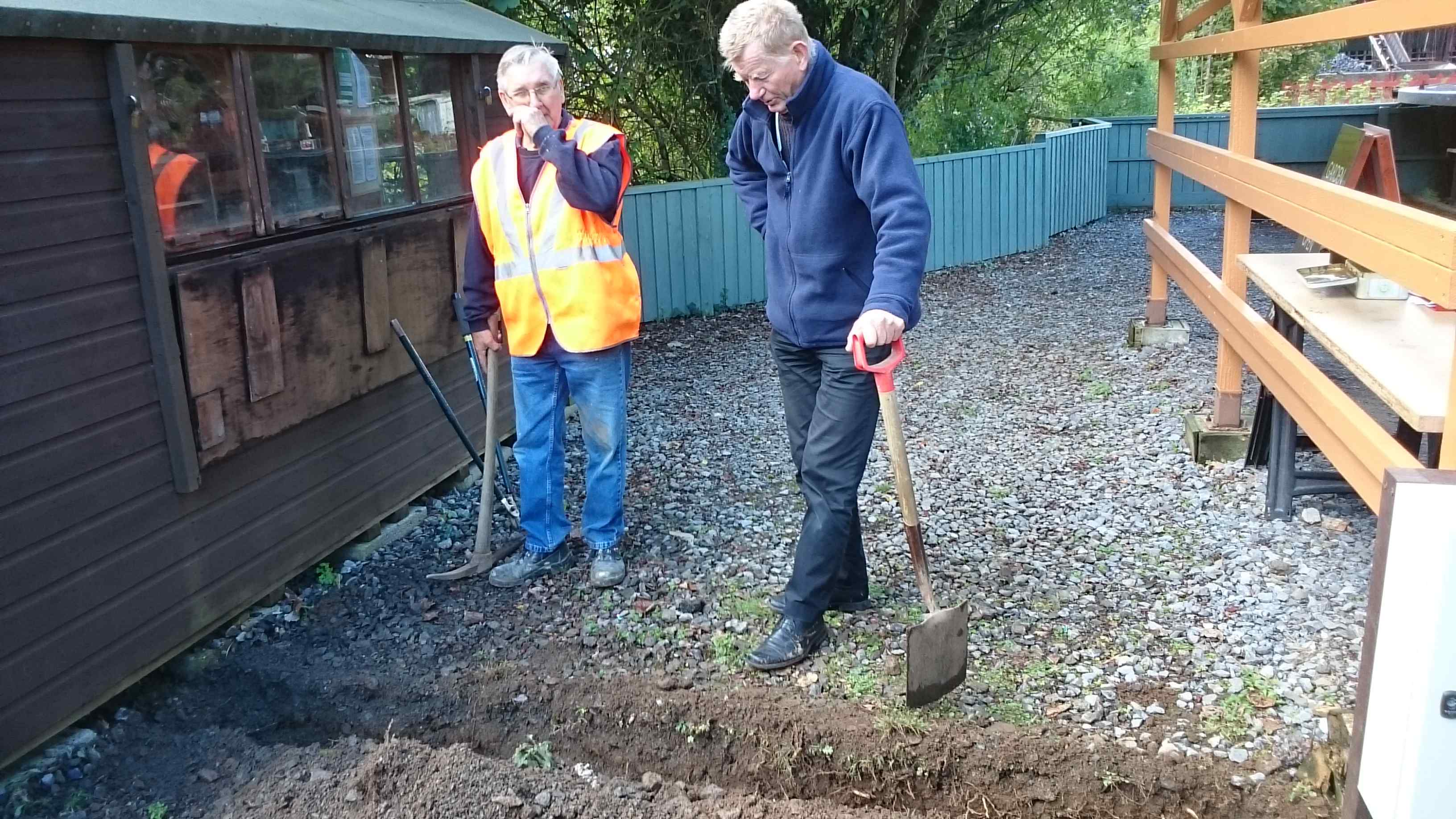 Are you sure if we bury Thomas, Annie and Clarabel under here no one will know?
October 2016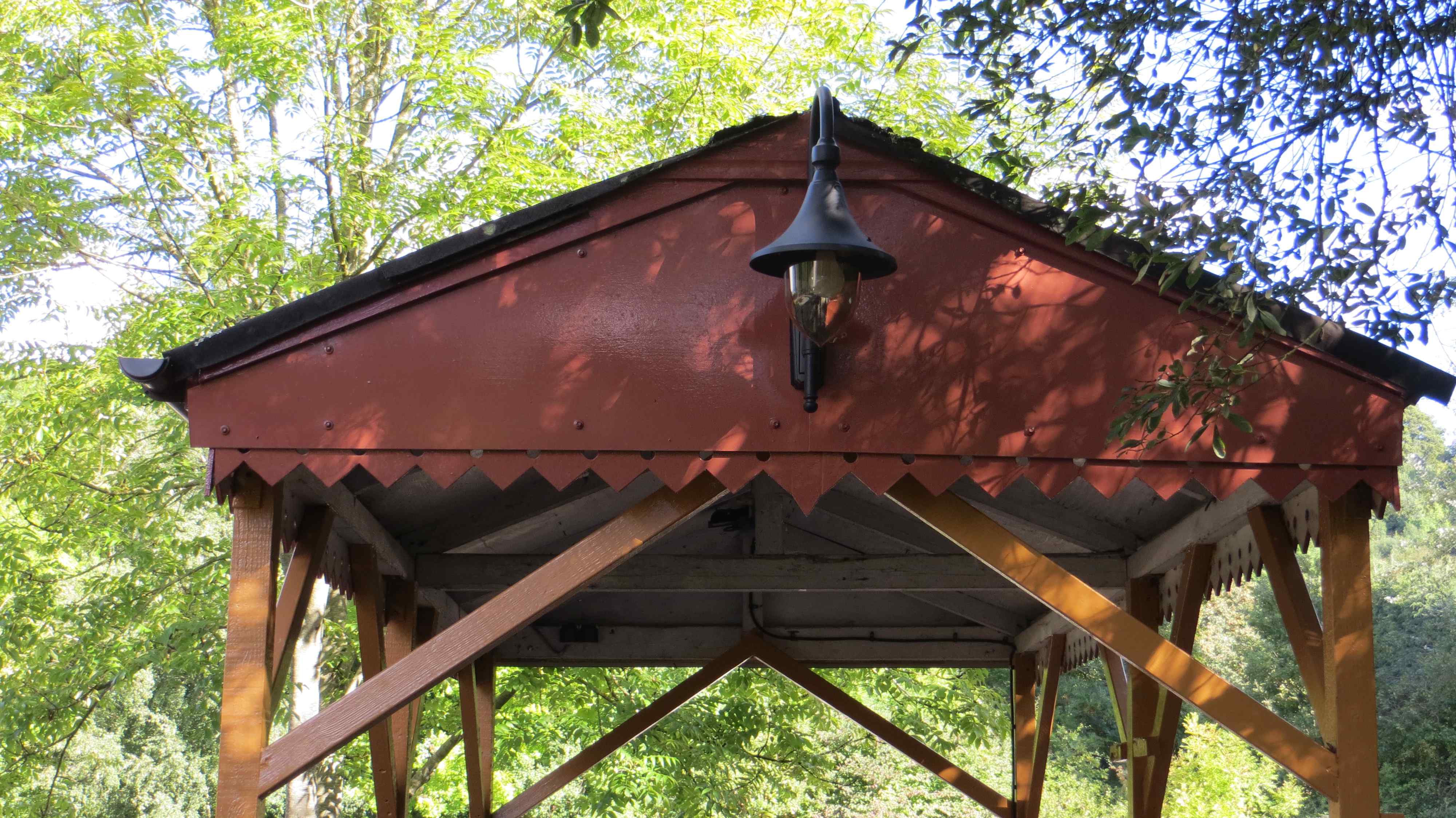 The canopy has gained a natty light - so that's what the trench is for - electric cabling.
June 2016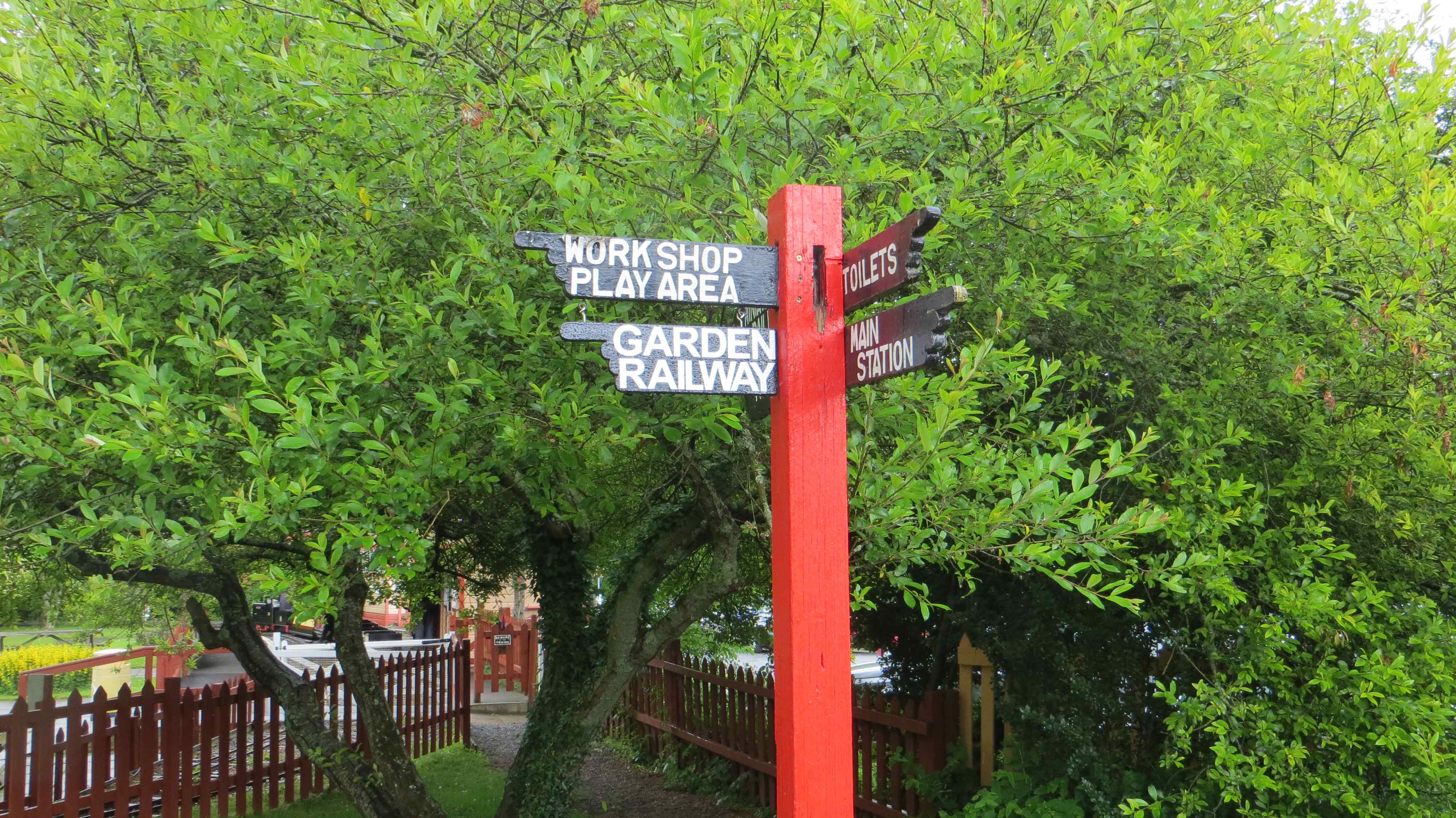 Finger added to the signpost near the Miniature Railway showing where the main attractions are !
June 2016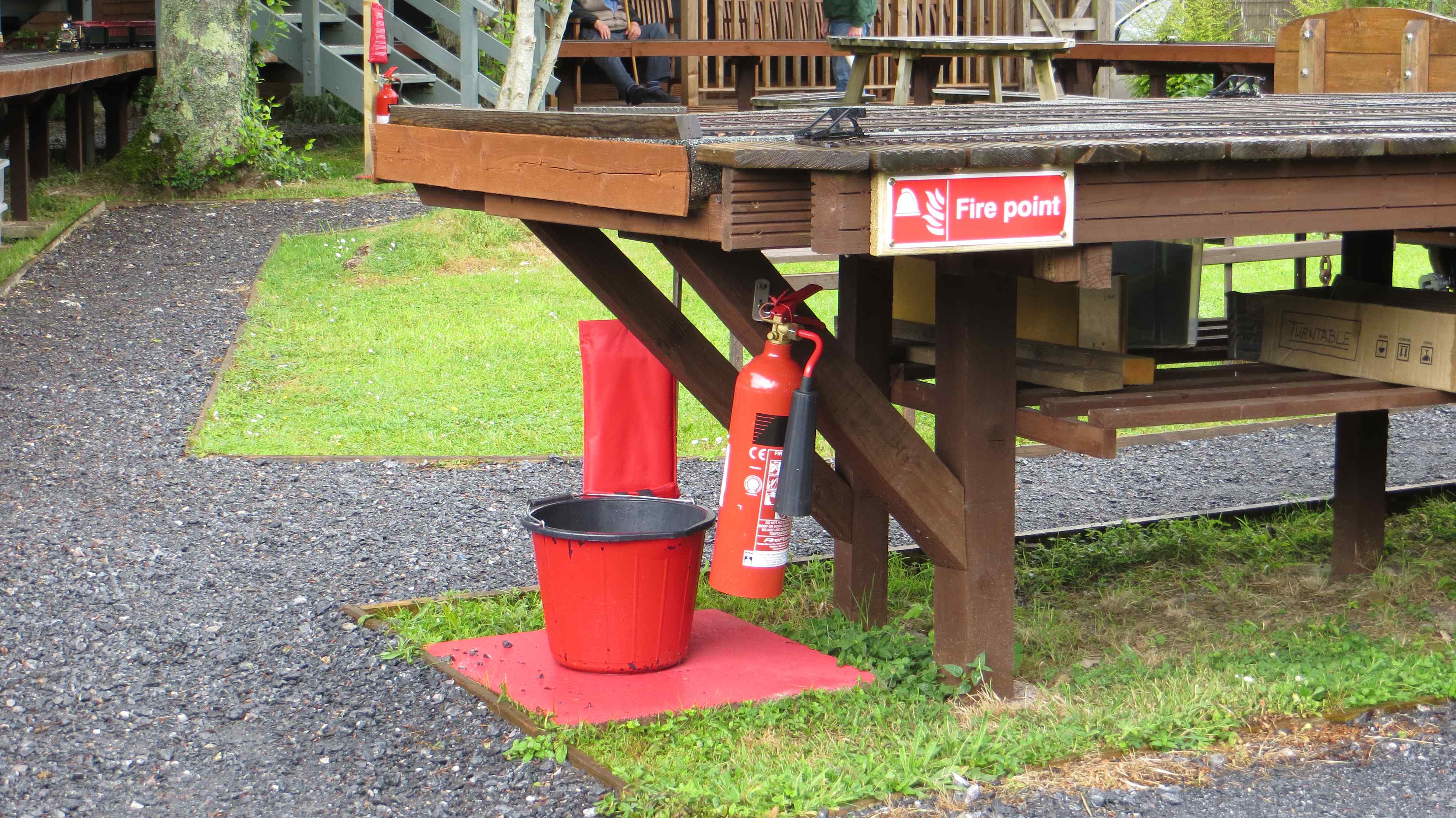 Another fire point - this one at the end of the Gauge 1 steam up area.
June 2016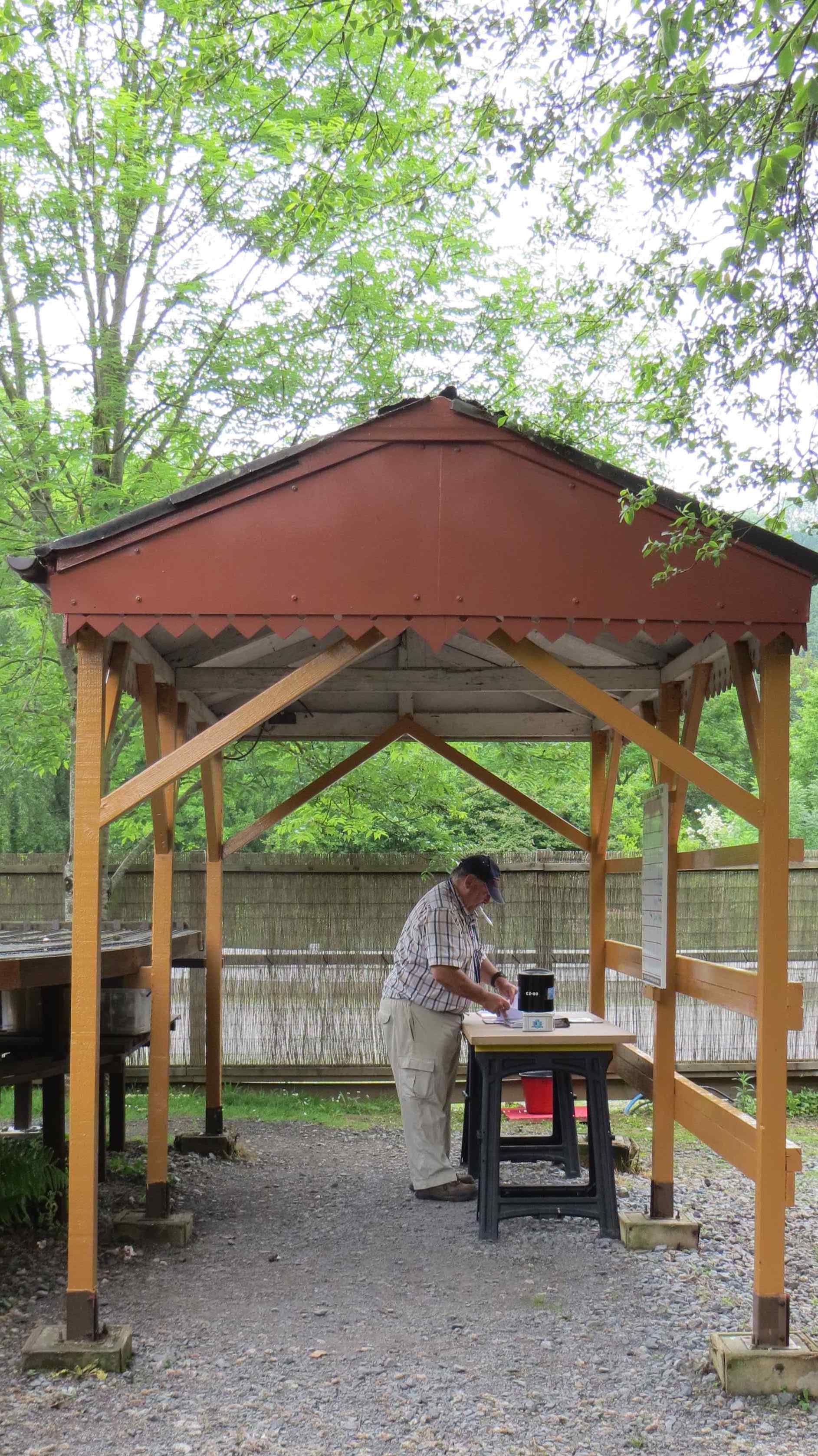 The canopy over the narrow gauge steam up area is now resplendent in authentic GWR colours .
June 2016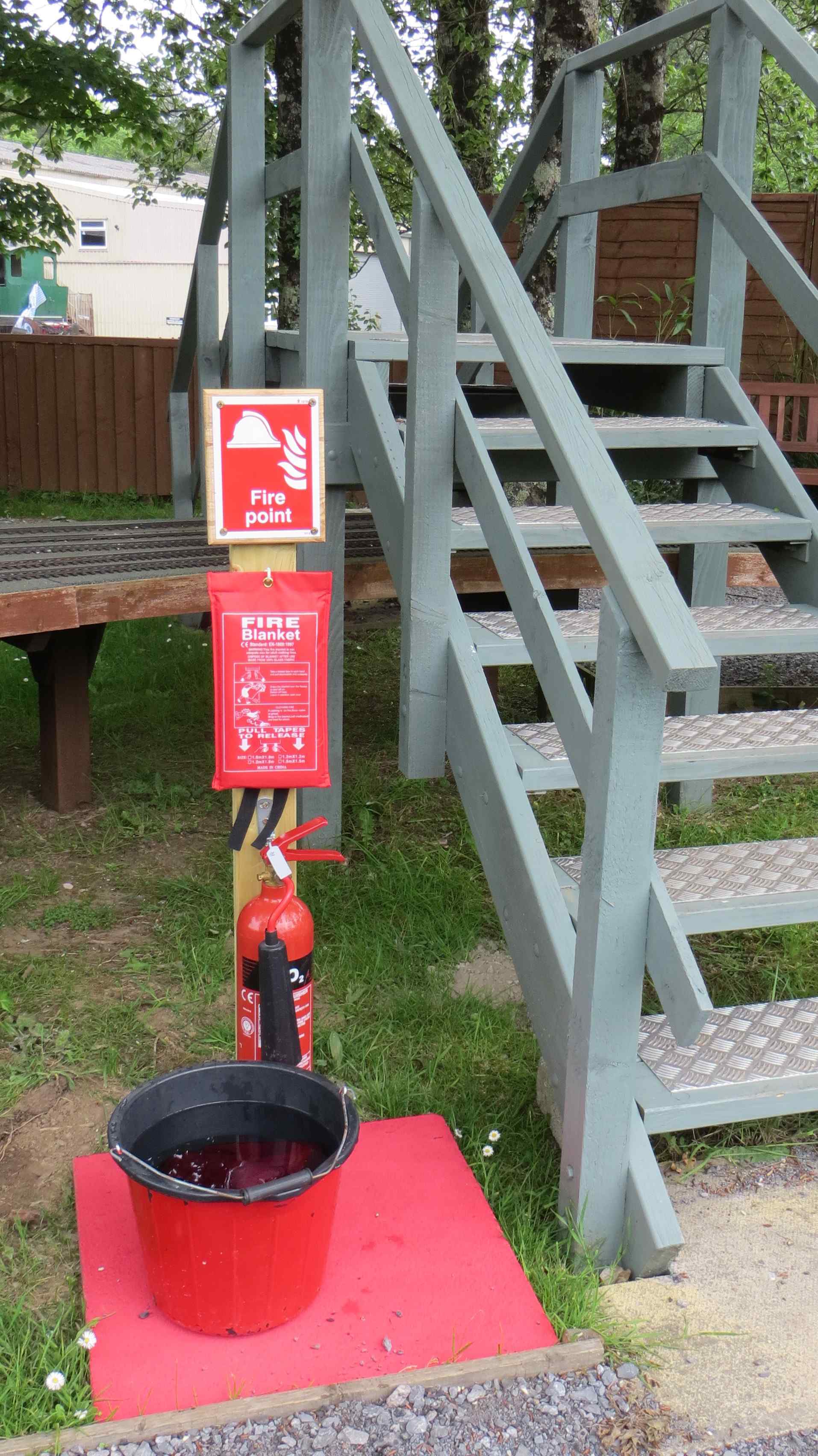 The first of three fire points showing our continuing commitment to safety on site.
May 2016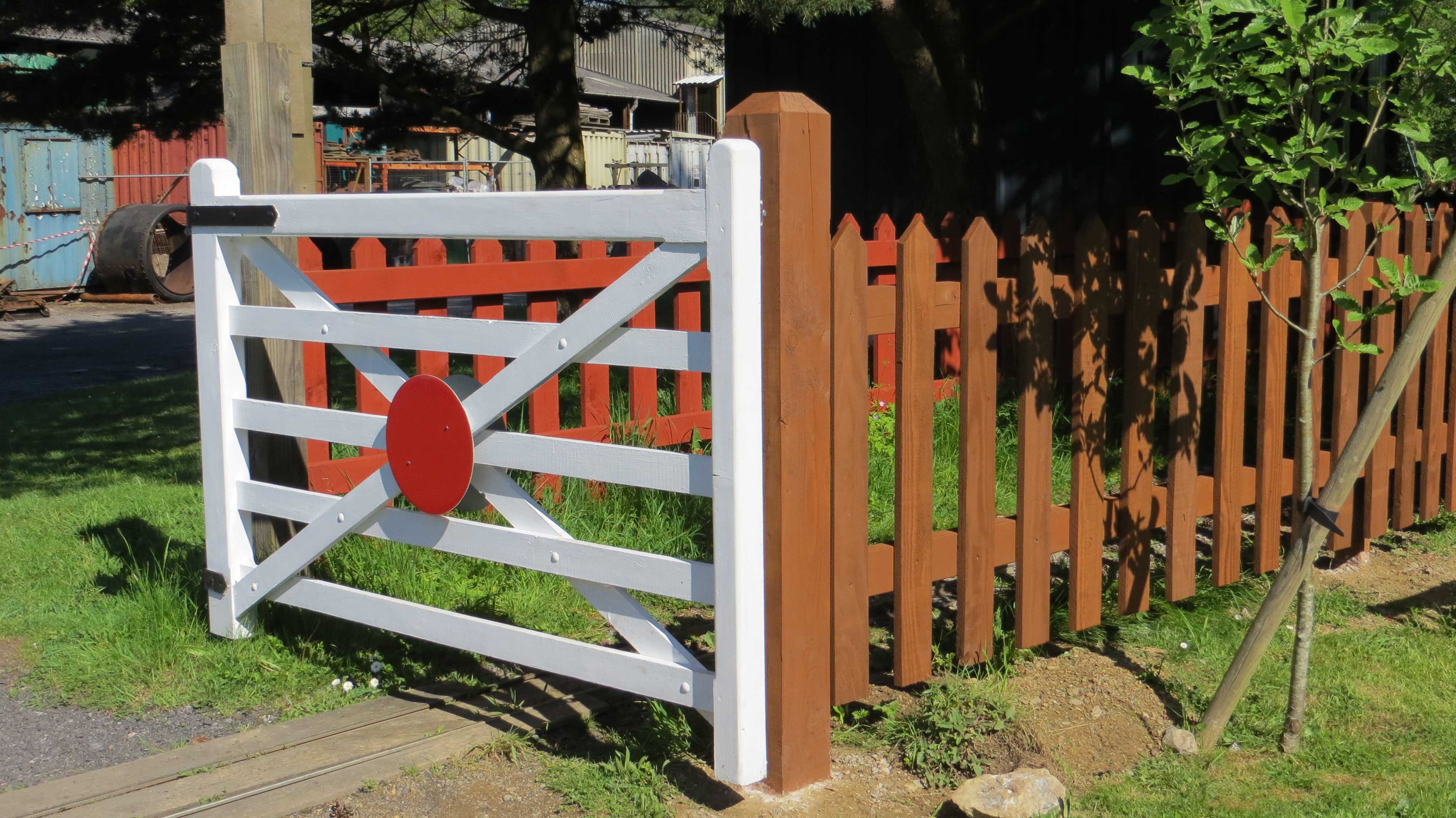 The newly painted fence and crossing gate looking very smart in the May sunshine.
May 2016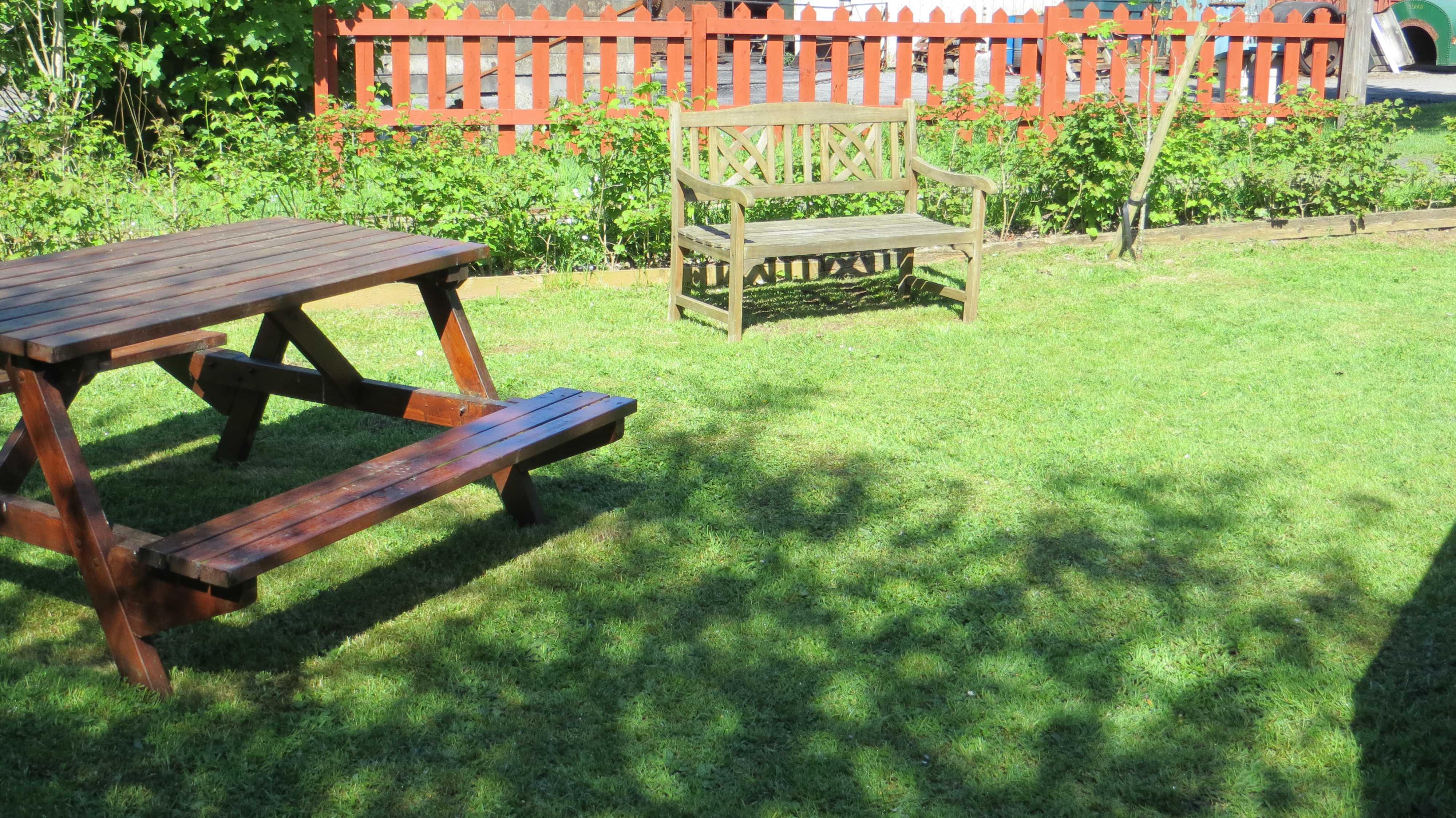 The site is looking lovely in the Spring sunshine and I couldn't resist a quick picture of the picnic table and bench in the public viewing area.
April 2016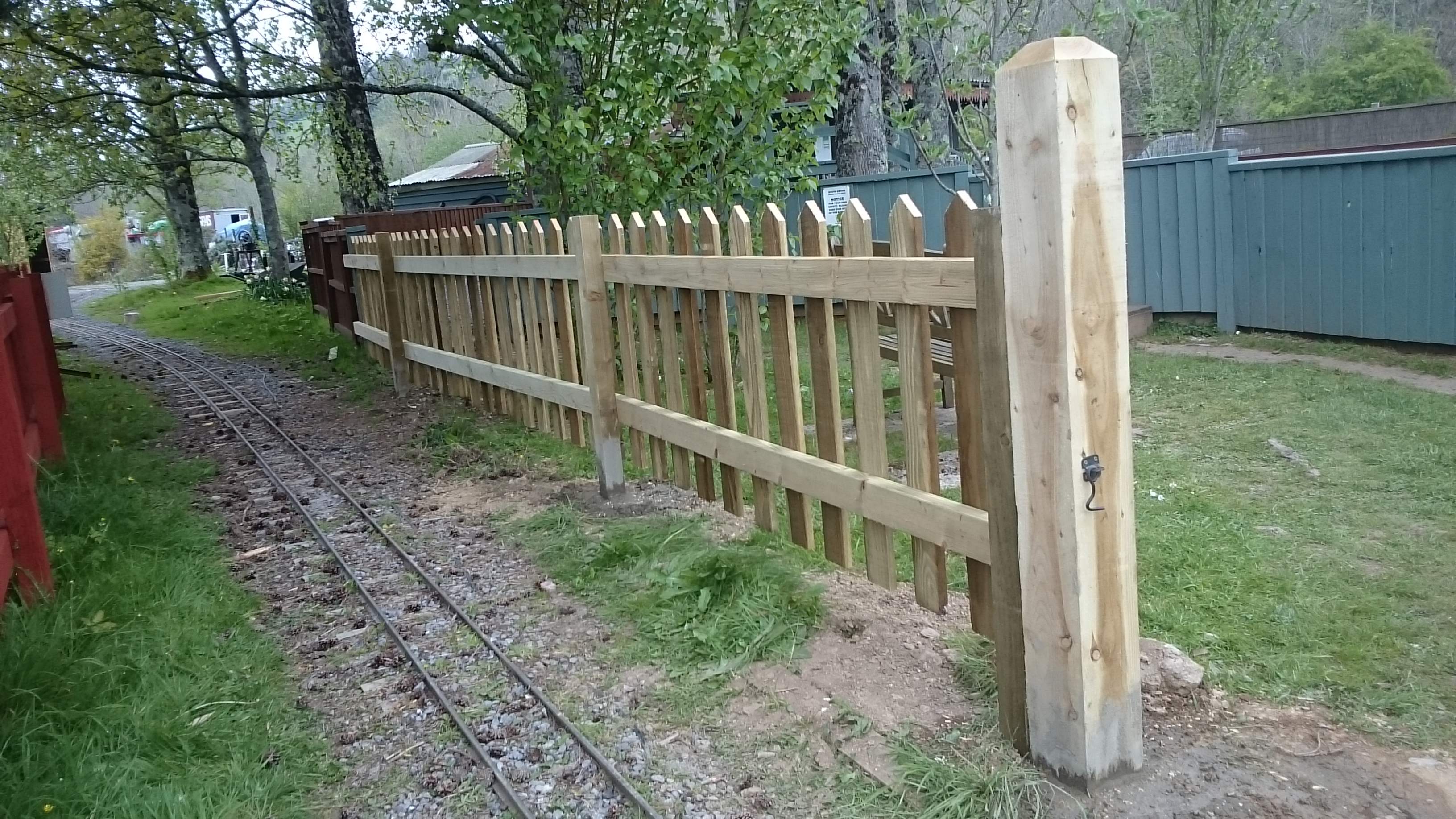 A new fence has been installed between our viewing area and the miniature railway and a huge new post erected to support the crossing gate.It just needs painting now!
April 2016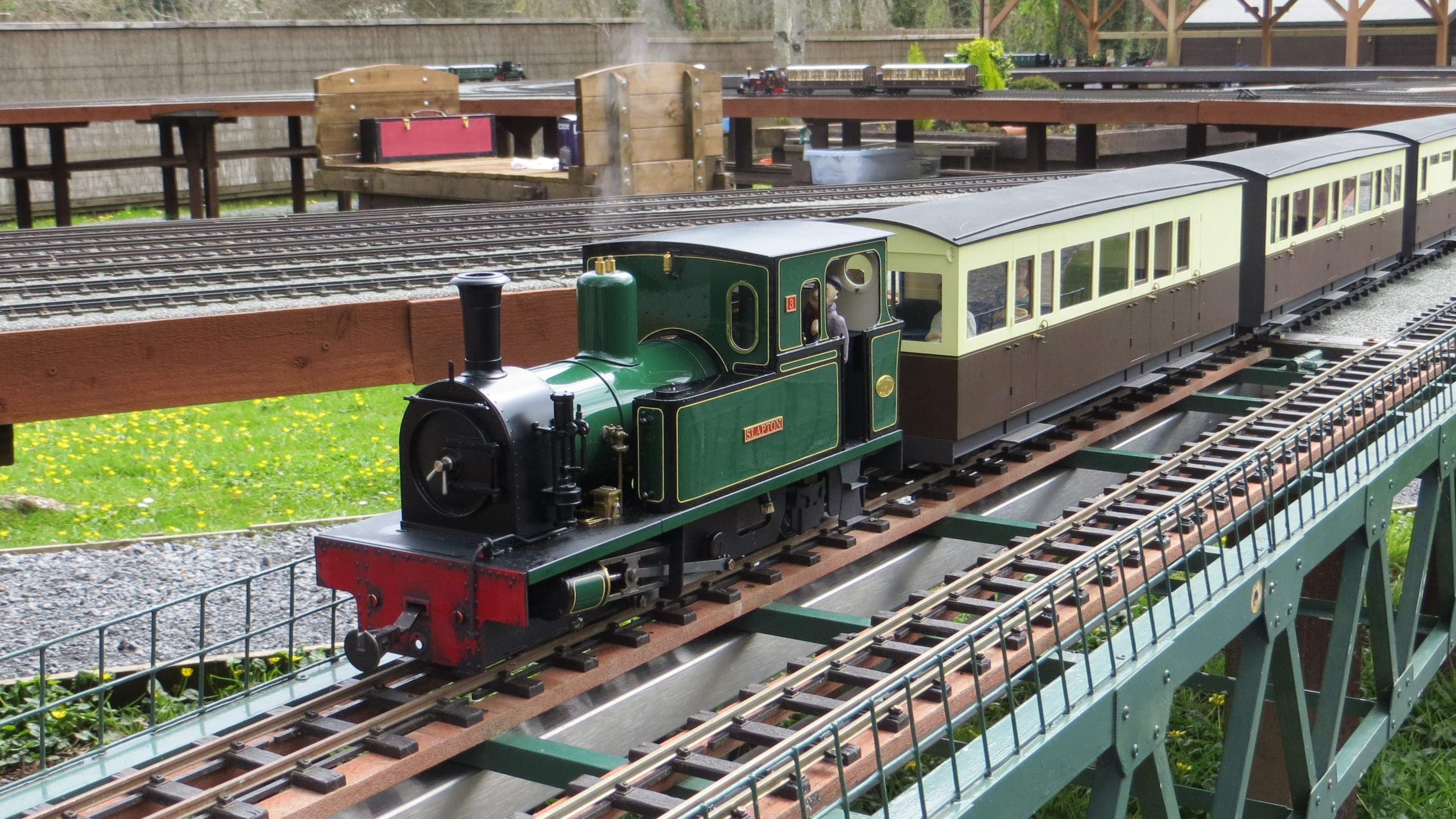 The bridge to the Morton Road terminus is now firmly fixed in position with one of the lines laid with dual gauge track. A heavy steam train proves the strength of the new bridge.
March 2016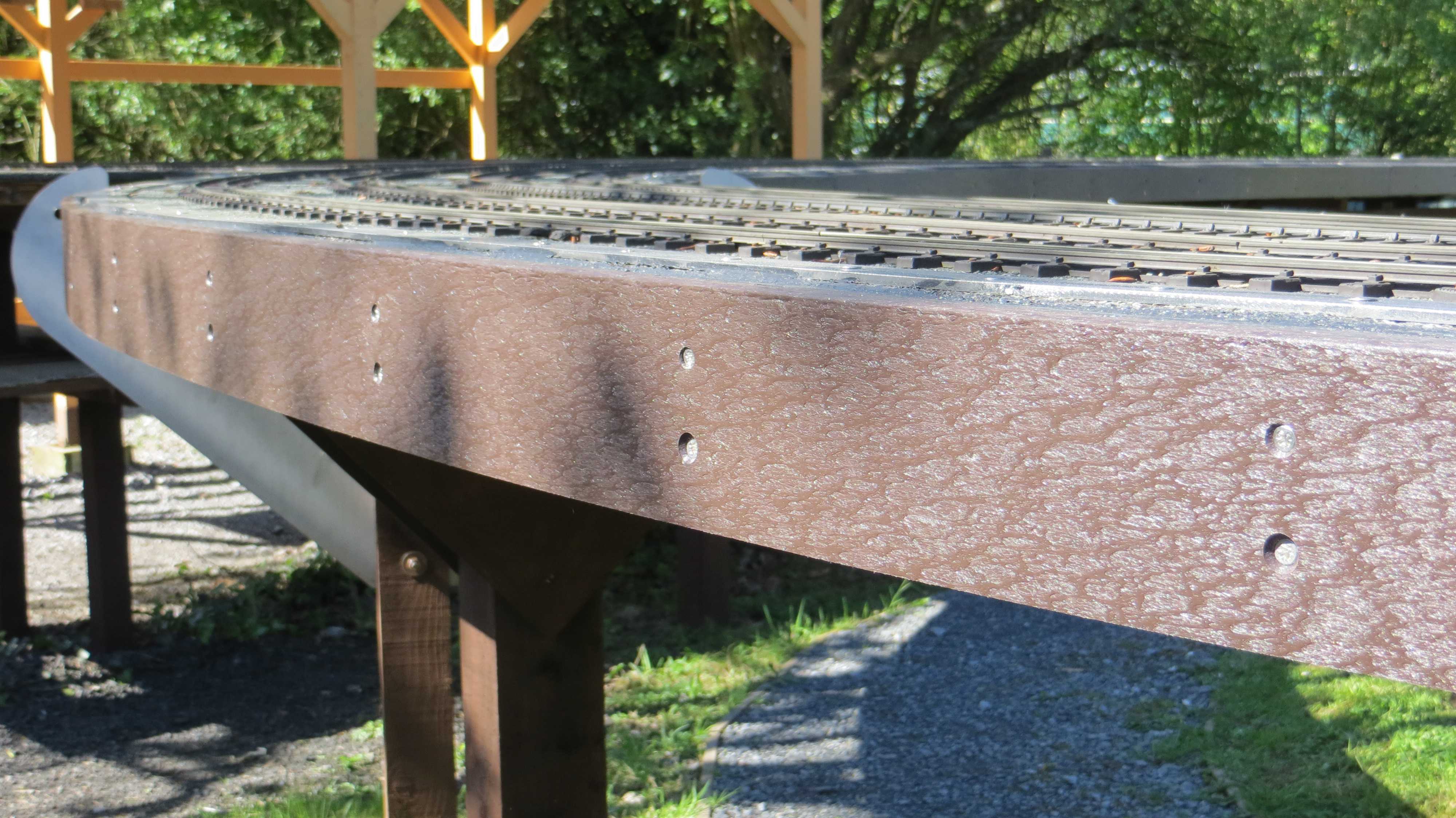 The edging to some of the baseboards has become warped and untidy. The Filcris replacement not only looks better and has a smoother finish but should last longer.
March 2016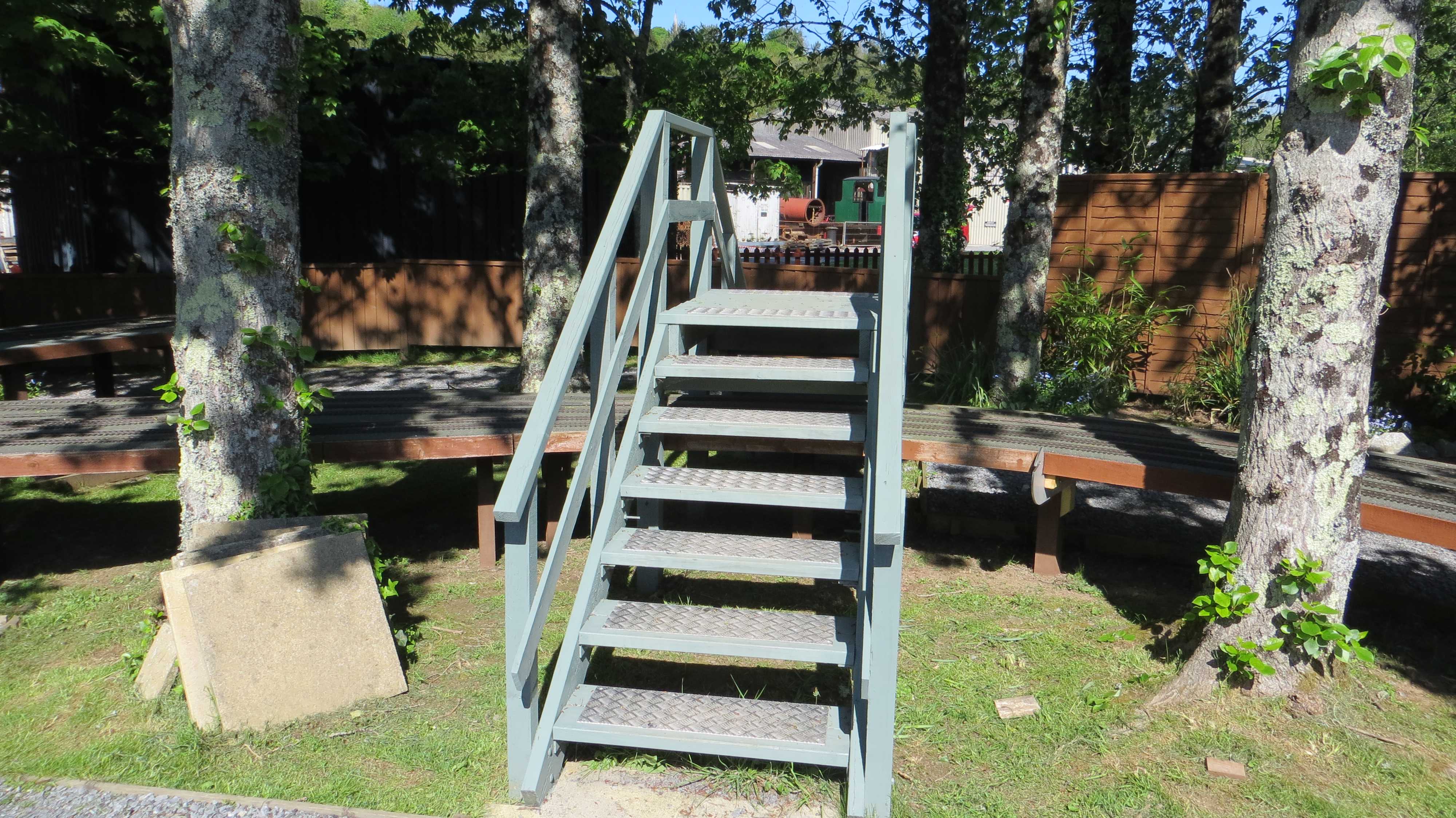 The footbridge giving access to the centre of the layout has now been fitted with anti-slip chequer plates.
February 2016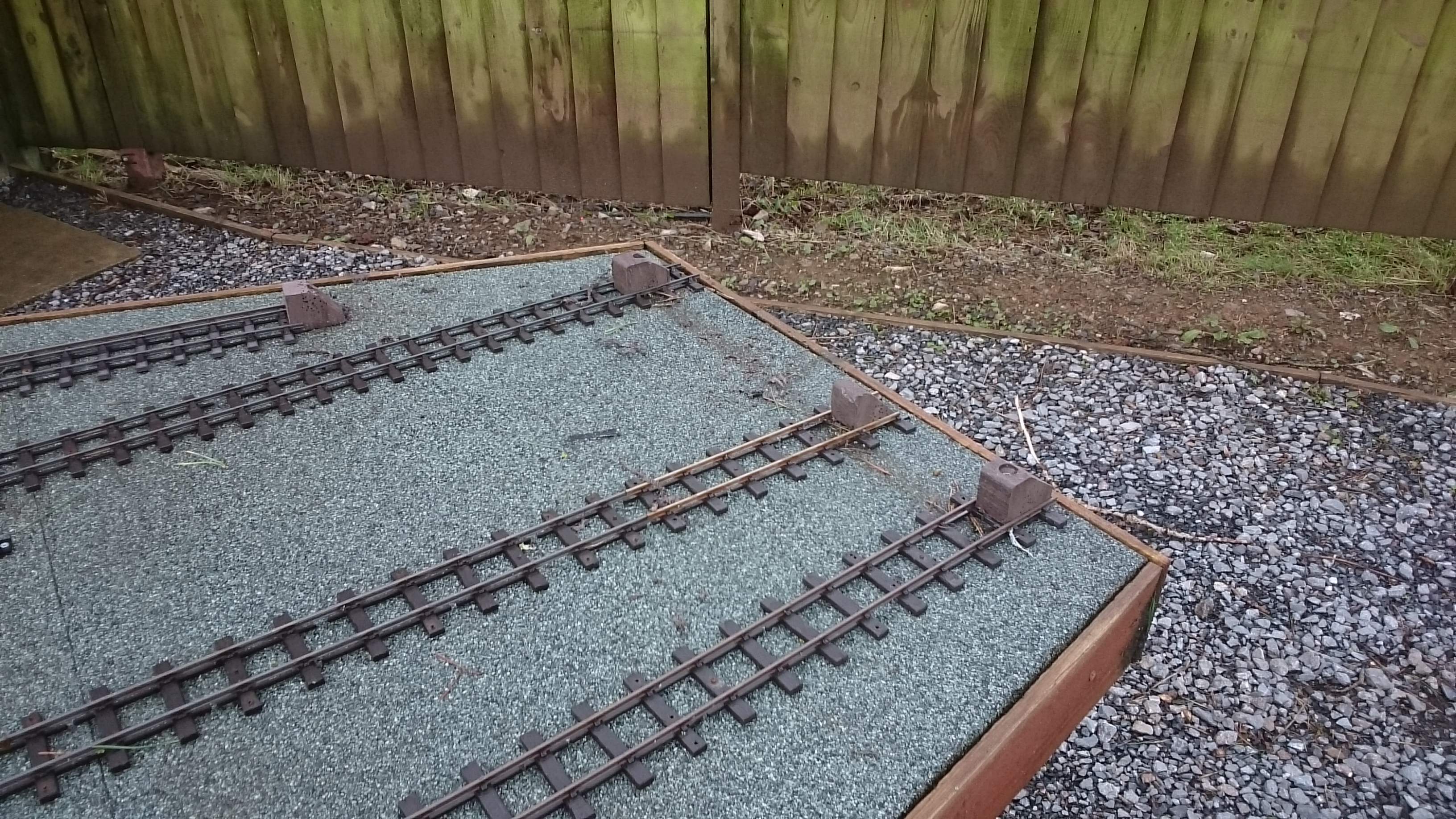 Some new buffers at Morton Road.
January 2016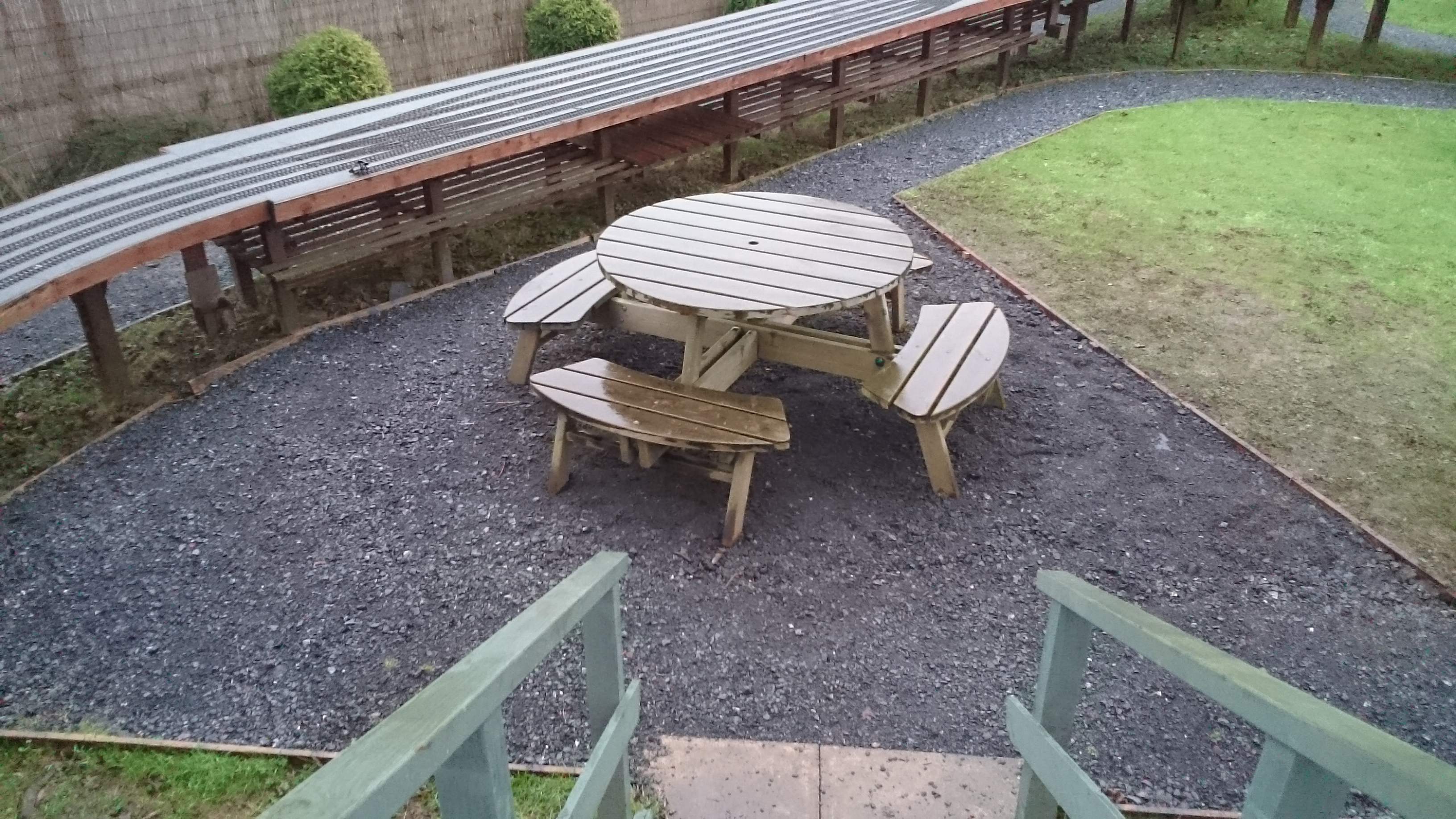 Scalpings laid around members picnic table to allow wheelchair access at all times of the year
January 2016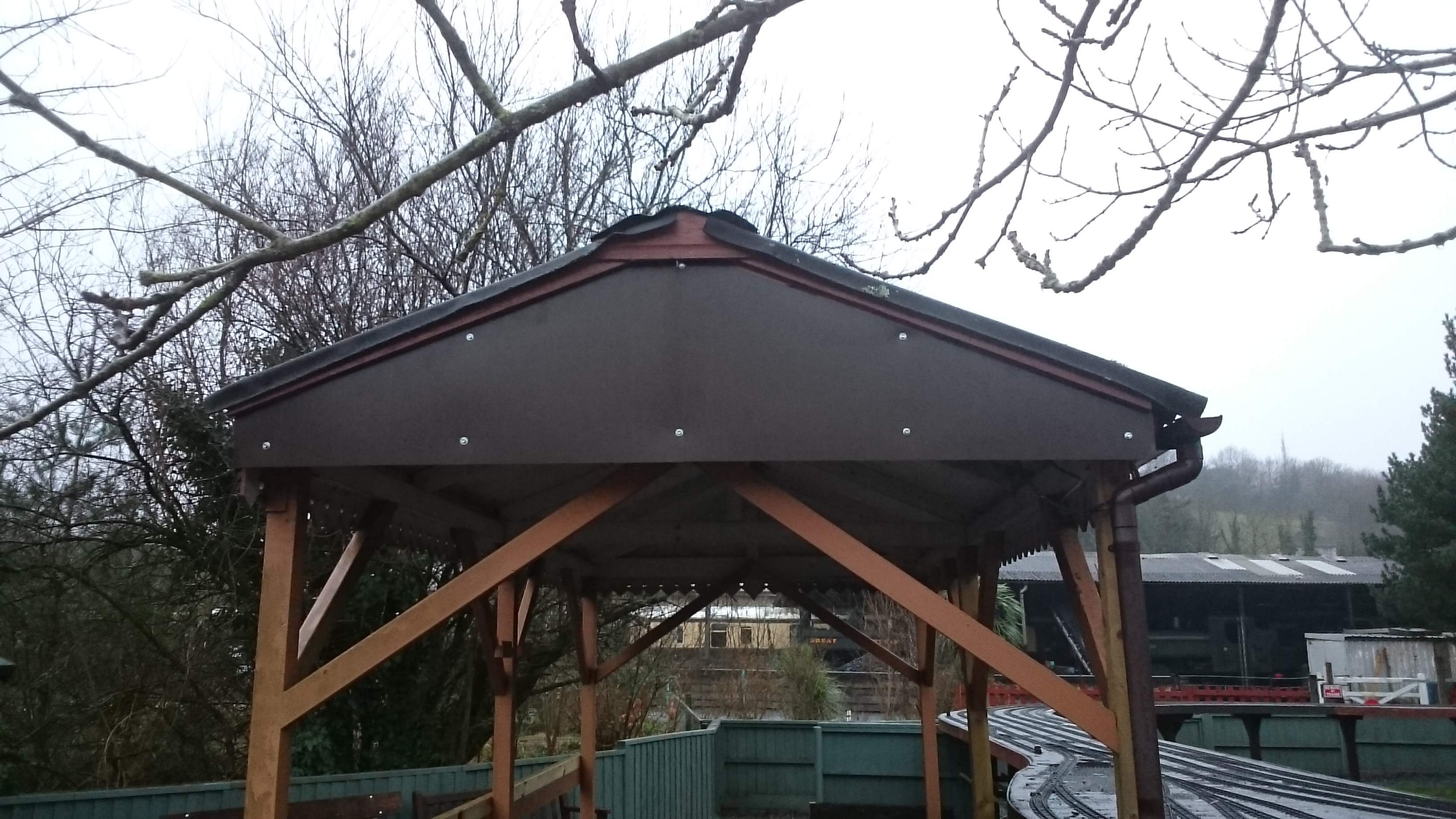 New gable end fitted to narrow gauge steaming bay.
January 2016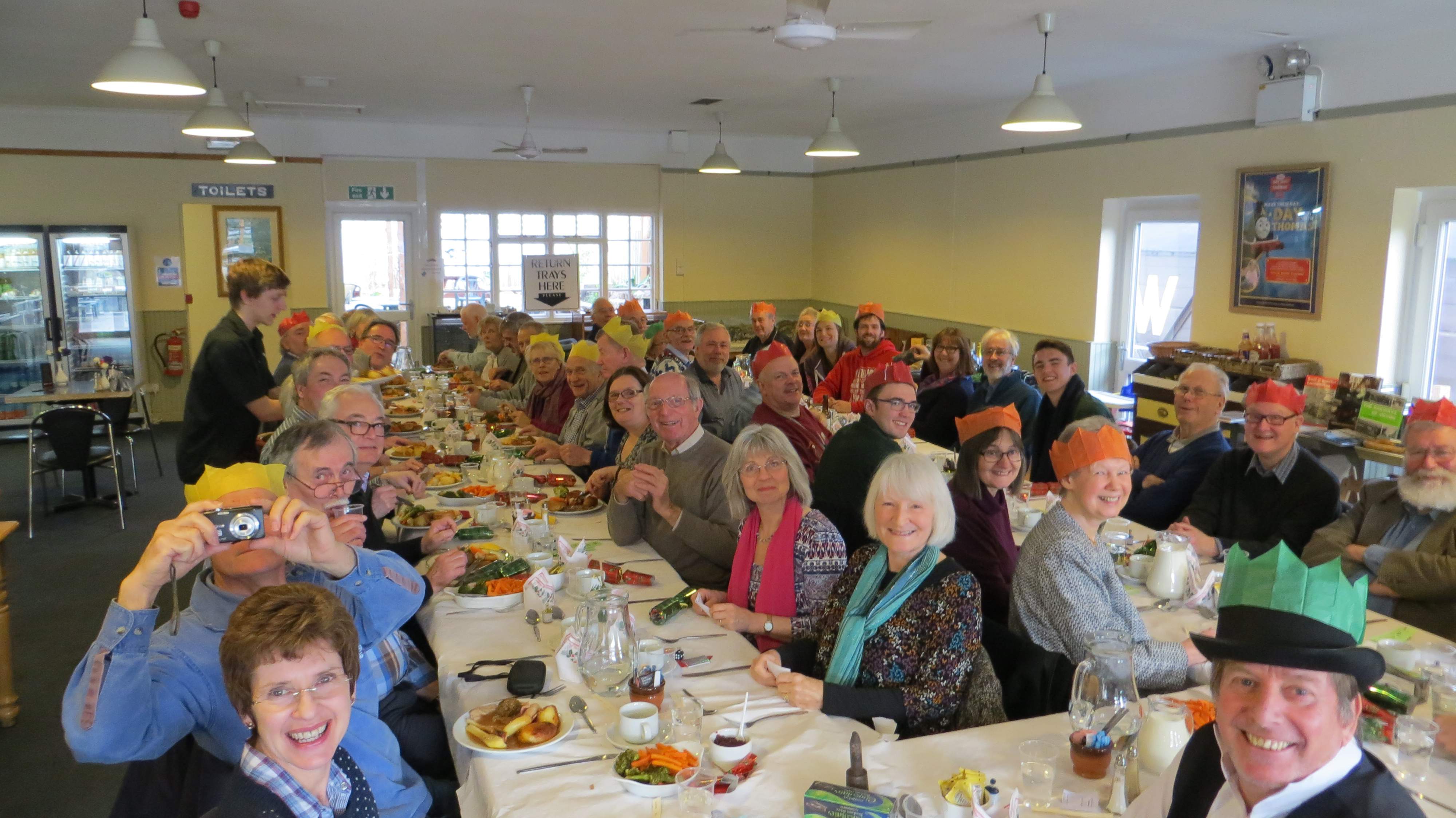 Christmas Lunch at Buckfastleigh Station restaurant.
January 2016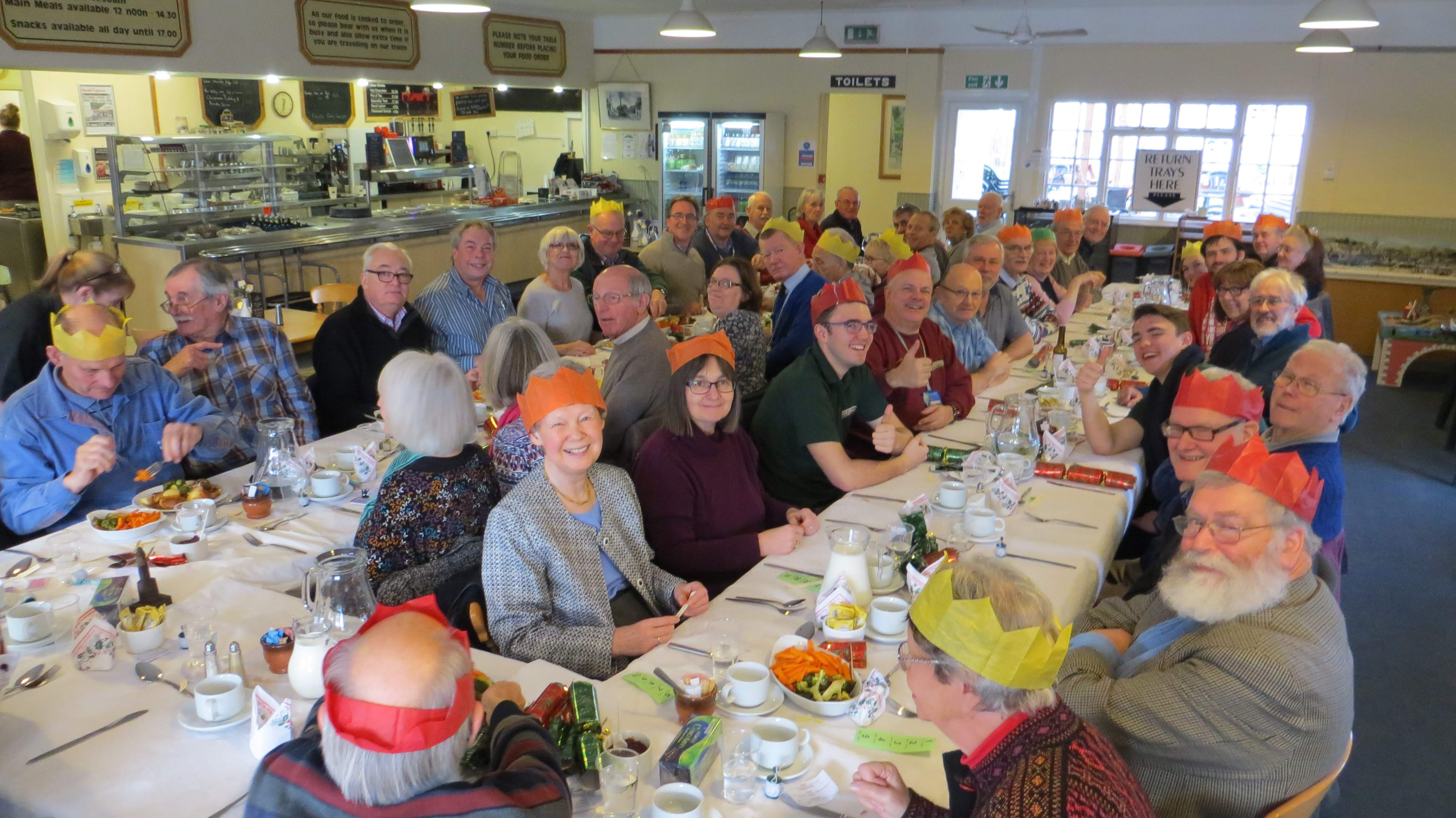 Christmas Lunch - different viewpoint.
December 2015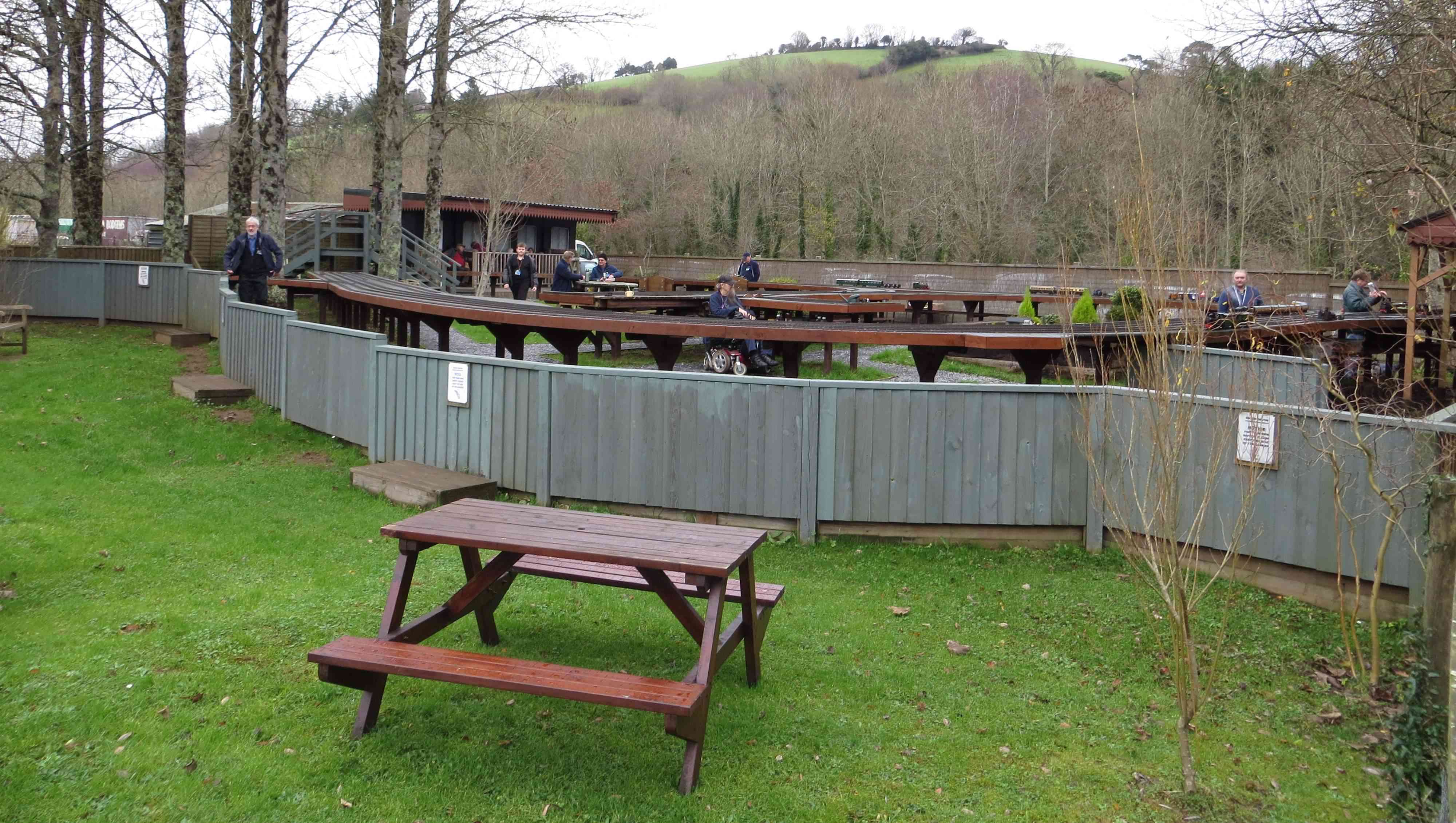 The South Devon Railway's head gardener has very kindly arranged for a super picnic bench to be donated to us for the visitors area next to our layout. Thanks Nick.
September 2015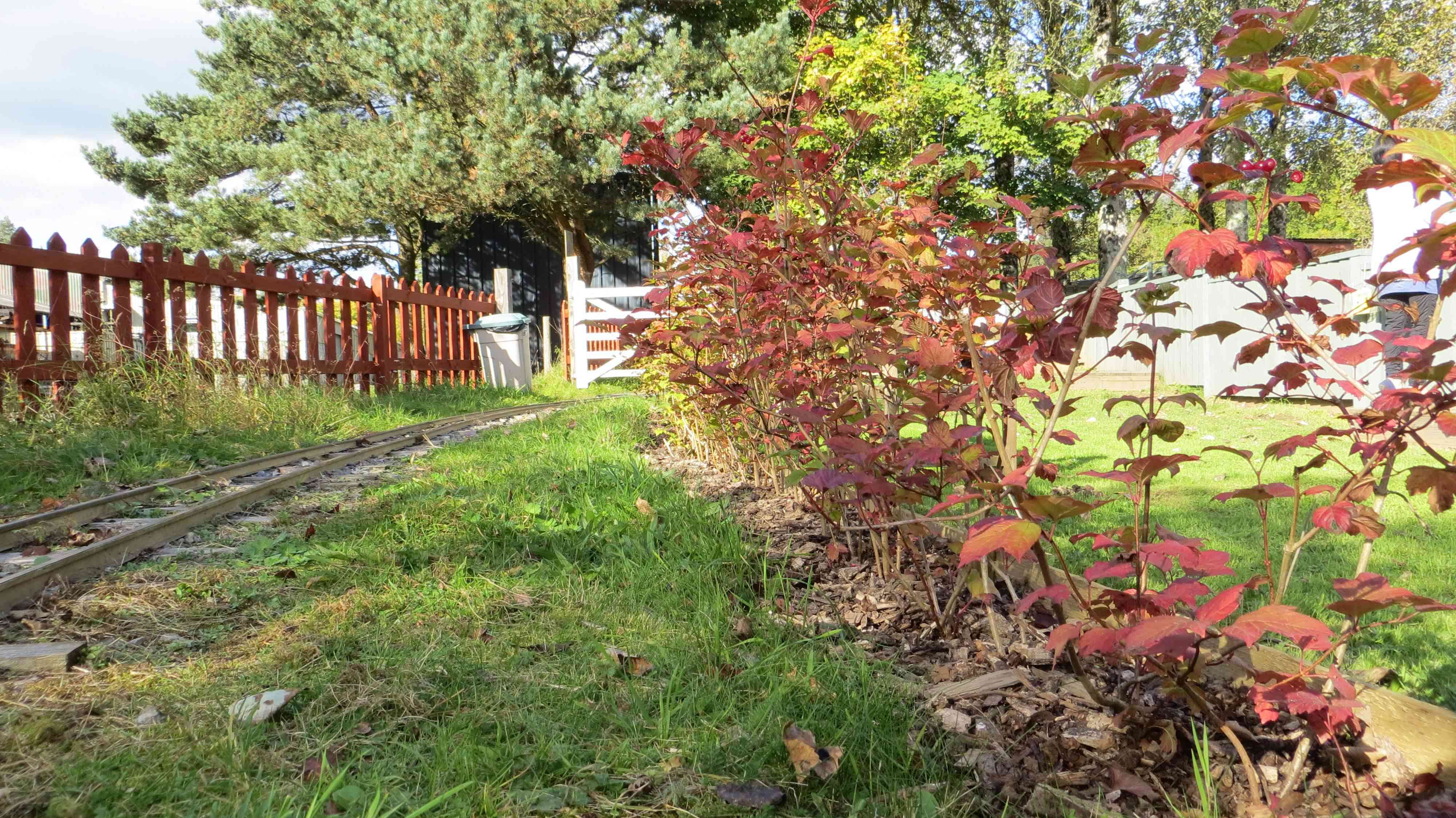 6 months ago we planted a hedge dividing our viewing area from the miniature railway. It is slow growing but the divide is coming on well - I suppose that will mean it will soon want trimming!
September 2015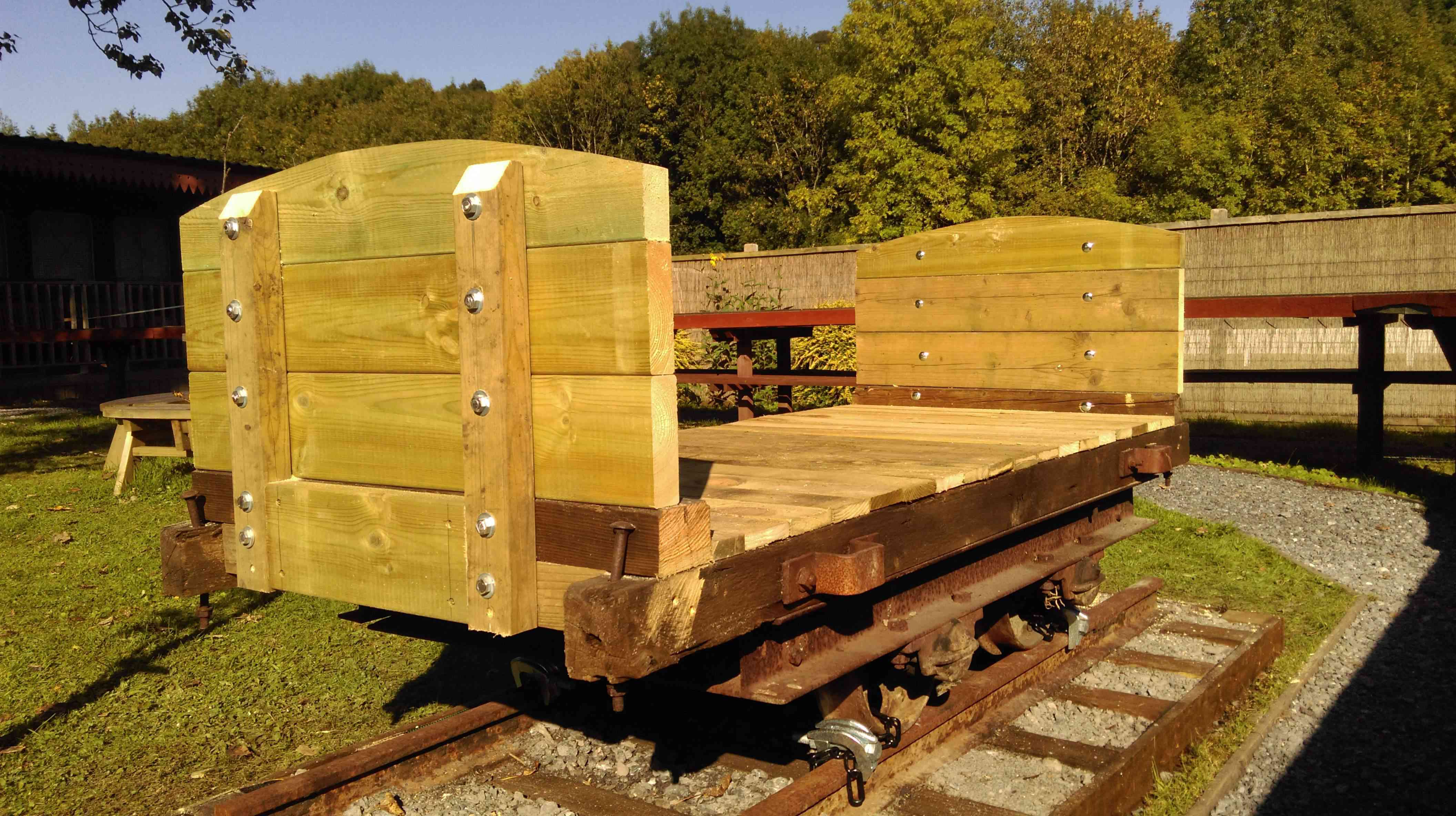 This wagon was once used by RGB builders of Barnstaple. When received,it was only a fairly rotten chassis,a frame and some wheels.A few days later and our maintenance team had transformed it.
September 2015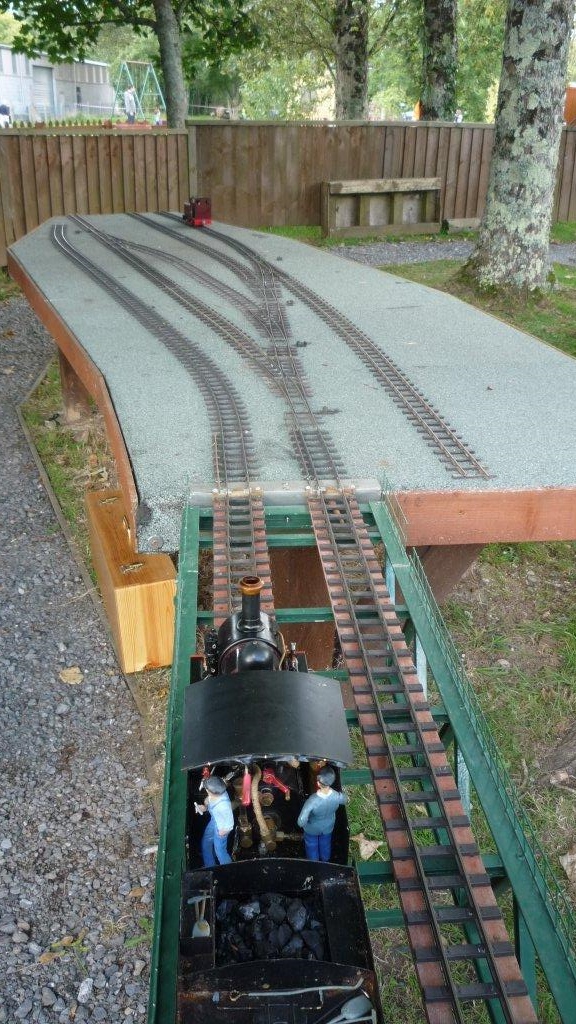 Morton Road now has 32 mm track laid and the first steam loco advances cautiously over the temporary bridge.
August 2015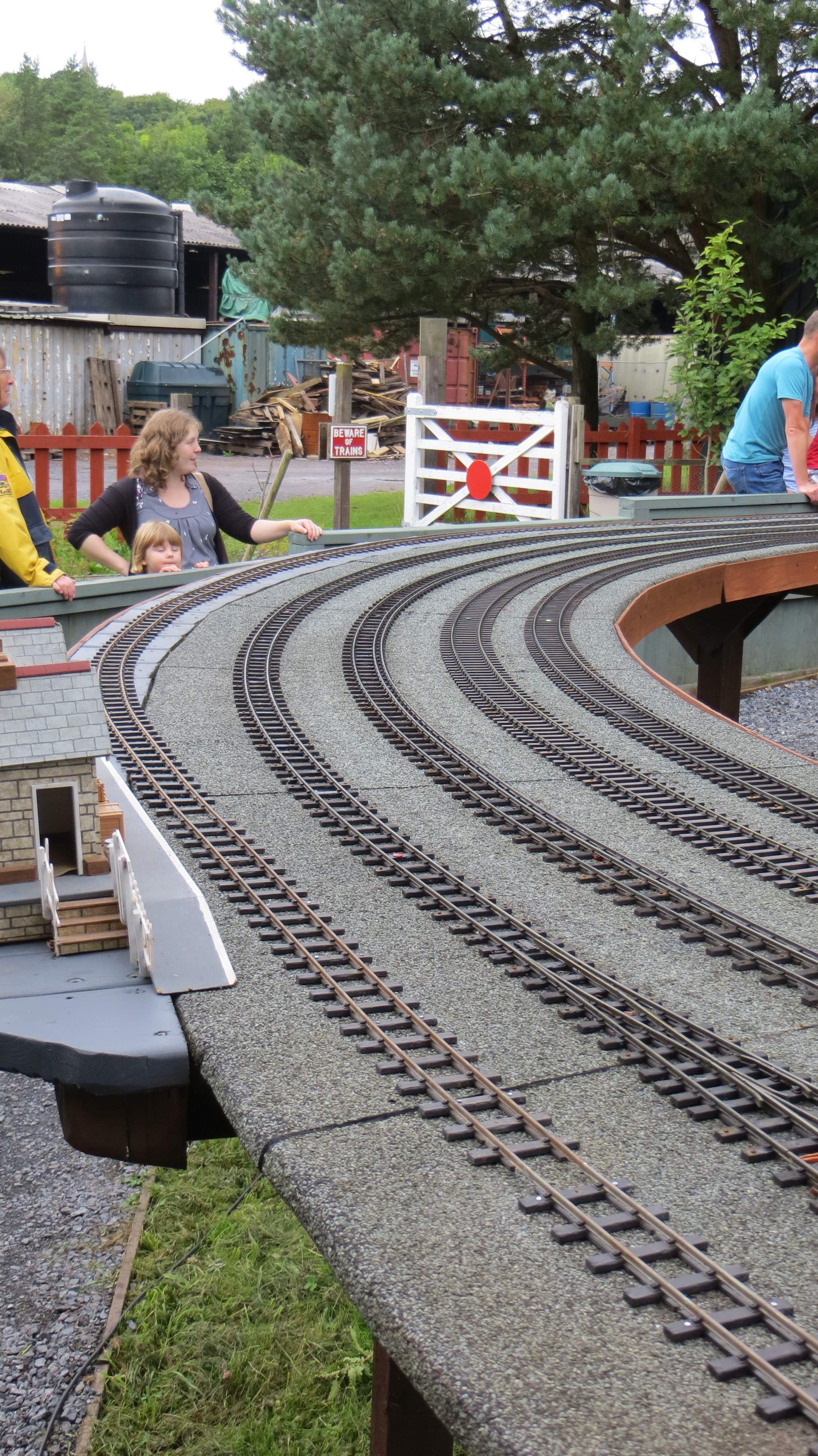 The 32 mm head of steel advancing towards Morton Road. Dual gauge to follow shortly.
August 2015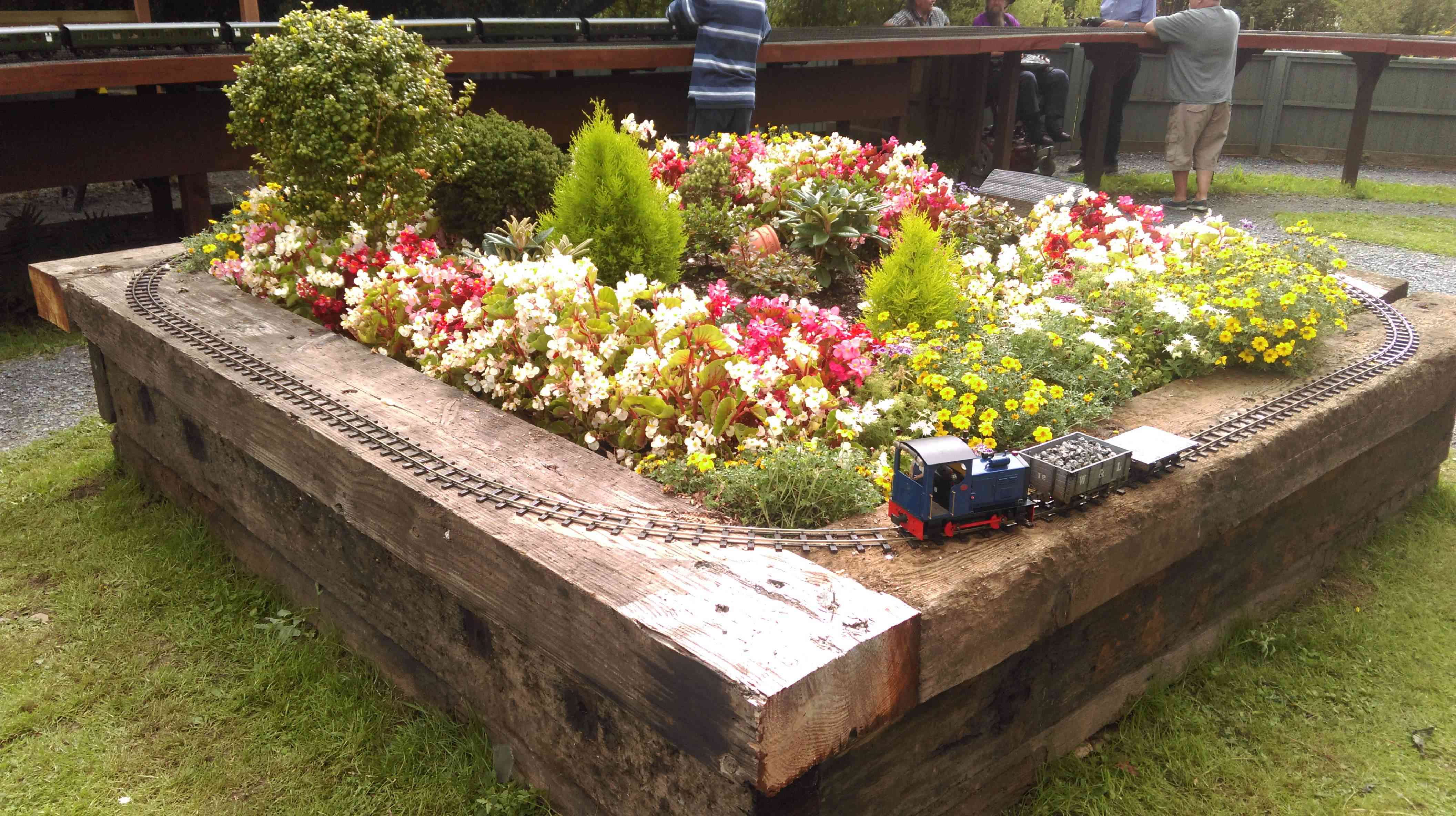 A garden railway? Now whoever came up with that idea?
July 2015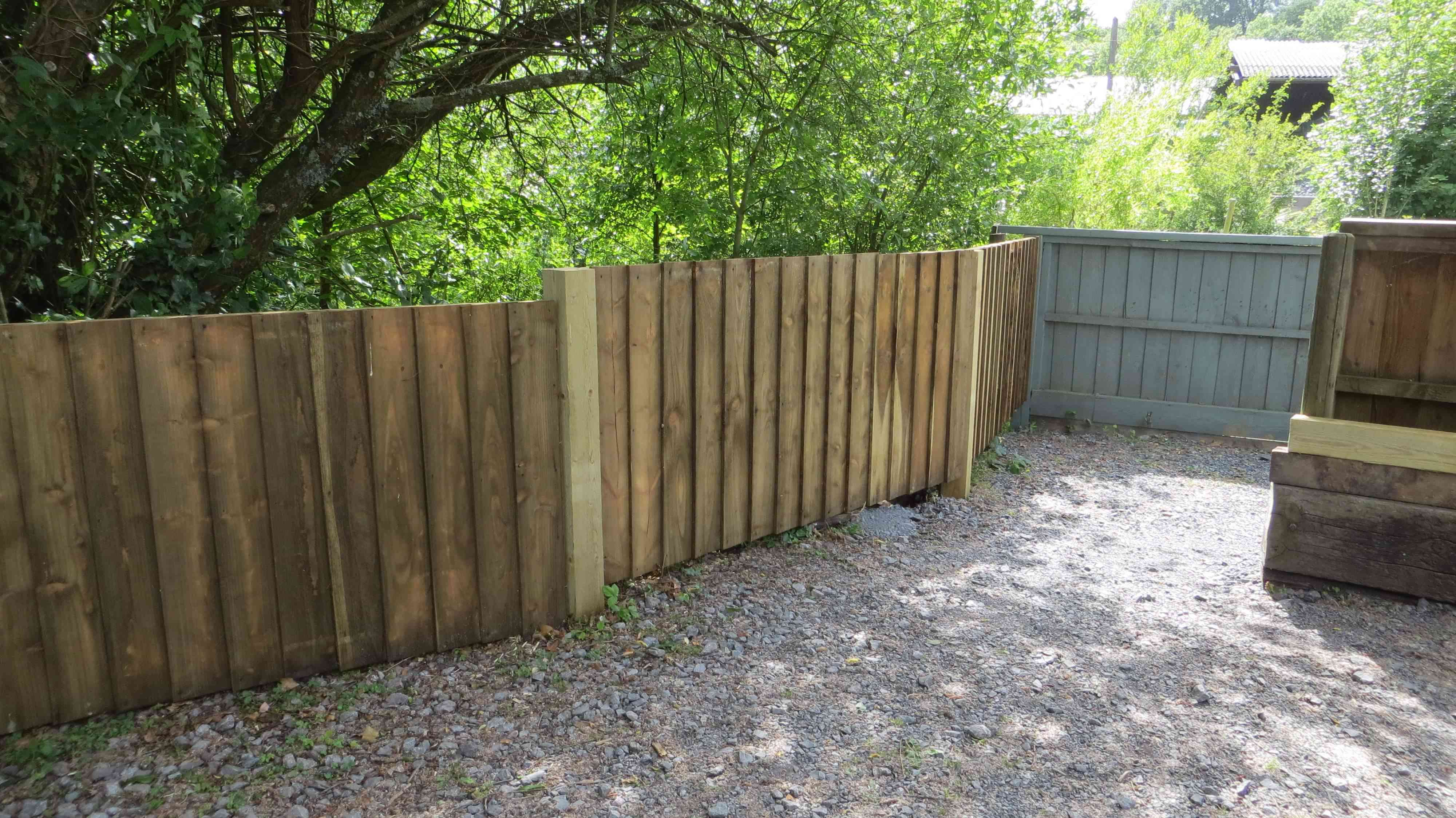 The fence behind the narrow gauge steam up area has been replaced and is just waiting for its first coat of preservative.
June 2015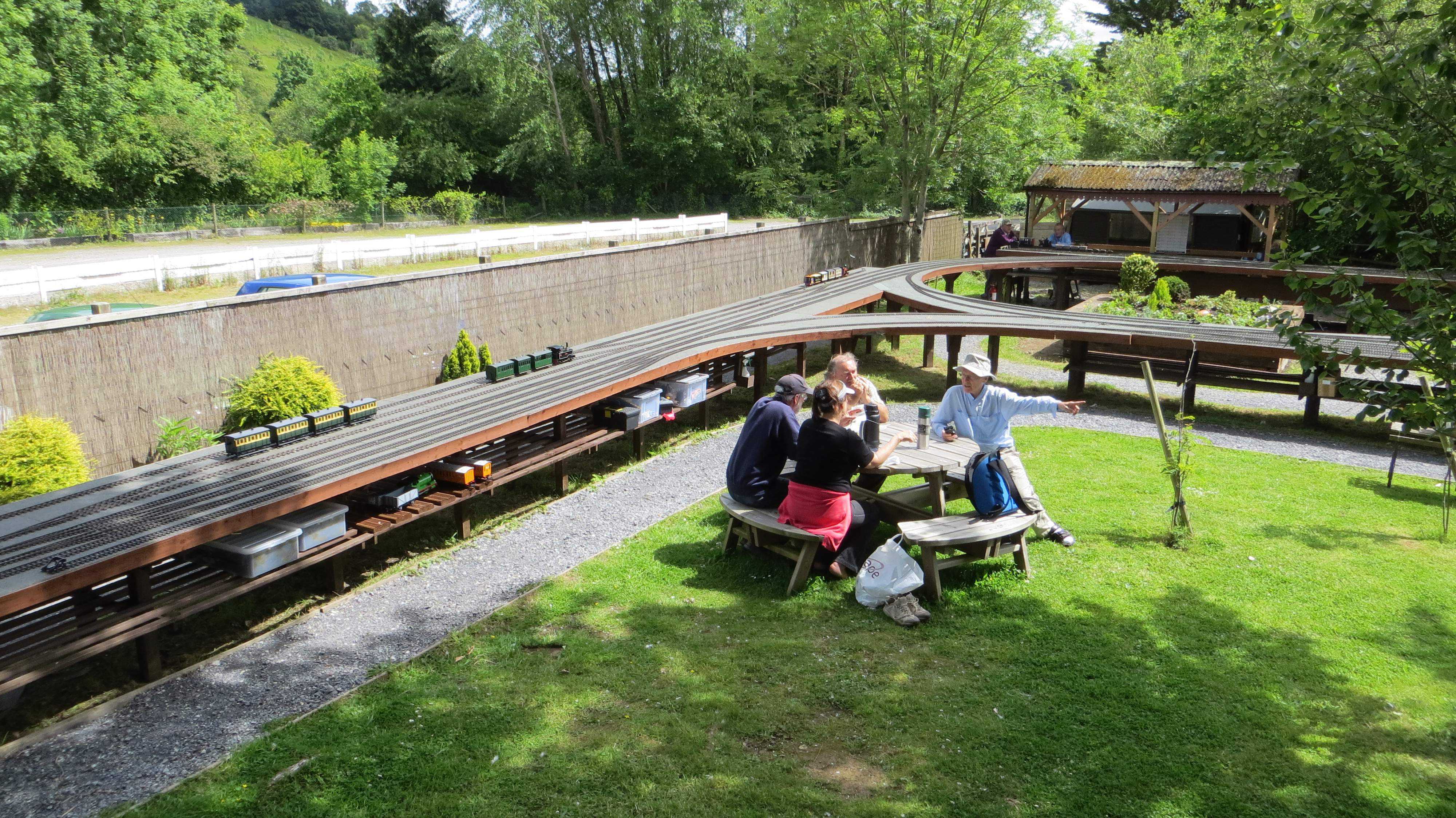 A general view taken from the footbridge of half our site showing it looking lovely in the June sun. Not sure what Barrie is pointing at though.
March 2015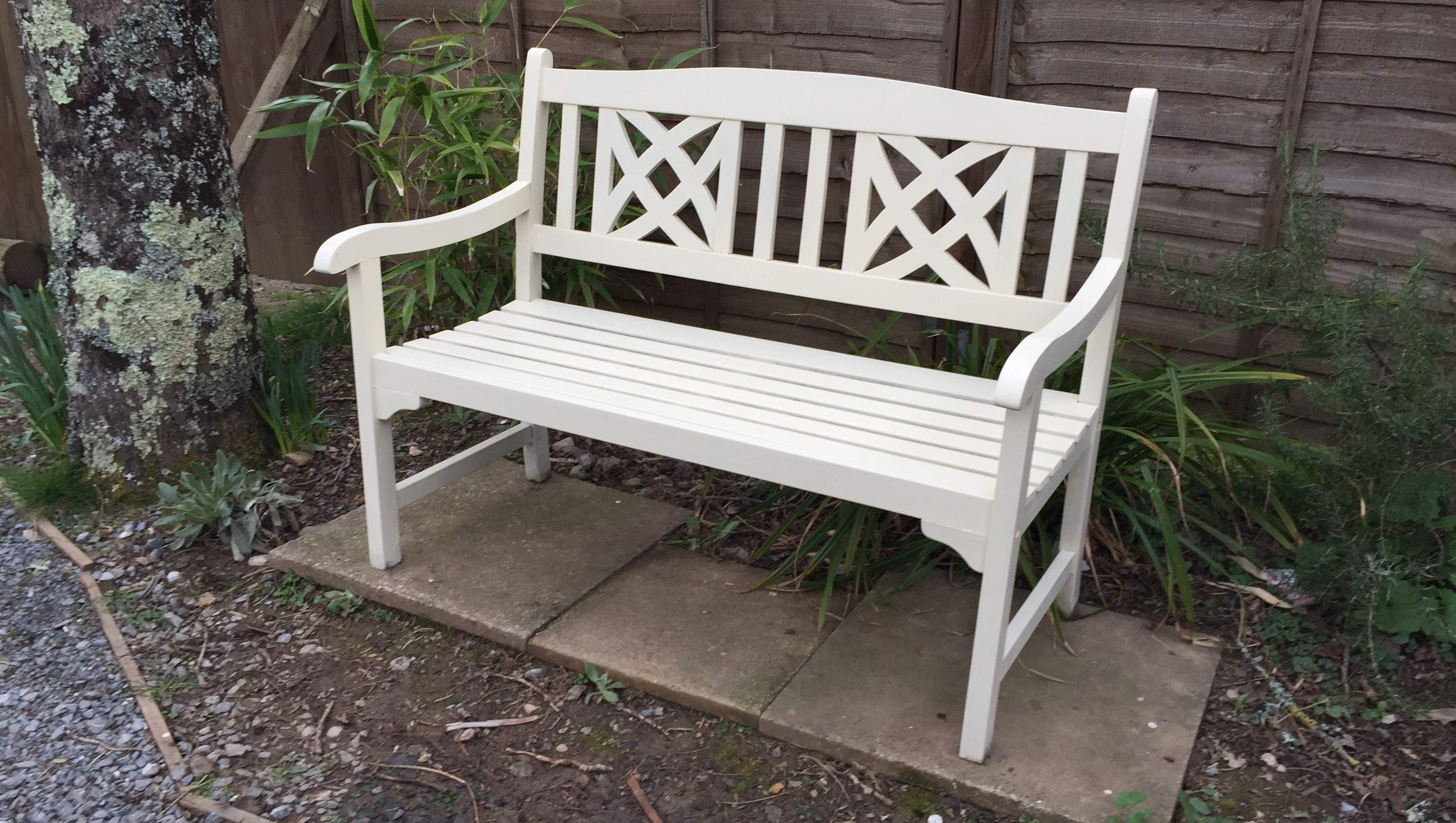 Newly painted bench ( Sorry I couldn't think of anything else to say about it) - but it does look nice
January 2015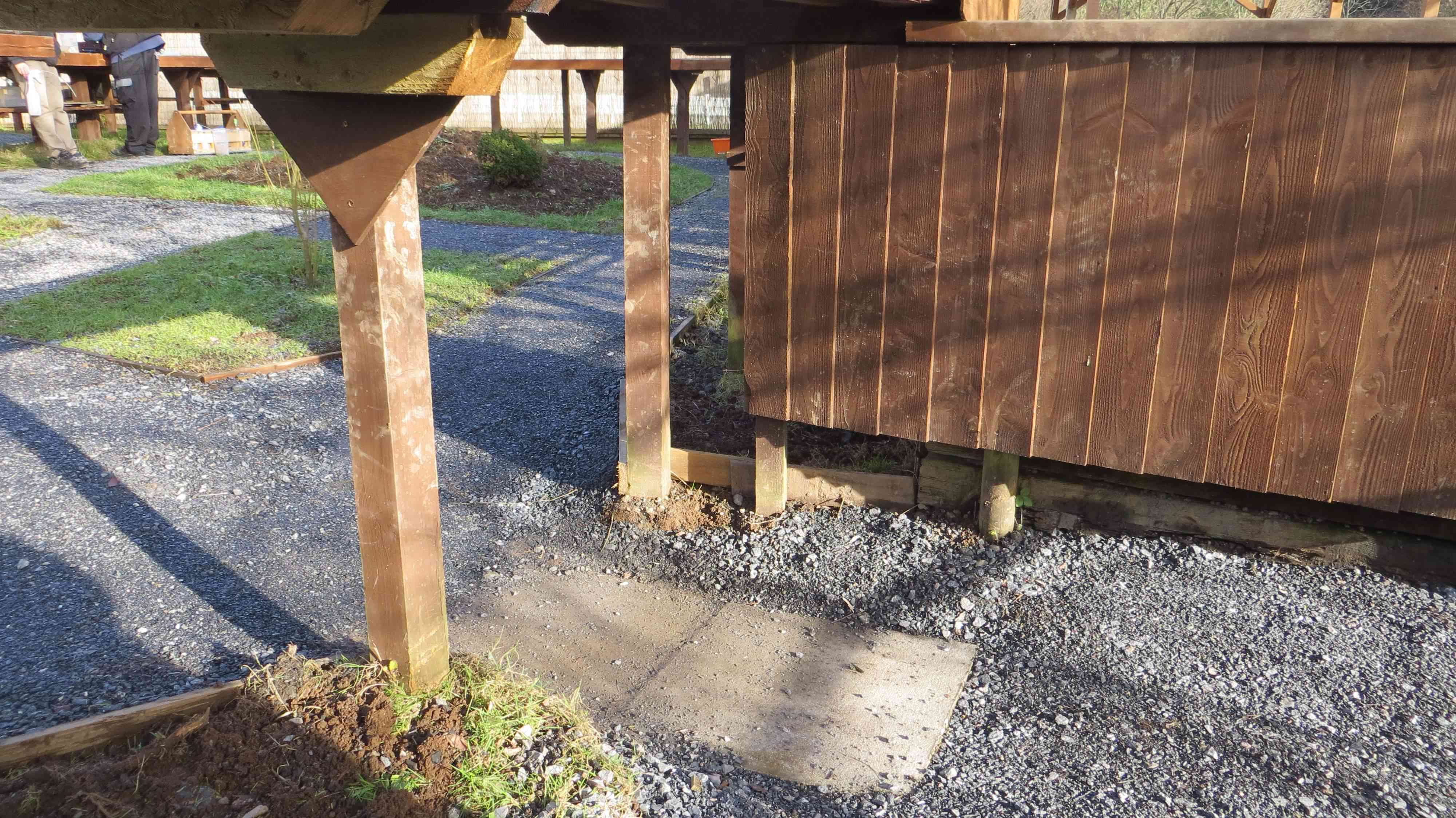 The path under the baseboard near to the Narrow Gauge Steam Up area has been lowered. Those of us over a certain age now have less bending to do and thus have easier access to the centre of the layout at this end but more importantly it is much more wheelchair friendly for our disabled members.
January 2015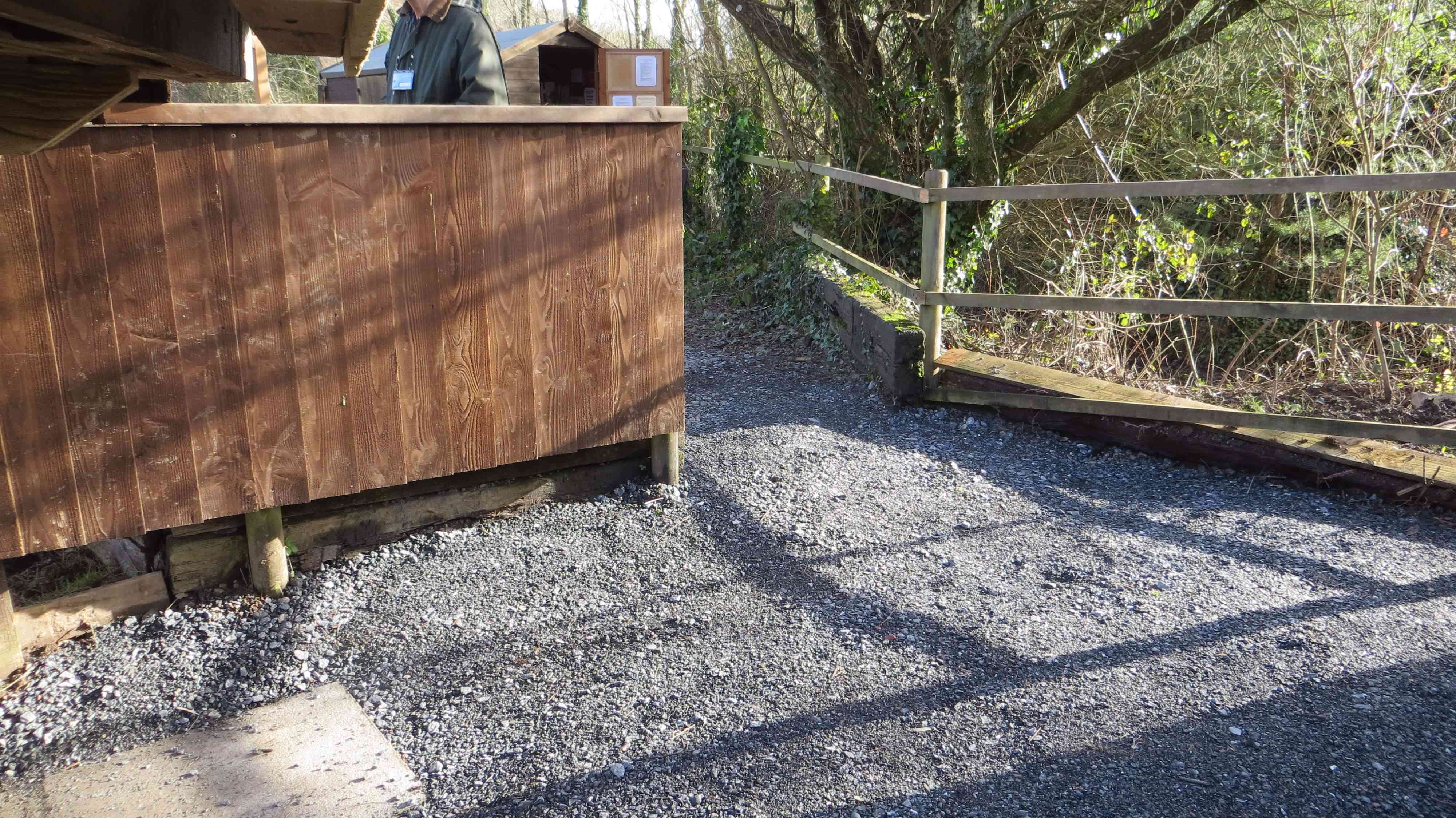 The step up to the Narrow Gauge Steam up area has been replaced with a gentle slope.